I Tried the "Gemini Hair" Trend: See Photos
I Might Be a Cancer, but I'm Entering My "Gemini Hair" Era
My star sign might be Cancer, but I didn't need a horoscope reading to know that the "Gemini" hair-color trend would be in my future. Named after the zodiac sign, the two-toned trend is expected to flood our feeds in 2023, with Pinterest revealing that searches for "multi tone hair color" have increased by 135 percent. After being subjected to a less-than-joyful news cycle on a daily basis, the thought is that people are looking to swap their natural color for something more vibrant, bold, and playful. Think dopamine dressing for your hair. And yes, I am one of them.
"Geminis are known for their duality or two-facedness, and that's exactly what the Gemini hair trend represents," hairstylist Luke Collins tells POPSUGAR. The look features a combination of two different tones running through the hair, which "can either be achieved by literally having two separate colors on either side of your head, or, as the trend has grown and us stylists have begun to play around with it, you could have a flash or color pop underneath or on top."
As a Cancer, I'm known for my fluid personality and intense emotions, which I've always expressed through my appearance. Honestly, you could name any hair color, and I've probably given it a go. While there are definitely the more subtle trends I could try this year — like "tiramisu" hair color, no-bleach balayage, or even the dark-blond mauve tones — where's the fun in that? Instead, I decided to try out the Gemini hair-color trend to give my auburn hair a new lease on life. "I have found that my clients who are creatives or entrepreneurs tend to go for much brighter and bolder colors such as turquoise and purple or pink and yellow," Collins says. "In general, though, blonds against browns and reds for an autumnal feel is proving popular."
"Geminis are known for their duality, and that's exactly what the Gemini hair trend represents."
To try the trend, I headed down to luxury hair salon Steve Diligencé in Notting Hill, London. We started with a quick consultation to discuss the look I wanted to achieve — a pop of blond at the front, following my hairline underneath on one half of my head. I'm a natural redhead, and I always return to the warm hues, but to ensure a strong contrast, Collins started by sectioning my hair and tinting the segments staying auburn with L'Oréal Professionnel Majirel Hair Color to give it a deeper, warmer tone.
After washing out the tint, we got stuck into the main event: the bleach. Collins applied Goldwell prelightener, mixed with six percent peroxide, to the front of my hair, following my hairline underneath all the way to the back of my head on just one side. I sat with the bleach for 60 minutes to let it take to my hair, snacking on some Amorino macarons while Collins kept me entertained with his best Luther Vandross karaoke attempt. Naturally.
After some interesting experiences with bleach in the past, I was skeptical of how well my hair would lift. Fortunately, when the bleach washed out, it had lightened nicely. To get rid of any remaining brassiness, Collins added a toner to the bleached sections. Fifteen minutes and a wonderful head massage later, we were washed and ready to see the final results.
Gemini Hair Color Before and After
It's always nerve-racking to face that mirror moment when you've opted for a drastic hair change, but I couldn't be more obsessed with the look. One of my favorite things? Its versatility. Depending on how I choose to style my hair, the vibe completely changes. If I part it to the side, I get the best of both worlds, showing off the strong blond at the front and letting it fall on top of my layers. Then, if I run my fingers through my hair and flip it to the other side, it reveals a whole new color combination where the vibrant auburn cuts through. When I wear my hair in a ponytail, it looks like my hair is completely 50/50 blond and auburn. For someone who loves to play with their look, this is ideal for me.
I know the big change isn't for everybody. If you're a commitment-phobe (I'm looking at you, Libras and Aquarians) and you want to achieve the look without the permanency, Collins has a few suggestions. "One of them is to use semipermanent color, although depending on how light or dark your hair is depends on what you will achieve. A temporary dye, such as a vegetable dye or a wash-in-and-out, can be used to create the same effect without permanently changing your hair color. The market also has things like color putties/wax, such as BluMaan hair products. These are direct clays that you put onto your hair and blow-dry them in to pop the color. They will only last till washed."
While the Gemini hair trend can be achieved on all hair types, as the sections of color can be adapted easily, there is an element of upkeep with a style like this. "The best way to keep your color pop vivid and bright is firstly wash your hair with lukewarm water, or as cool as possible. This helps to keep the cuticle closed and stop the color rinsing out with the water," Collins says. "You can also put a clear gloss on top of your color pop to help lock in the color. One of the main things you don't want is for the darker or more pigmented color to run into the lighter color while washing, because the lighter color may grab the alternative tone." As I opted for bleach, which can dry out hair, I'm applying weekly hair masks to keep it in good condition.
So if you're after a new look in 2023, I recommend throwing caution to the wind and trying something totally different. Trust me, you won't regret it. Below, see more photos of the Gemini hair-color trend and how to wear it.
Gemini Hair Color With Side Part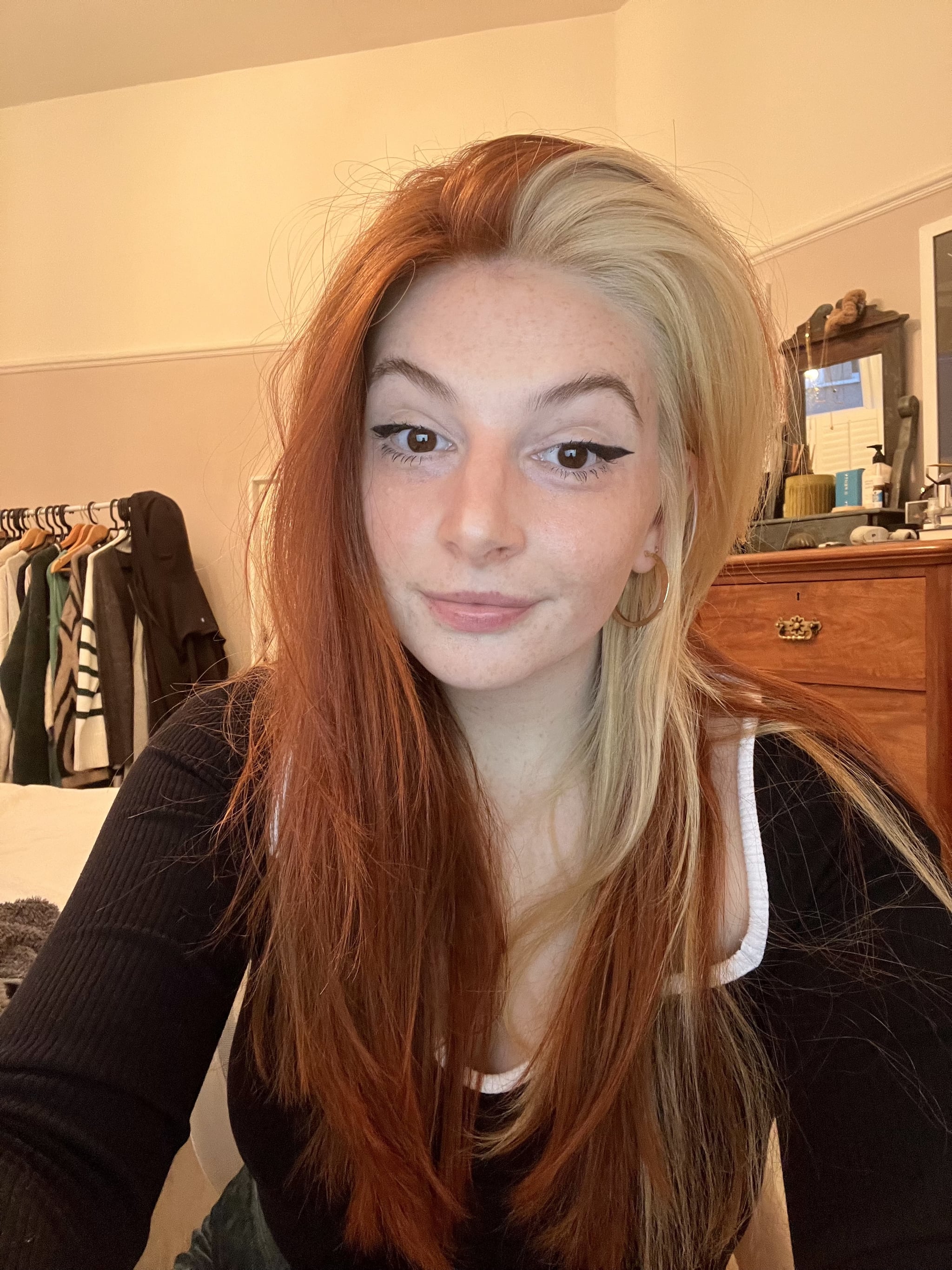 Gemini Hair Color With Ponytail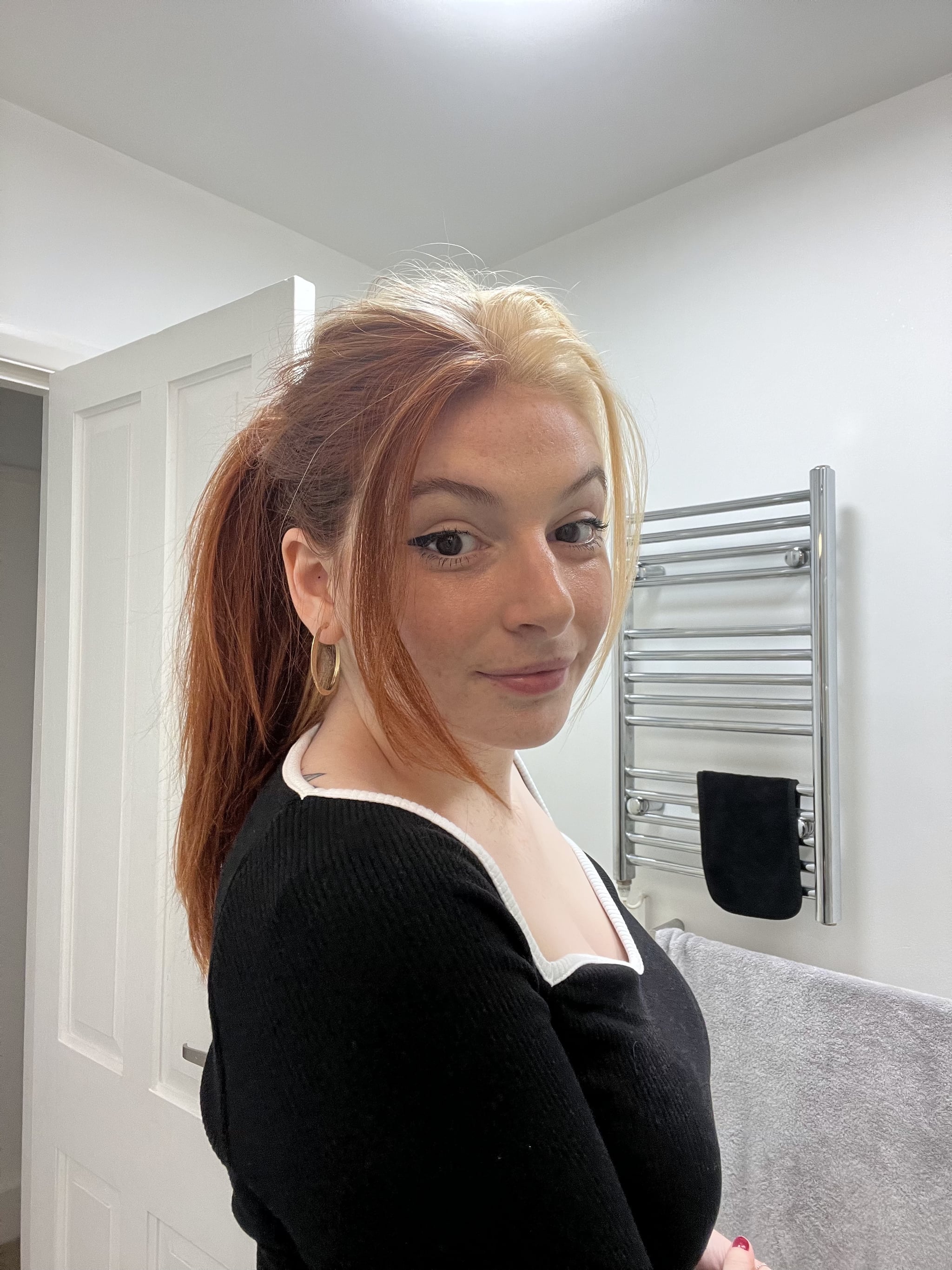 Gemini Hair Color From the Side