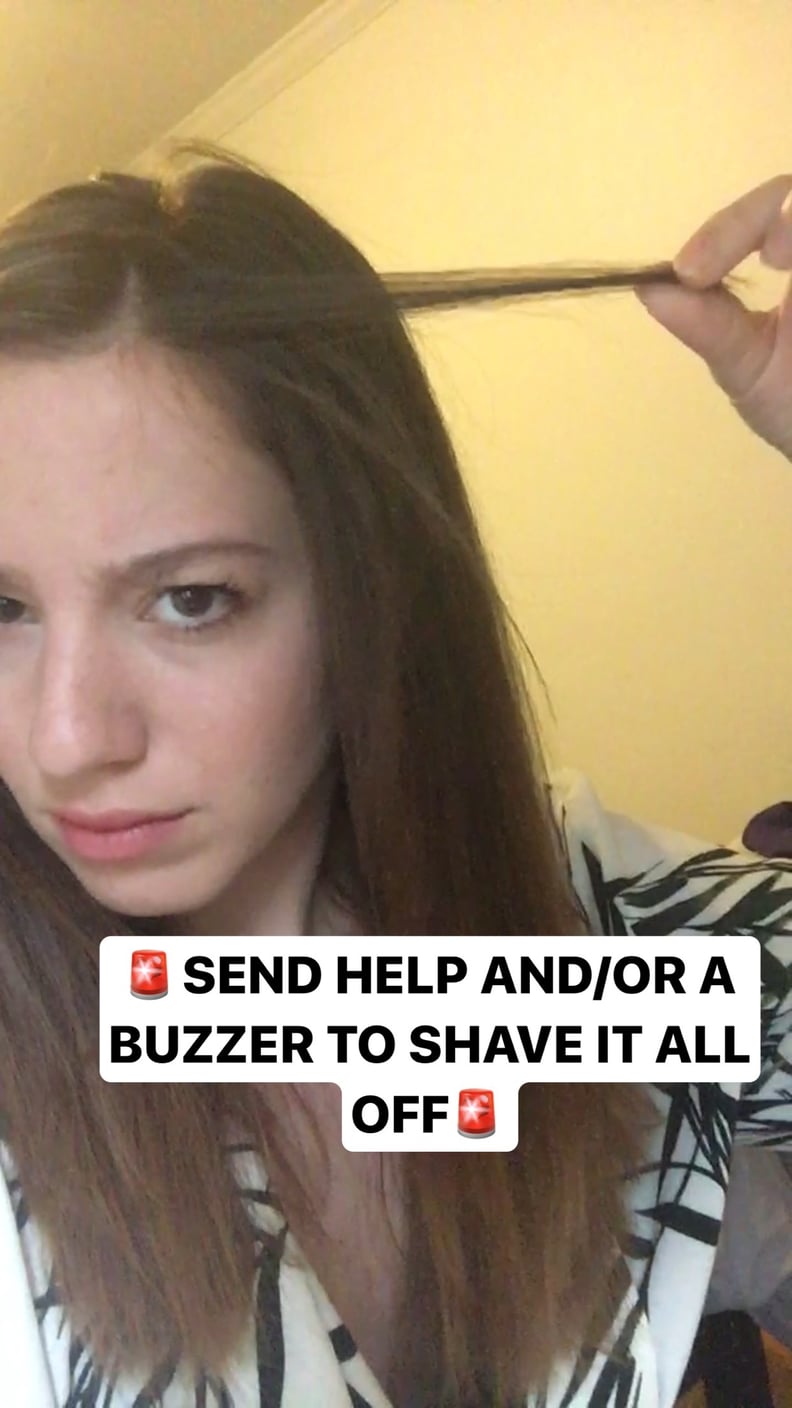 POPSUGAR Photography | Lisa Peterson
In the dead of Winter, getting bangs seemed like an amazing idea. I was completely hell-bent on having Alexa Chung's effortlessly wavy fringe, so much so that I convinced myself the look would be easy enough to manage year-round. Ignoring my stylist's gentle warnings about the difficulties of dealing with wavy-textured bangs in humidity and the extra time styling them would require, I told her I had everything under control. It was a pretty stupid bold declaration, considering I rarely sacrificed sleep in the name of giving myself extra time to get ready.
After the initial chop, I was so thrilled with my new 'do that I actually didn't mind the extra time I had to spend on my hair in the mornings. What was a couple fewer minutes of sleep if the end result was looking a little more like Alexa Chung? I vowed to do whatever upkeep was necessary to keep my bangs going all year-round.
But by the second month of living with my new fringe, I started to question if this would really be as simple to style once cooler, dryer weather passed. Maybe my hairstylist (you know, the highly trained individual who is a licensed expert in all things hair-related) had been right to warn me against getting these bangs. Visions of my fairly easy, eyebrow-grazing fringe from Winter turning into a damp curtain of frizz that stuck to my sweaty forehead in Summer scared the sh*t out of me. It was decided: I had to get a move on growing these bangs back out before Summer's sweltering heat was in full swing.
Starting the process of growing my bangs out was painful, to put it lightly. At first, I had no idea how to conceal these odd-lengthed hairs without reaching for a baseball hat every day. But with time (and plenty of bobby pins, headbands, and hair oil), I've finally figured out a number of looks that both hide my growing fringe and feel like my style. Ahead, check out five of those hairstyles I've relied on to pull me through the dreaded growing-out stage. (And if you ever hear me talk about getting bangs again, by all means, tell me to stop talking.)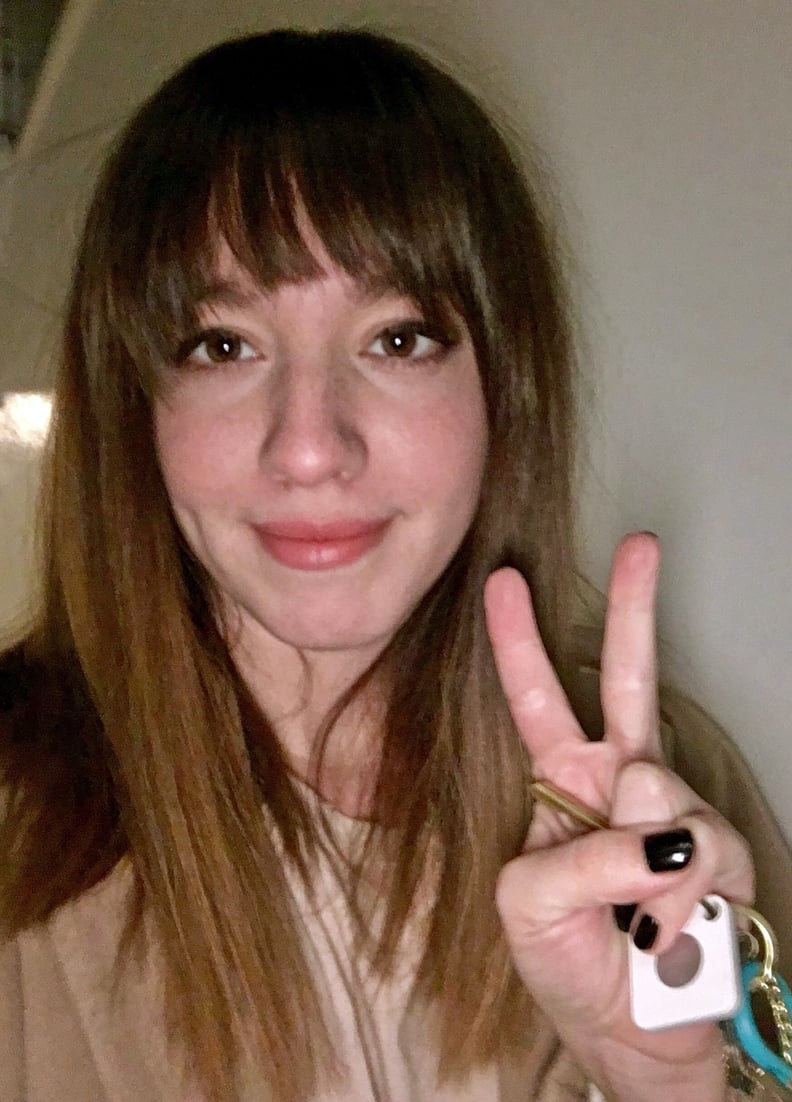 First, here's what my fresh bangs looked like back in late January: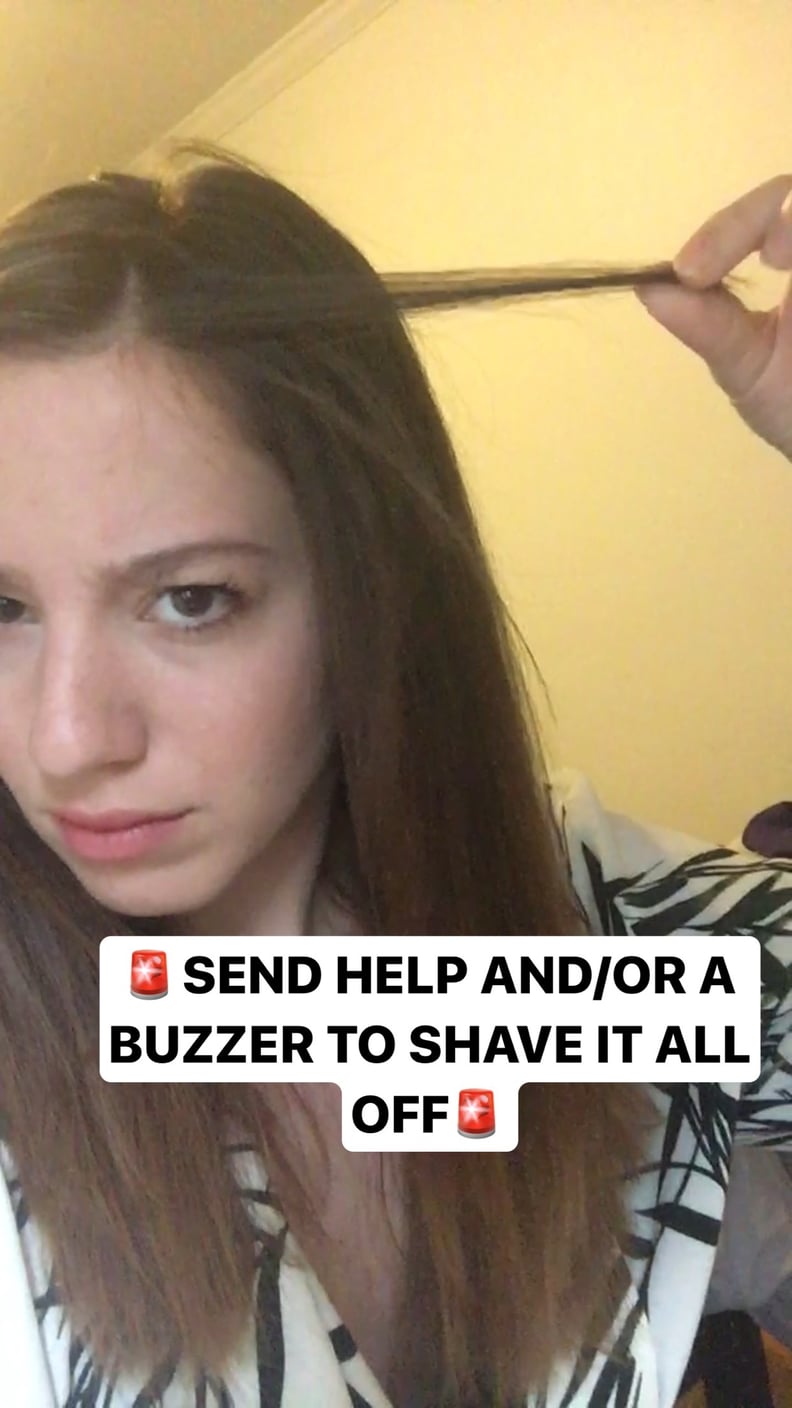 And here's the sad, current state of my bangs after 5-ish months of growing them out:
They hit just at the tip of my nose when brought to the front of my face and aren't quite long enough to get into a ponytail without creating a weird spike at the top.
01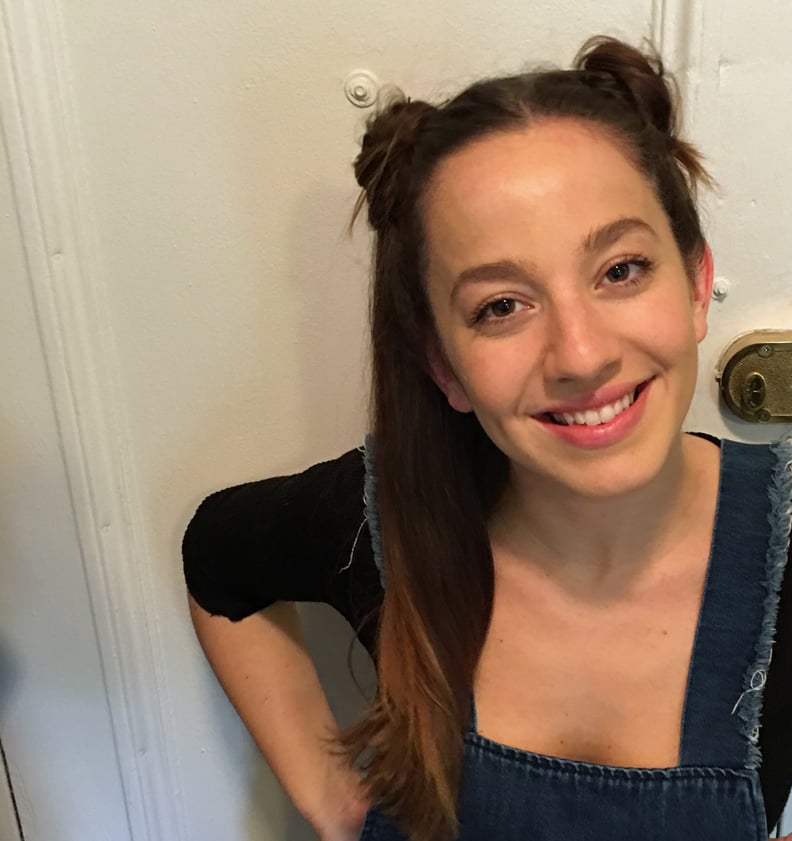 Half-Up Double Buns
Since my bangs still aren't long enough to pull back into a ponytail, these buns that sit much closer to my hairline are a great way to get my shorter strands out of my face. To create these double buns, I pulled the top half of my hair into two even sections. I then rubbed a tiny drop of Morrocanoil Treatment into the very ends of my bangs on both sides (nowhere near the roots), before twisting each section into a coil that could be easily wrapped into a bun. I then secured the buns with bobby pins and pulled out a few strands from each to make them feel a little more casual.
02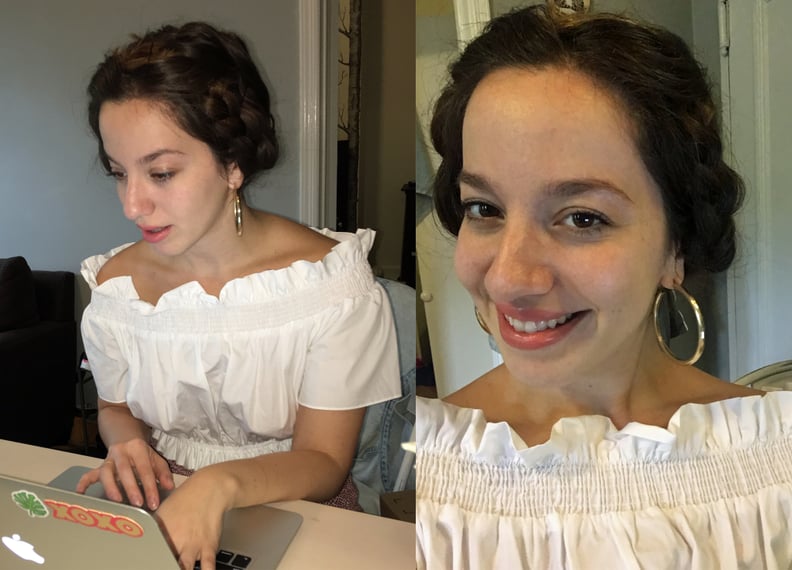 Braid Crown
This is so much easier than it seems, I swear! Personally, I've found braid crowns to have way more staying power when done with second-day hair. I started by creating two low, plaited pigtails and separating out the braids a bit to add volume. Next, I fastened them with clear elastics, before pulling one braid up and over my head and securing it with bobby pins a bit back from my hairline. I repeated that same step with the second pigtail, placing the second braid behind the first. I loosely twisted the bangs that had come loose on either side and tucked them underneath my braid crown with bobby pins.
03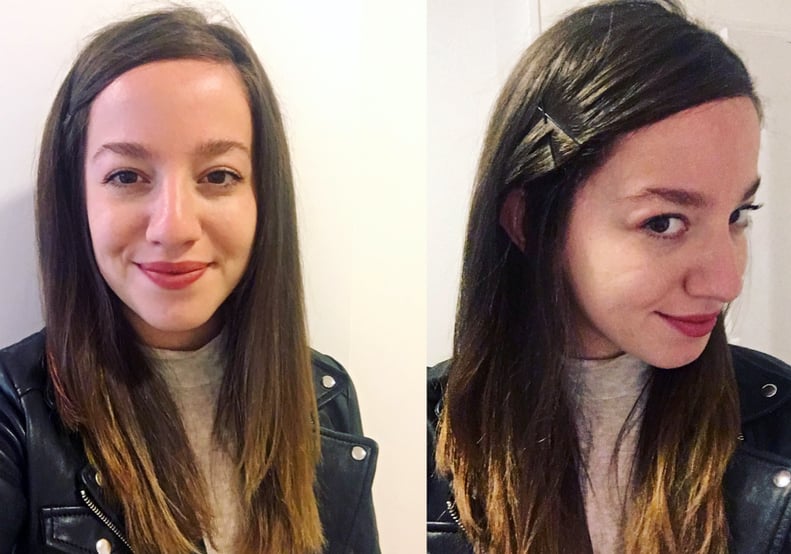 Side Part With Pins
Creating a deep side part and securing my bangs to one side with two crossed bobby pins (almost) makes it look like I don't have bangs anymore! For an attention-grabbing version of this supereasy style, I like to use standout bobby pins. These sparkly ones from Ban.do are on my wish list right now!
04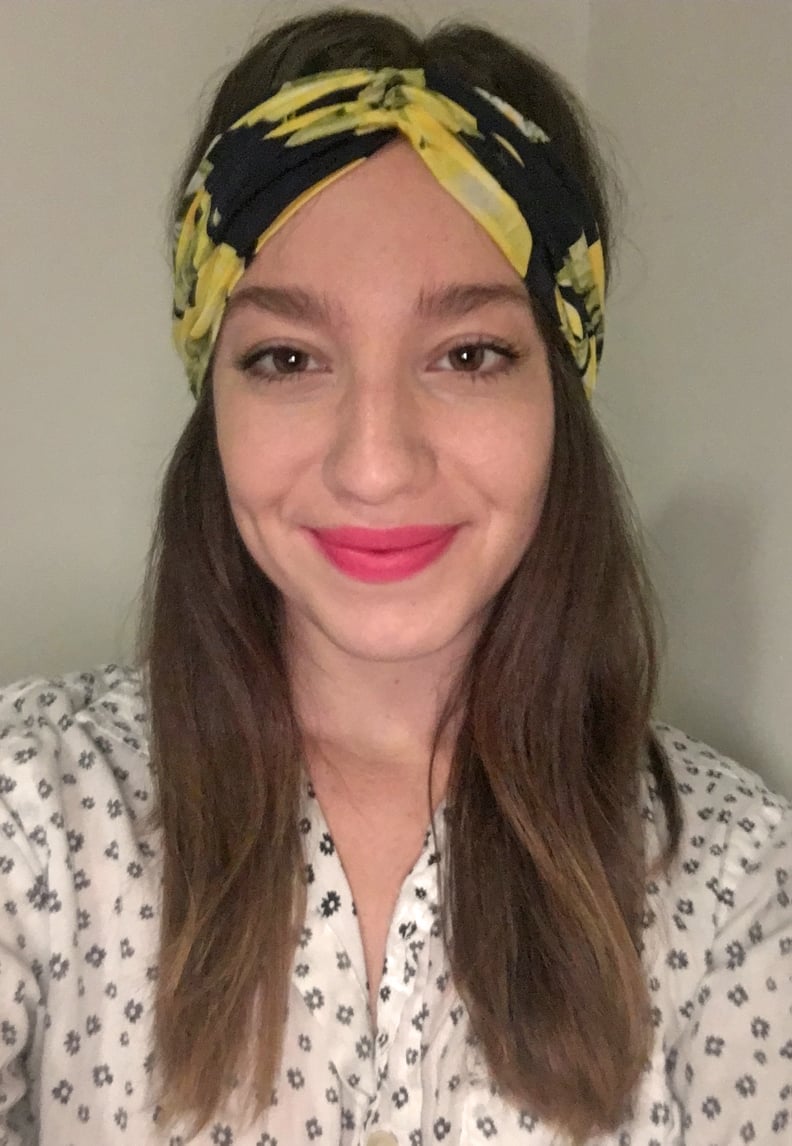 Turban Headband
This one is a no-brainer. My bangs tend to stick up behind regular headbands, so I prefer to use turban headbands to hide my bangs completely. Free People has my favorite selection of these bands in a wide range of cheery colors and patterns!
05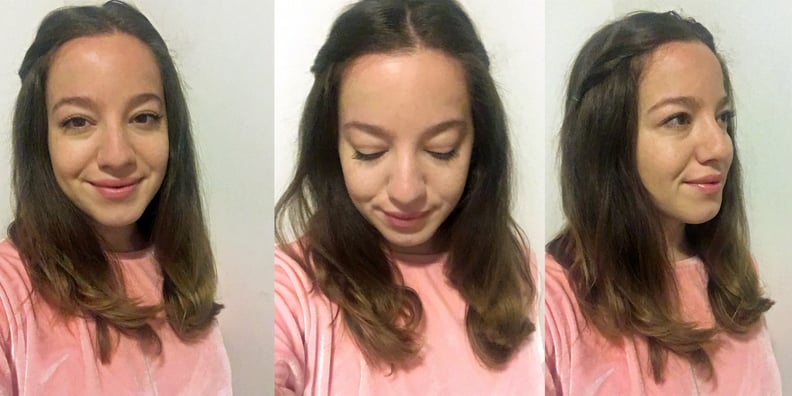 Center-Part Pins
This is my go-to when I hit the snooze button one too many times. Quickly parting my bangs down the middle (or middle-ish) and loosely twisting them on either side before securing them with bobby pins has me out the door in a flash.