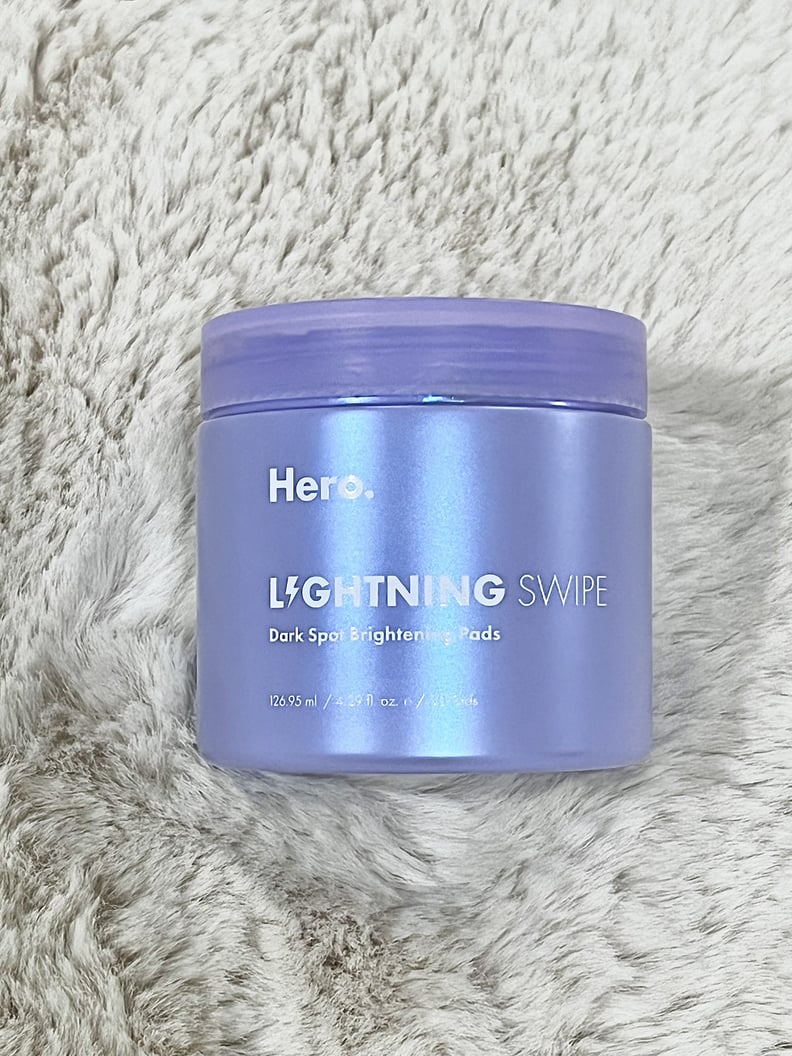 POPSUGAR Photography | Anvita Reddy
POPSUGAR Photography | Anvita Reddy
As POPSUGAR editors, we independently select and write about stuff we love and think you'll like too. If you buy a product we have recommended, we may receive affiliate commission, which in turn supports our work.
A little over a month ago, I dealt with a pretty bad breakout. My skin was inflamed and irritated, and once it subsided, it left a trail of dark spots in its wake. Without running the risk of irritating my skin again, I knew I had to be gentler in my approach to diminishing my post-inflammatory hyperpigmentation. I came across the Hero Cosmetics Lightning Swipe Dark Spot Brightening Pads ($20) and was eager to try them out, and the affordable price point definitely sold me.
I've been a fan of Hero Cosmetics' products for quite some time now. The brand's pimple patches curbed my need to pick and prod at my zits, the Force Shield Superlight Sunscreen is one of my go-tos, and the hydrocolloid Mighty Patch Nose Patches are another editor-favorite product. These brightening pads caught my attention because of their gentle approach to treating dark spots and postblemish care. Like all Hero Cosmetics products, the pads are great for acne-prone skin types, and they're nonirritating with no fragrance.
What I Like About the Hero Cosmetics Lightning Swipe Dark Spot Brightening Pads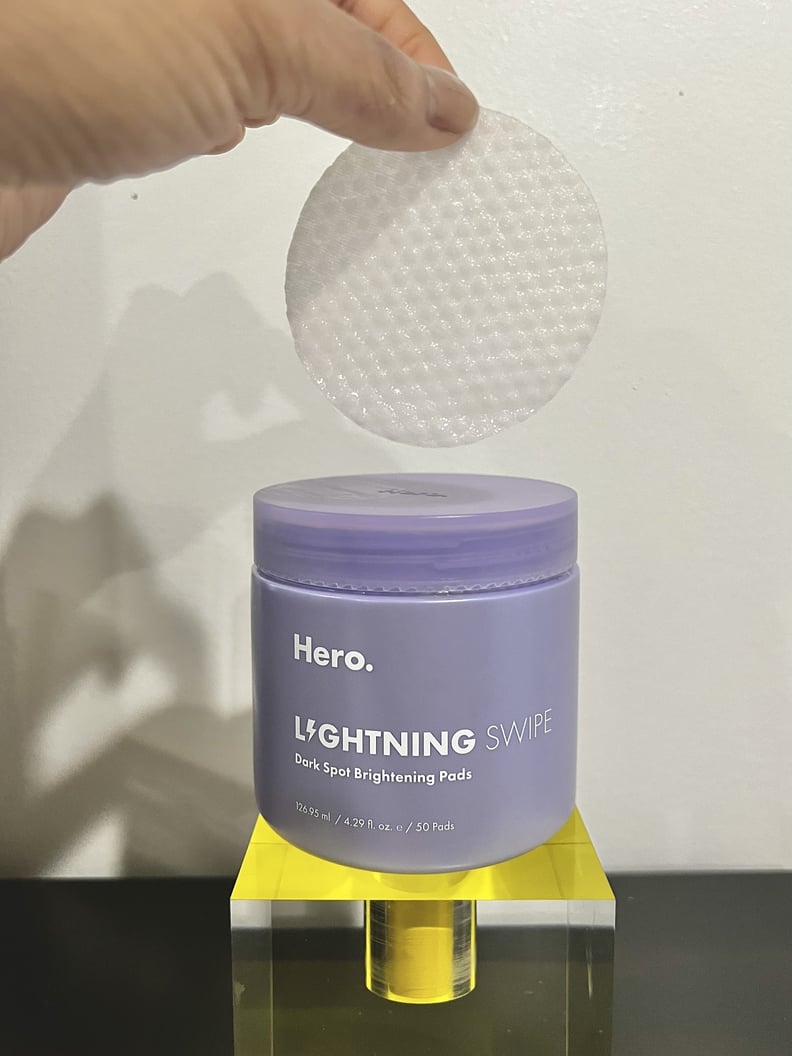 The Lightning Swipe pads contain niacinamide, vitamin C, and tranexamic acid to help fade dark spots and brighten and even out the skin tone. They have a blend of AHAs, including glycolic acid, citric acid, malic acid, tartaric acid, and lactic acid, for gentle chemical exfoliation. The formula also consists of hydrating and skin-soothing ingredients like heartleaf, kombucha, allantoin, aloe vera, and other humectants.
There are a few things that surprised me about these brightening pads, one of them being how fully soaked each of the 50 pads is in the formula. It's drenched like a sheet mask with excess serum dripping all over the place. In fact, one pad is more than enough for me to use on my face twice, all down my neck and chest, under my arms, and along my bikini line. Even after doing all that, there's still some left over, and I use it on my legs and arms until the pad is dry.
Another unexpected feature of the Lightning Swipe pad is how truly gentle it is. I was expecting the tingly sensation that exfoliating toners or serums have, especially considering the AHA blend in the formula, but I didn't feel a thing. In fact, it's gentle enough to use as a part of both your morning and nighttime routines. Plus, the pad has a textured side for added physical exfoliating and a smooth side for a gentle swipe. The pads are made from soft cotton that's perfect for those with sensitive skin.
My Results Using the Hero Cosmetics Lightning Swipe Dark Spot Brightening Pads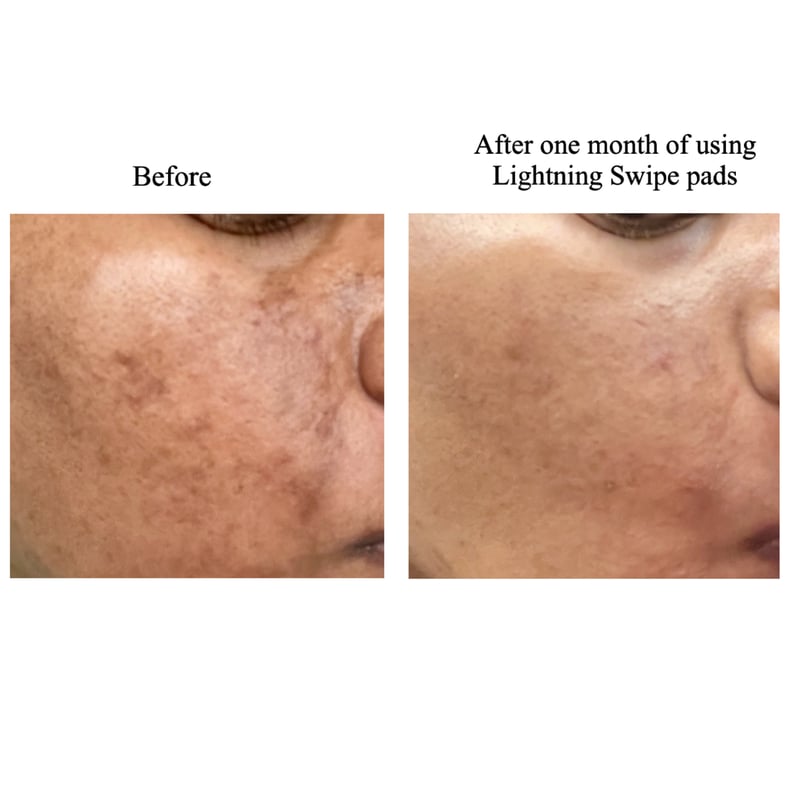 I initially used these pads at night for the first week to slowly introduce them into my routine and see how my skin would react. Once I saw how these brightening pads helped in soothing my dry, irritated skin and started to even out my skin tone, I amped it up to twice a day. The Lightning Swipe pads work slowly but effectively in brightening dullness and fading dark spots. With consistent use and patience, I noticed a significant difference in just one month. As pictured, you can see how much my dark spots faded over time and how calm my skin looks. I highly recommend these to anyone dealing with dark spots, especially those with more sensitive skin. They're a postacne treatment that serves as a gentle and effective supplement to your skin-care routine.
Ratings:
★★★★★