All the Details Surrounding Keke Palmer's Substantial Tattoo Collection
If you know anything about Keke Palmer, then you know she is a woman who wears many hats. Palmer is an actor, talk-show host, author, and musician, so you've probably watched her grow up on TV. What you may not know, though, is that Palmer has an affinity for body art — particularly for tattoos.
Palmer has approximately 11 known tattoos, with some of them dating back as far as 2012. Some of her more hard-to-see tattoo designs include small interlocking hearts behind her ears, a tiny anchor on her left ankle that she got with her friend Taylor Parks, a phrase on her left wrist that says, "God is love," and a simple script tattoo on her right hip that says "perception." But don't let those dainty designs fool you, Palmer is by no means a minimalist when it comes to body art. One of her newer additions — a portrait of sunflowers and butterflies — spans almost the entirety of her side and reaches from her hip all the way up to her underarm, and she got it done in a single hours-long session.
You'll definitely be seeing more of Palmer as she continues to promote her latest film, "Nope," so if you're curious about the entirety of her body-art collection, it's understandable. To learn more about all of her ink, read ahead for a closer look at each design as well as the meaning behind her tattoos.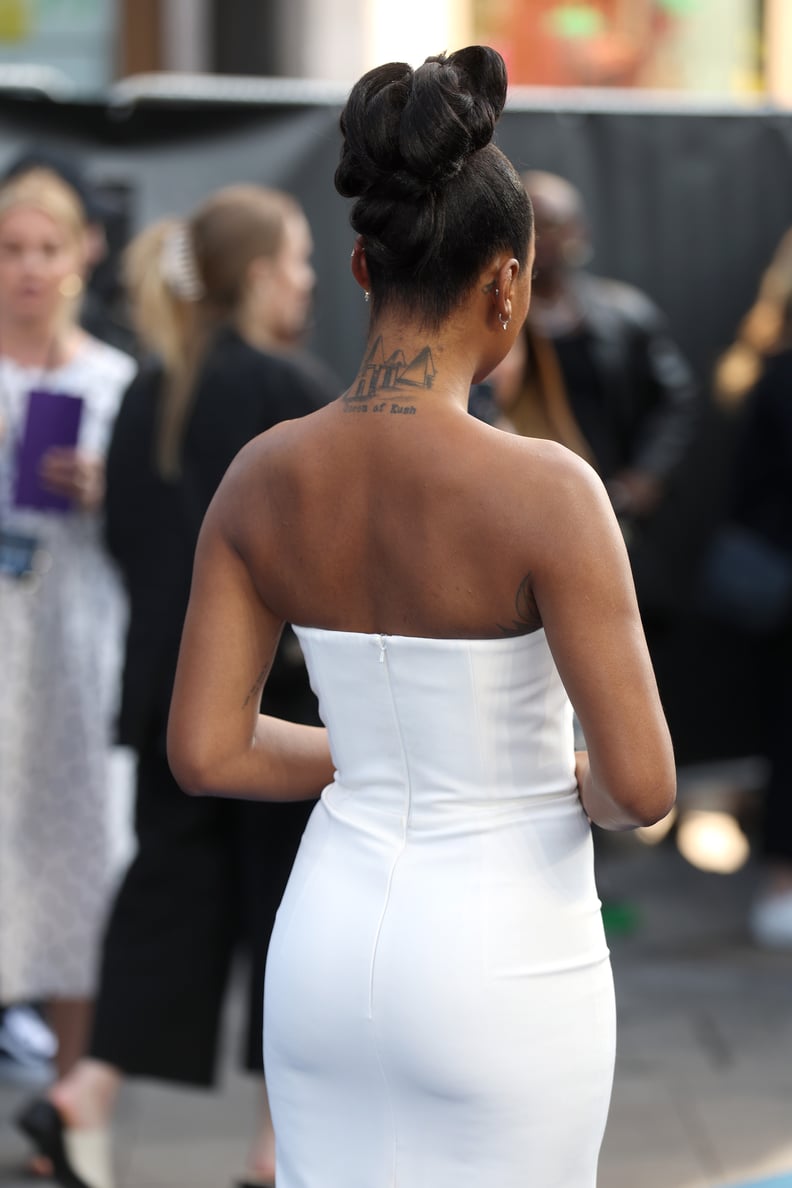 Keke Palmer's "Queen of Kush" Tattoo
The tattoo on the back of Palmer's neck shows the Kingdom of Kush and details pyramids and buildings that would have been found in that era. In her Instagram caption showing the tattoo, Palmer writes in part: "What I love most is it's history's of female rulers!! In school, we very rarely ever learn about female rules and never about African rulers."
Keke Palmer's "Renaissance Woman" Tattoo
Palmer also has the phrase "Renaissance Woman" on her lower back but has never shared the meaning behind the tattoo.
Keke Palmer's Forearm Script Tattoo
This tattoo is another one of Palmer's dainty fine-line-script tattoos. It reads, "Nobody gets it right on the first try," and Palmer said that she got the tattoo because of an ex-boyfriend who would often say the quote.
Keke Palmer's "Don't Cast Thy Pearls" Tattoo
Palmer has another blink-and-you'll-miss-it tattoo on her upper rib cage that says, "Don't cast thy pearls before swine." The phrase appears to be a part of bible verse Matthew 7:6, which reads in full, "Do not give what is holy to the dogs; nor cast your pearls before swine, lest they trample them under their feet, and turn and tear you in pieces."
Keke Palmer's Butterfly and Daisies Tattoo
Palmer's largest tattoo is on her right rib cage. The design features a massive portrait of multicolored daisies as well as butterflies on some of the flowers. Palmer reportedly spent eight straight hours getting this tattoo and got it to commemorate her time in Budapest. It also was added to a smaller version of the tattoo that showed one daisy and one sunflower.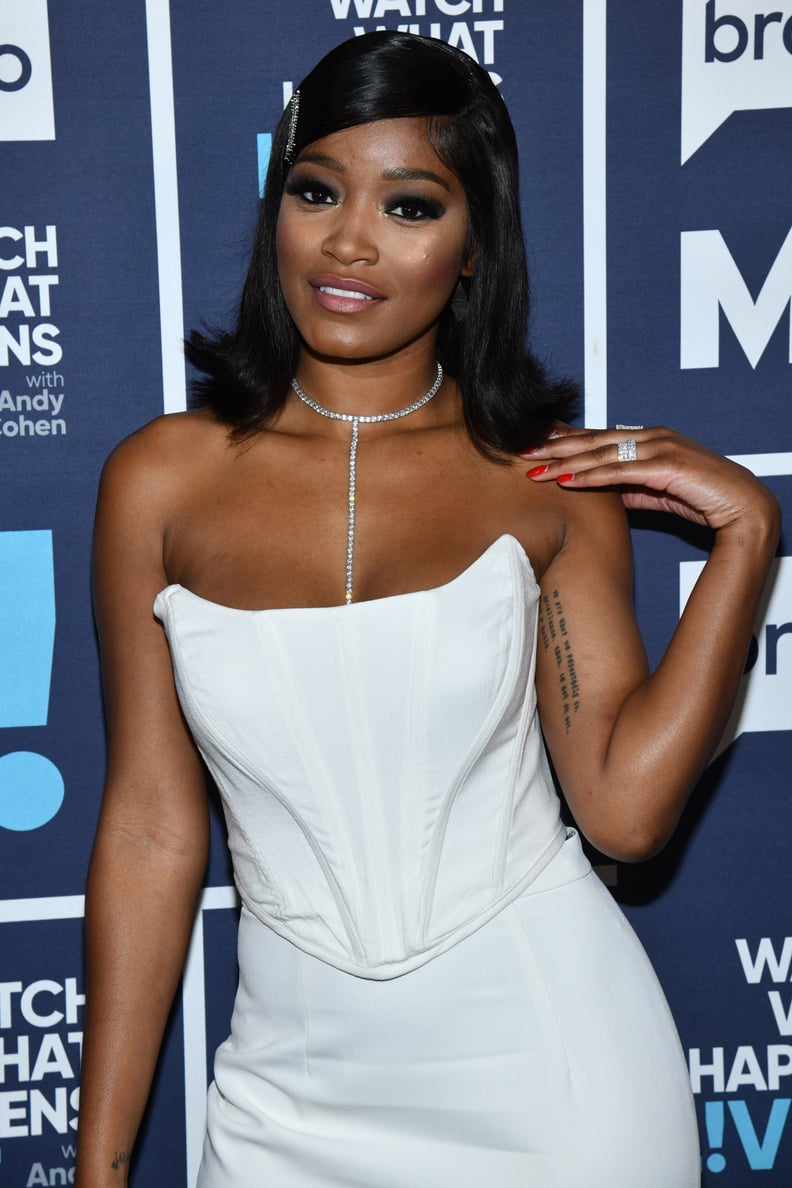 Keke Palmer's Upper-Arm Script Tattoo
On her upper left arm, Palmer also has a longer script tattoo. This one reads, "We are what we repeatedly do. Excellence, then, is not an act but a habit."
The quote is attributed to philosopher Aristotle, and Palmer told Allure Magazine that it made excellence seem more attainable to her.
Keke Palmer's "Lauren" Tattoo
If you ever catch a glimpse of Palmer's wrist, you might catch a tattoo that says, "Lauren," with a small crown. The tattoo is actually in honor of Palmer's real name; her full name is Lauren Keyana Palmer.