Proof That Machine Gun Kelly Is the King of Nail Art
For far too long, conversations surrounding celebrity nail looks only encompassed women. Over the last few years, though, this has begun to shift, with people like Harry Styles, Lil Nas X, and Tyler, the Creator challenging the status quo when it comes to who can wear nail polish. Another person who has been a central figure in the "menicure" movement? Machine Gun Kelly.
Though MGK launched his nail-polish brand, Un/Dn Laqr, in December 2021, the musician had been wearing nail polish for years throughout his career. He flashed a red manicure with white lettering at a Republic Records Grammys afterparty in 2020, wore metallic chrome nails at the Balmain show during Paris Fashion Week a few days prior, and has worn black polish for more performances than we can count. Needless to say, Machine Gun Kelly is true to this — not new to this.
In the last year or so, the artist has upped the ante with his nail art and been seen in everything from intricate designs to stiletto acrylic nails that chained him to his fiancée, Megan Fox. The amount of manicure inspiration he's provided over the years is nothing short of awe-inspiring, so if you're looking for ideas for your next salon appointment, MGK's rolodex of designs is a perfect place to start.
Take a closer look at some of Machine Gun Kelly's best nail-art looks of all time ahead.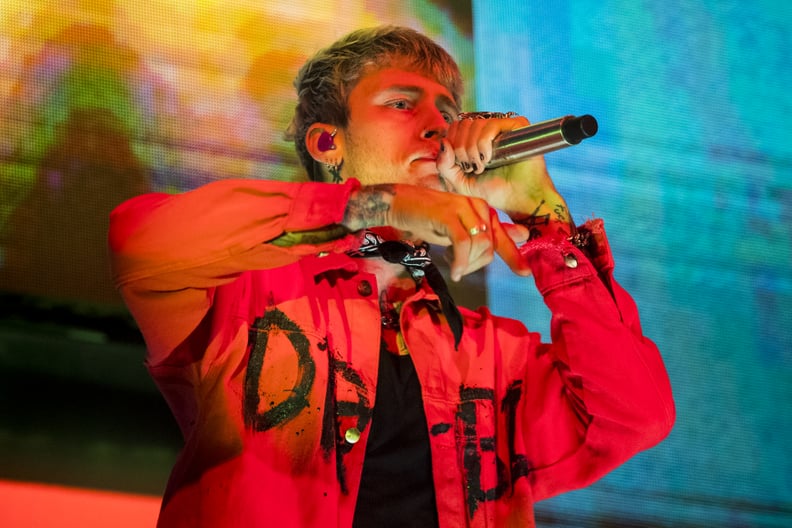 Machine Gun Kelly's Black Glam Nails
At a 2019 concert in Stockholm, Machine Gun Kelly showed off a black glam manicure featuring multiple trends at once: negative-space nails and brushstroke nail art. The final result was a look that was minimal but still packed a punch.
Machine Gun Kelly's "Sad" Manicure
In 2020, Machine Gun Kelly wore a bright red manicure to the Republic Records Grammys afterparty, where he was spotted with a friend. His nail art spelled the word "sad," with each letter landing on a different finger.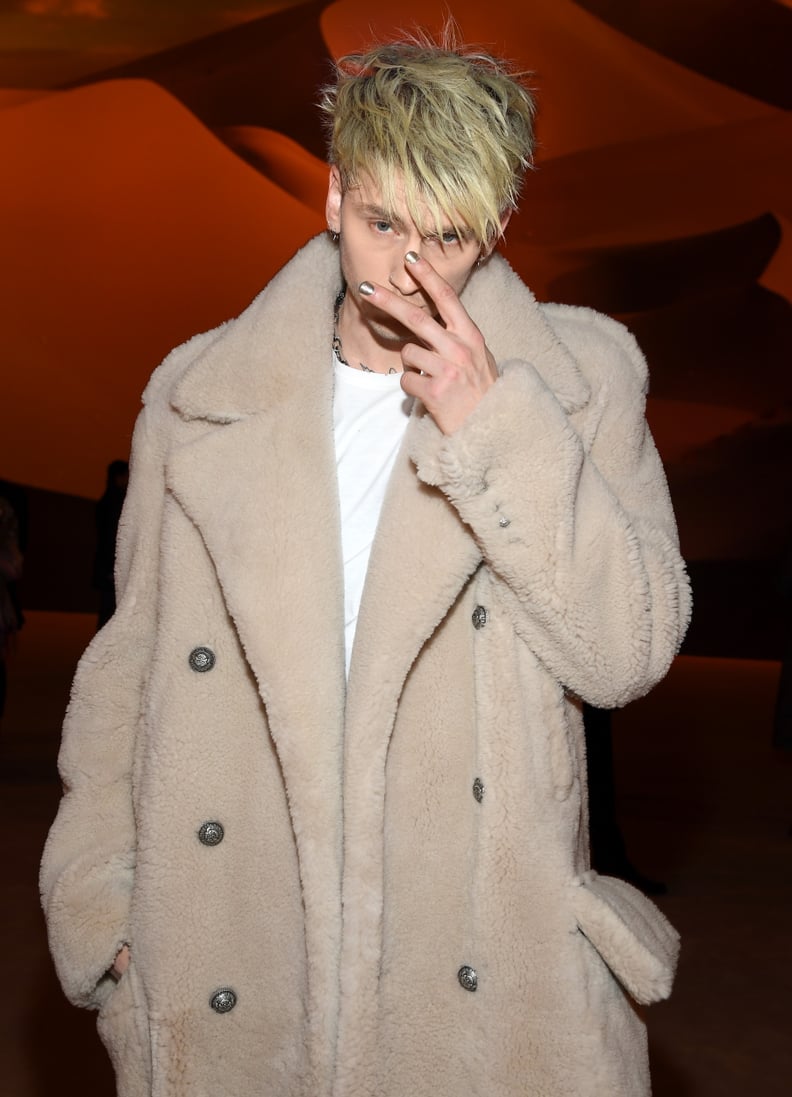 Machine Gun Kelly's Chrome Nails
Machine Gun Kelly wore a pale-gold chrome manicure while attending the Balmain menswear fall/winter 2020-2021 show during Paris Fashion Week in 2020. The look was devoid of nail art but matched perfectly with his cozy teddy coat.
Machine Gun Kelly's Evil-Eye Nails
In March 2021, while revealing a new hair color on Instagram, Machine Gun Kelly also showed off a multicolored evil-eye manicure. The nail look featured a mint-green color on his thumb, a black stiletto shape on his pinky, and blue and red negative-space evil eyes on his pointer and middle fingers.
Machine Gun Kelly's Black-and-White Chain Nails
Prior to his epic chain nail moment with Megan Fox, Machine Gun Kelly wore a less extreme version of the manicure while on a father-daughter date at the American Music Awards. In a picture with his daughter, MGK held up a trophy after winning favorite rock artist, and his nails were a half-black, half-white design, with a small chain detail added right down the middle of each finger.
Machine Gun Kelly's Chain Nails With Megan Fox
You didn't think we'd skip over the epic pierced-chain nail, did you? In December 2021, Machine Gun Kelly and his fiancée, Megan Fox, arrived at the launch party for Un/Dn Laqr, where they were chained together by their pinky nails. The look saw MGK wearing a long stiletto shape on his left finger, similar to the ones Fox wore on her right.
Machine Gun Kelly's Kiwi Nails
While on tour in Germany, Machine Gun Kelly sported kiwi-inspired nails. Yes, his nails were painted green with a white circle added to the middle, with small black strokes — mimicking the look of kiwi seeds — added to each finger for the easiest nail-art look that felt like summer.
Machine Gun Kelly's Light-Up Nails
Perhaps one of his coolest nail looks to date, Machine Gun Kelly's latest went high tech with checkered nail art featuring light-up technology. The elaborate manicure was created by nail artist Brittney Boyce, who added teeny LED lights to each nail, making quadrants of the checkerboard design cycle through various colors, including black, green, and pink.