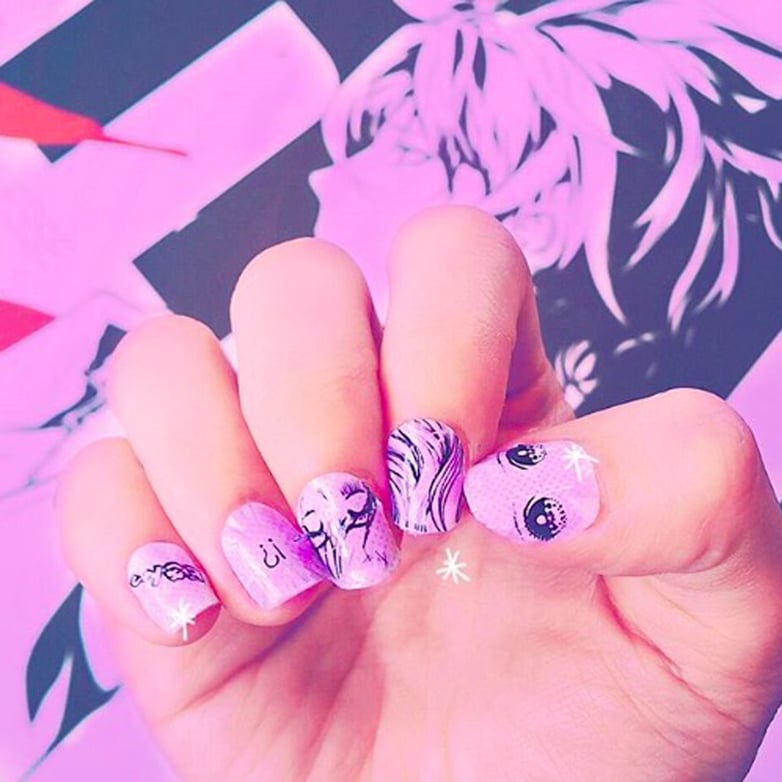 You might know Michelle Phan for her 12 years in the YouTube world making mesmerizing makeup tutorials and passing on her skincare know-how. Perhaps you know her as the founder of Em Cosmetics, a line of pigmented makeup products that would complete any shelfie. The influencer is a proven source of beauty inspiration, and through Instagram, fans are learning more and more about her affinity for nail art.
Looking closely at her photos, you'll find nail looks that feature dreamy color schemes, imaginative illustrations, and her personal take on popular trends (like negative space and french tips). Check out Phan's most eye-catching nail art looks, ahead.
Michelle Phan's Starry Sky Nail Art
Phan posted a series of photos of her nails that featured hand-painted stars on a peach-pink base.
Michelle Phan's Smoky Nail Art
"Nails are ready for Halloween," Phan said in her caption for her photo of her dark nail art. The nails were mismatched with smoky designs and negative space (a clear or flesh-toned base polish).
Michelle Phan's Clear Jelly Nail Art
Phan posted numerous photos of her clear jelly nails, which had 3-D embellishments and one crescent moon-shaped gem.
Michelle Phan's Mismatched Nail Art
In Phan's video showcasing her brands's serum blushes, fans were able to view her intricate, mismatched nail art. It featured different designs, including an illustration of an eye, Japanese characters on her thumb, and geometric shapes.
Michelle Phan's Manga Nail Art
Phan posted a photo of her manga-inspired nail art on her Instagram. Manga refers to Japanese comic books.
Michelle Phan's Pistachio Nail Polish Color
Phan's pistachio-colored nails are just as magical as her replica of Sailor Venus's wand from Sailor Moon.
Michelle Phan's Studded Manicure
Phan had on a "gray space" nail polish color (a hue from a family of gray shades one nail expert called this year's most "calming" nail trend) with studs trailing up its center.
Michelle Phan's Abstract Accent Nail
Phan gave her followers a glimpse of her abstract nail art with a close-up selfie.
Michelle Phan's Blue French Manicure
Phan updated the classic french manicure by using a metallic blue polish for her base and a navy blue hue for her tips.
Michelle Phan's Bandaid Hearts
Phan showed her fans how to create heart-shaped designs using a bandaid in one of her YouTube posts.
Michelle Phan's Neon Nail Art
Phan took a mirror selfie with her neon green manicure and a neon pink accent nail.
Michelle Phan's Metallic Manicure
Phan's metallic red manicure had a shimmering gold accent nail.
Michelle Phan's Sequin Manicure
Phan used a Ciate Sequined Manicure kit (which has since been discontinued) to create her sparkling nail look.
Michelle Phan's Muted Paint Splatter Nail Art
Phan had a nail art look featured muted hues splattered across each nail.
Michelle Phan's Bright Paint Splatter Nail Art
Phan also created bright version of her paint splatter nail art.
Michelle Phan's Monet-Inspired Nail Art
In 2012, Phan took her followers through a tutorial on how to create Claud Monet-inspired nail art.
Michelle Phan's Negative Space Nail Art
Phan's accent nail for her dark manicure had an abstract design created with negative space.
Michelle Phan's Sprinkle Nail Art
Phan coated her nails with beads that looked like sprinkles in 2012.