Pamela Anderson's Breast Implant Questions Were Intrusive
Why Was It Always Men Asking Pamela Anderson About Her Breast Implants?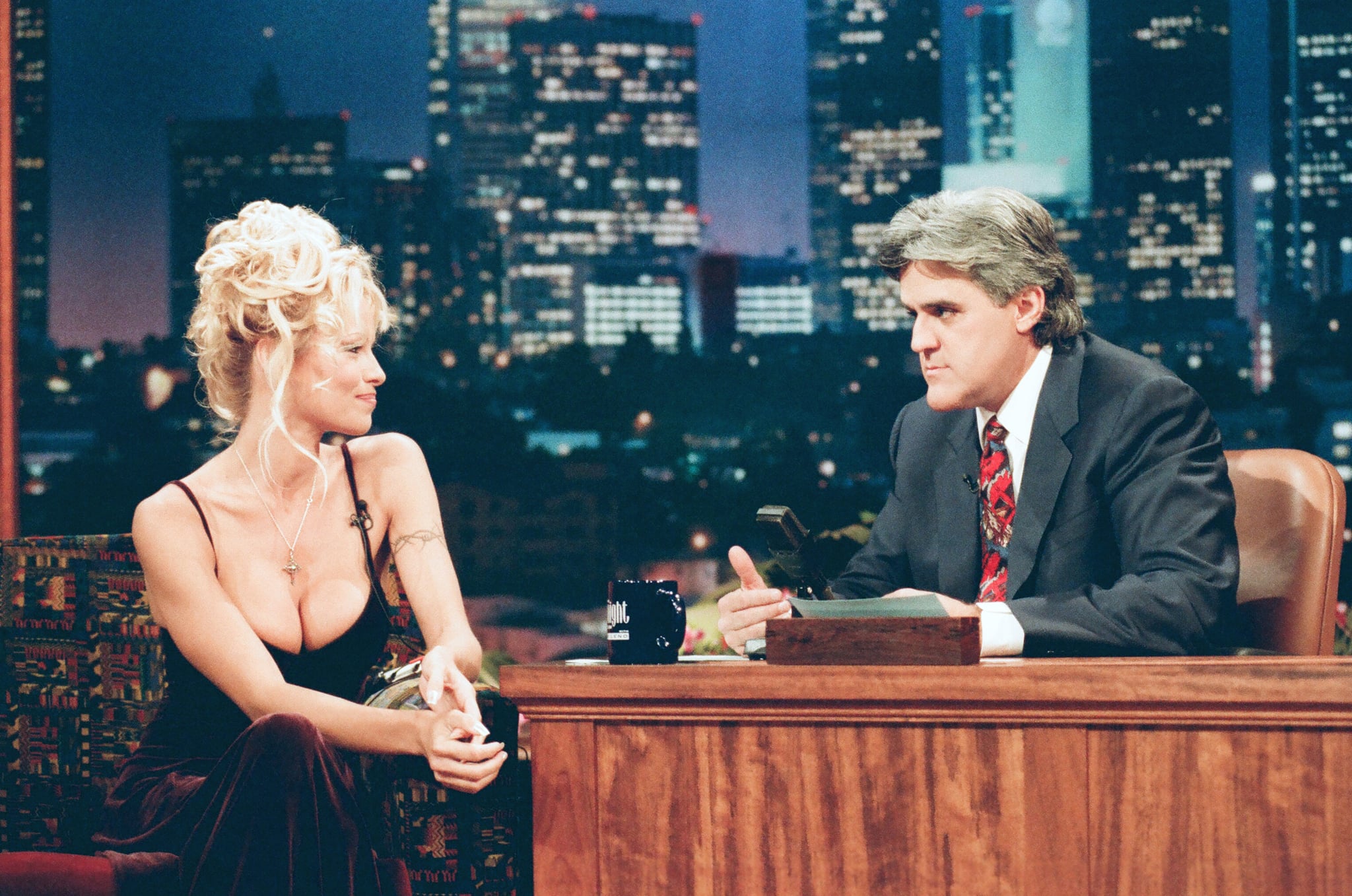 Image Source: Getty / NBCUniversal
In the 1990s and early 2000s, when plastic surgery was still considered taboo and procedures in Hollywood were kept hush-hush, Pamela Anderson was openly admitting to what she's had done. This decision was made in earnest more than anything else; in her new Netflix documentary, "Pamela, a Love Story," she admits that early in her career, it never occurred to her to be anything other than honest.
It's perhaps why, at the height of her modeling and acting career, Anderson was consistently asked about her breast implants by nearly every male reporter or host who interviewed her, which only fueled the constant chatter about her body in the media. "I didn't know to lie or withhold anything in interviews, so when people would ask me if I had surgery or anything like that then I would just answer," she says in the documentary, which was released on the streaming platform on Jan. 31. "And so that just kind of set the ball rolling."
The film features a compilation of interviews with major TV personalities such as Jay Leno, Larry King, and Matt Lauer (to name a few), whose lines of questioning ranged from cringe-worthy to straight-up brazen.
"Have you ever had work done?" King plainly asks Anderson in a clip from a 2005 "Larry King Live" interview. Even when she replies immediately and honestly saying, "Why yes, these are implants, Larry," it was, apparently, not good enough. "Oh, they are?" the host asks again. "Are they or aren't they?" Anderson confirms her answer for a second time and laughs it off, but it's clear that even then, she was already tired of her plastic surgery being the focus of every conversation.
During an interview with Matt Lauer, he says, "I've never sat across from an interview subject before and said, 'May we talk briefly about your breasts?' After Anderson attempts to deflect with a joke, Lauer pushes further, asking, "You were not under-endowed though, were you?"
In the documentary, Anderson reflects on these situations, calling them "disturbing." She says, "I think it's kind of inappropriate to ask women those kinds of questions. There has to be some line that people don't cross. I always hoped something would come along where I would do something [that] would be more interesting to people than my body."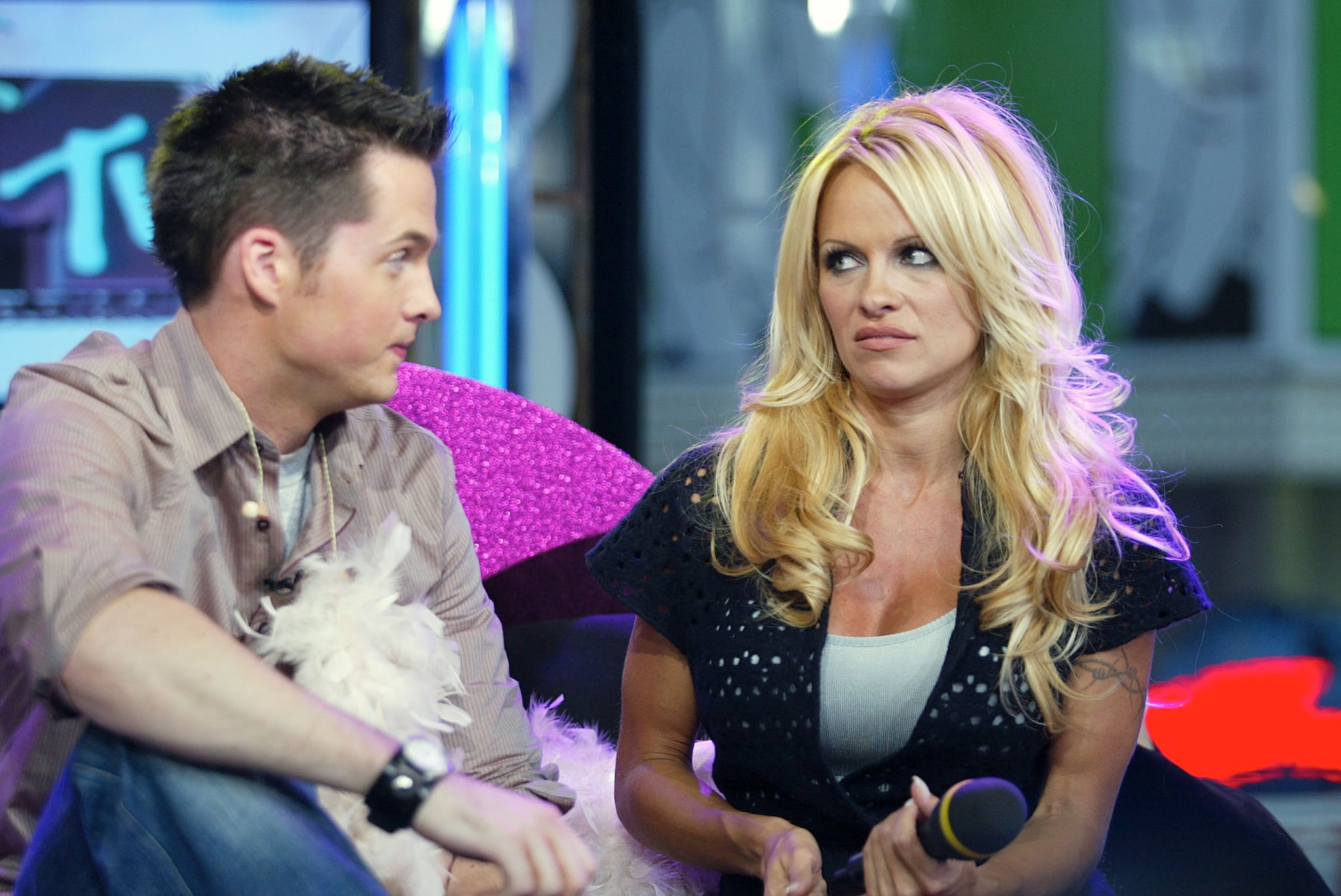 Image Source: Getty Images / Scott Gries
The way Anderson was treated by the media during those years — more as a sex symbol that appeased the male gaze as opposed to a human being with autonomy over what procedures she wants to do or not do — is quite different from what we tend to see today. In fact, recently, celebrities who have been open about their plastic surgery are often applauded for their honesty and openness. Khloé Kardashian, Bella Hadid, and Chrissy Teigen are just a few A-listers who have come forward about their procedures in recent years, sparking a new wave of transparency among public figures.
Still, inquiring about a celebrity's plastic surgery, especially when done simply to satisfy curiosity, is not (and has never been) acceptable. The fact that it was coming from men seems especially exploitative, not to mention misogynistic. There are much more interesting things to ask women, and their men counterparts are almost never asked the same questions.
Just because someone is famous doesn't mean people are entitled to information about them. It's that exact mindset that also led to the leaking and distribution of Anderson and Tommy Lee's sex tape in the mid-'90s. "The lawyers basically said, 'You're in Playboy, you have no right to privacy,'" she says. "That was a little bit shocking . . . it made me feel like I was such a horrible woman. I'm just a piece of meat. That this should mean nothing to me because I'm such a whore, basically."
Unfortunately, this entitled mentality toward women's bodies, particularly among men, is still very much present. We can only hope, however, that people like Anderson speaking out proves to be a step in the right direction toward correcting the deep-rooted misogyny that lingers decades later — in Hollywood and beyond.
Image Source: Getty Images/ NBCUniversal