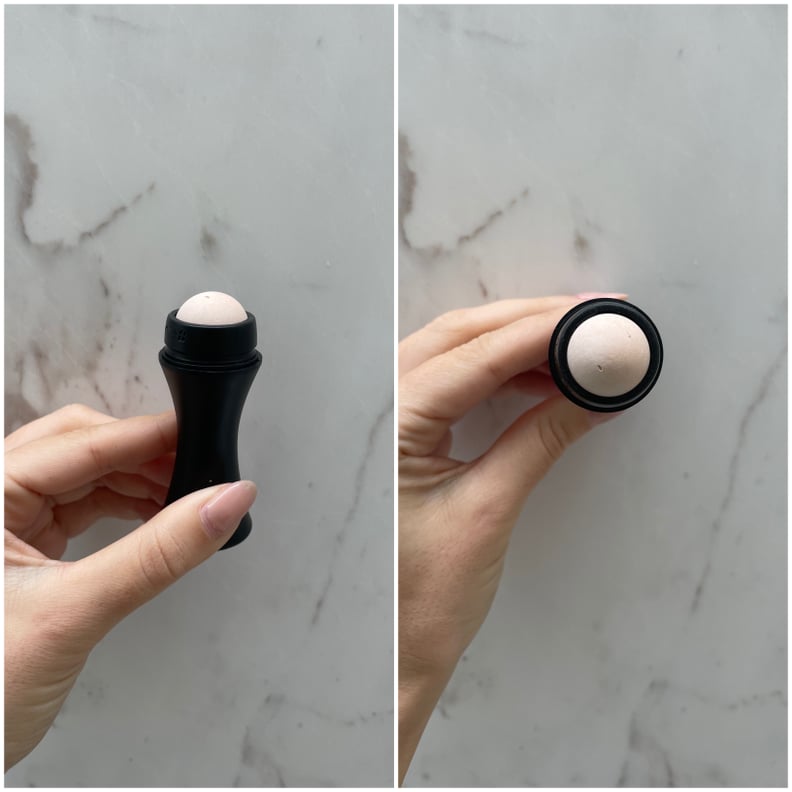 POPSUGAR Photography | Renee Rodriguez
POPSUGAR Photography | Renee Rodriguez
Every editorial product is independently selected by our editors. If you buy something through our links, we may earn commission.
Revlon's Oil Absorbing Volcanic Roller has been gaining popularity on TikTok for its ability to absorb excess oil quickly and efficiently.
The tool also has over 16,000 five-star reviews on Amazon.
One editor tested the tool and was impressed with the results.
While recently scrolling my TikTok feed, I came across a video of one of my favorite beauty influencers using an odd-shaped tool to remove excess oil from her face. In the video, she rolled the tool over an oily area, and the section became matte in two seconds flat. I've seen tons of different beauty hacks on TikTok — everything from applying foundation with a jade roller to filling in brows with eyeshadow — but this was unlike anything I had seen before. It honestly looked like magic. Once I figured out what the tool was, I knew I had to get my hands on it immediately. Allow me to introduce: the Revlon Oil Absorbing Volcanic Roller ($10).
Revlon's Oil Absorbing Volcanic Roller is a face roller made from real volcanic stone, which is apparently amazing at absorbing excess oils and shine. All you have to do is roll it over your skin, and it removes oil without disturbing your makeup or other skin-care products. It's also reusable — the ball actually pops off the top and can be washed and used over and over again.
I have dry, acne-prone skin, and I don't usually get too many oily spots. However, certain products (including the occasional powder) can make my skin break out in pimples, so I was excited at the prospect of lessening the number of products I needed to use on my face. If I could eliminate the need for tons of powder and instead use one simple tool, I would absolutely be sold.
To use the Oil Absorbing Volcanic Roller, the directions state to remove the cap and then gently roll the stone over any areas where excess oil has accumulated. I tested this product twice: once while wearing makeup and once without makeup. As I mentioned, my skin is on the dry side, but I do occasionally get a bit of oil buildup on my forehead and around my nose.
The first time I tried it, I immediately loved the way it felt rolling across my skin. It feels similar to a jade roller, but because the shape is smaller and rounder, it was able to hit areas my typical facial massaging tools couldn't. Plus, it rolled away the excess oil on my forehead and around my nose in two seconds flat.
To test this product with makeup, I applied all of my cosmetics as usual, including my translucent powder. I typically go in afterward with a heavier powder and set the area around my chin, in between my eyebrows, and around my nose, but this time, I decided to skip those steps and instead see if the rollerball could handle those areas without lifting the makeup I'd already applied.
I was shocked when it gave my skin a matte finish without lifting any makeup whatsoever. I found myself using this roller two more times throughout the day, just to touch up my T-zone, and it didn't mess with the finish of my face products at all, which was just as surprising the second and third time.
When it comes time to clean it, all you have to do is twist the locking ring around the stone, remove it, and wash it with warm water and a cleanser. Once it's air-dried, it can go right back in the handy-dandy holder. At just $10, I think this is a product that certainly holds its value. I love that it can be reused and completely eliminates the need for blotting papers and the application of excess powders. I also love that it's tiny enough to slip into a small handbag, so it's easy to carry on the go when I'm out and about.
Even though I don't have oily skin, I still think this product works wonders, and it would be even more beneficial for those who have oily skin. This is a product that I'm going to start carrying with me wherever I go, and I'll probably buy a few as gifts for my girlfriends. If you've been looking for the answer to manage your oily skin, Revlon has you covered.
Rating:
★★★★★