Demi Lovato's Quotes About Taylor Swift in Glamour Magazine
Demi Lovato Insinuates That Her Taylor Swift Quotes Were "Taken Out of Context"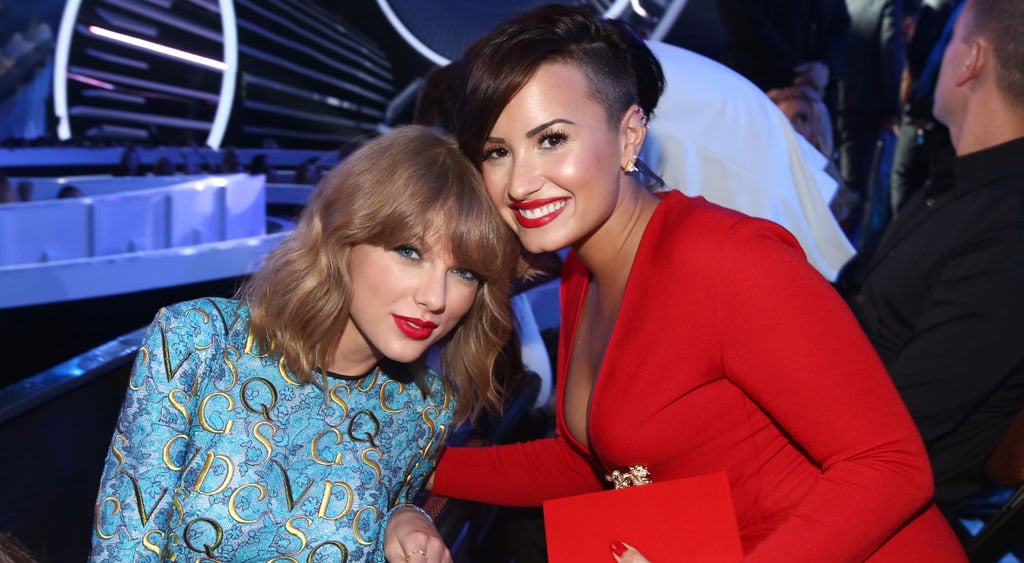 In 2013, Taylor Swift and Demi Lovato appeared to be good friends, but today, the pop divas remain at odds. After criticizing Taylor for being a "self-proclaimed feminist" in February during Kesha's legal battle with Dr. Luke, the "Stone Cold" singer doubled down on her strong opinions in the November issue of Glamour magazine. "I'm not afraid to talk about the fact that women get paid less than men in the United States and how unfair that is," she said. "Talking about it at all is doing the work, and I think every woman does her part in some way. But I think in certain situations, certain people could be doing more if they're going to claim that as part of their brand."
During Taylor's 1989 tour last Summer, she made a big show of her dedication to feminism and female friendship by parading her "squad" (Selena Gomez, Cara Delevingne, Lily Aldridge, etc.) around the stage but then also released a music video, "Bad Blood," about her longstanding feud with Katy Perry. Her actions didn't seem to match up, and many people, including Demi, took notice. "To be honest, and this will probably get me in trouble, I don't see anybody in any sort of squad that has a normal body," she continued. "It's kind of this false image of what people should look like. And what they should be like, and it's not real . . . it's not realistic. And I think that having a song and a video about tearing Katy Perry down, that's not women's empowerment. We all do things that aren't, but I have to ask myself, 'Am I content with calling myself a feminist?' Yes, because I speak out."
After her quotes began bringing in criticism from fans who had issues with her judgments about what is and isn't a "normal body," Demi attempted to explain her words on Twitter. "I get asked questions. I answer them. Sue me," she tweeted. "Also don't forget that words can be taken out of context when doing interviews. . .still not apologizing for saying what everyone want to say." She then added that her fans should worry about more important things, before announcing that she'd be taking a break from the music industry in 2017.
I get asked questions. I answer them. Sue me.

— Demi Lovato (@ddlovato) October 4, 2016
Also don't forget that words can be taken out of context when doing interviews.. still not apologizing for saying what everyone want to say

— Demi Lovato (@ddlovato) October 4, 2016
I don't understand why people care so much about what I say in interviews? Do y'all watch the news? Don't y'all got shit to worry about?

— Demi Lovato (@ddlovato) October 4, 2016
So excited for 2017. Taking a break from music and the spotlight.. I am not meant for this business and the media 👋🏼

— Demi Lovato (@ddlovato) October 4, 2016