Prince Charles and Camilla Wedding Facts
What You Didn't Know About Prince Charles and Camilla's Wedding
Image Source: Getty / Hugo Burnand / Pool
Although Prince Charles and his wife, Camilla, the Duchess of Cornwall, are cornerstones of the royal family these days, if you know your royal history, you know that wasn't always the case. Camilla was Charles's first love, and when his marriage to Diana, Princess of Wales, failed, she was his mistress. Despite the backlash from the British public and even from within the royal family, Charles and Camilla wed in 2005 — the second marriage for both of them. Here are just some of the facts you might not know about the future king and queen's big day.
They had two ceremonies instead of just one. Because Charles and Camilla were both divorced (and Camilla's ex-husband, Andrew Parker Bowles, was still living), they were in an awkward position, given that the Church of England tends to frown upon divorce and remarriage. Instead of pushing for a full church service, Charles and Camilla instead chose to have a two-part wedding day. They began with a civil marriage ceremony, followed by a religious blessing.
The queen did not attend — for religious reasons. As the head of the Church of England, the queen chose not to attend the civil marriage ceremony between the couple, whose previous marriages were at odds with church teaching. She did, however, attend the subsequent blessing and spoke briefly at the reception.
The chapel they used has some serious royal history. For their marital blessing after the civil marriage ceremony, Charles and Camilla, along with their families and guests, went to St. George's Chapel in Windsor. The chapel has been the site of many royal weddings over the years, including the future King Edward VII and his wife, Alexandra. In the modern era, St. George's was the venue of choice for the wedding of Prince Edward and Sophie, Countess of Wessex, as well as Princess Eugenie and Jack Brooksbank, Peter Phillips and Autumn Kelly, and, of course, Prince Harry and Meghan Markle.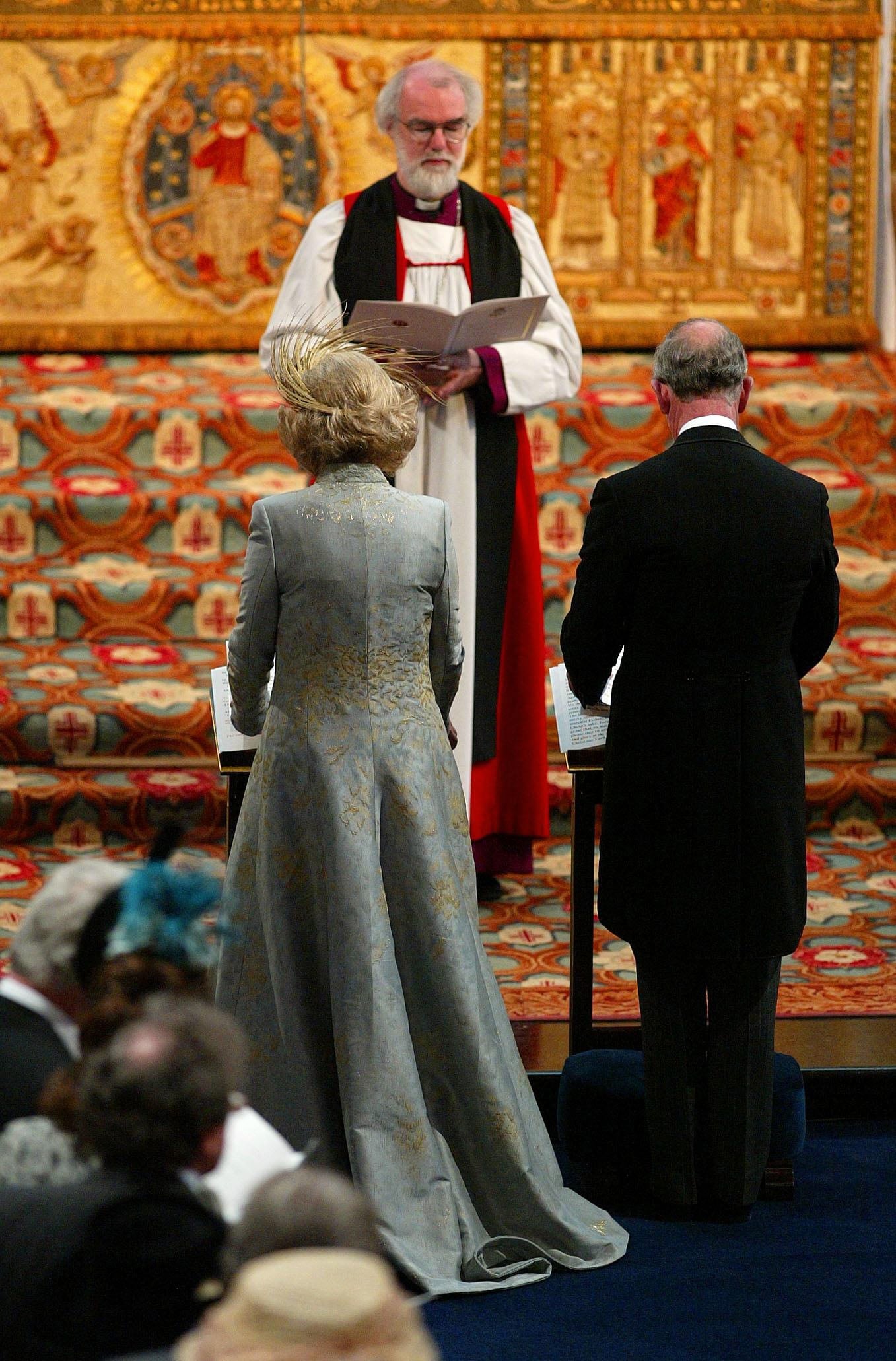 Image Source: Getty / Anwar Hussein Collection / ROTA / WireImage
Camilla was sick at her wedding. In the week leading up to the April wedding, Camilla was suffering from sinusitis. Her ongoing illness, along with the obvious stress and anxiety over the ceremonies and public perception, had several of her friends worried that she might not actually be able to go through with the wedding plans. Even up to and on the day of the wedding, her nerves were so stressed that it took several friends to help her get out of bed and get going.
Not everyone was thrilled about the royal wedding. Camilla's history with the British public had been fraught for many years, due to the fact that she was widely perceived as the "other woman" who had broken up Charles's marriage with Diana (in reality, most reports are that they resumed their romance only after Charles and Diana's marriage had fallen apart). So it's no surprise — even if it is a bit sad — that the couple's appearance was greeted with a few audible boos. Despite this, the vast majority of crowds who turned out were well-wishers.
Charles was already connected to Camilla's family. Although Charles became the stepfather to Camilla's two children when they married, he already had a relationship with her son. When Camilla had her son, Tom Parker Bowles, in 1974, she asked Charles to be his godfather.
Camilla's title was complicated the moment she said "I do." Technically speaking, Camilla became the Princess of Wales upon marrying Charles, but she chose to go by his secondary title (that of the Duchy of Cornwall) in deference to a public that still associated the Wales title with Diana. The official word is that she may choose to go by "Princess Consort" when Charles becomes king, for similar reasons, but in common law and in practice, she will be queen consort.
There was a floral snafu because of the pope. Charles and Camilla's original wedding date of April 8 was pushed back a day so Charles could attend the funeral of Pope John Paul II as the representative of the royal family. Because of this last-minute change, the florists scurried to keep the arrangements "fresh and perfect" for an extra day.