What Is the Duchess Slant?
What Is the "Duchess Slant"? Here's the Modest Move Meghan Markle Had to Master, Quick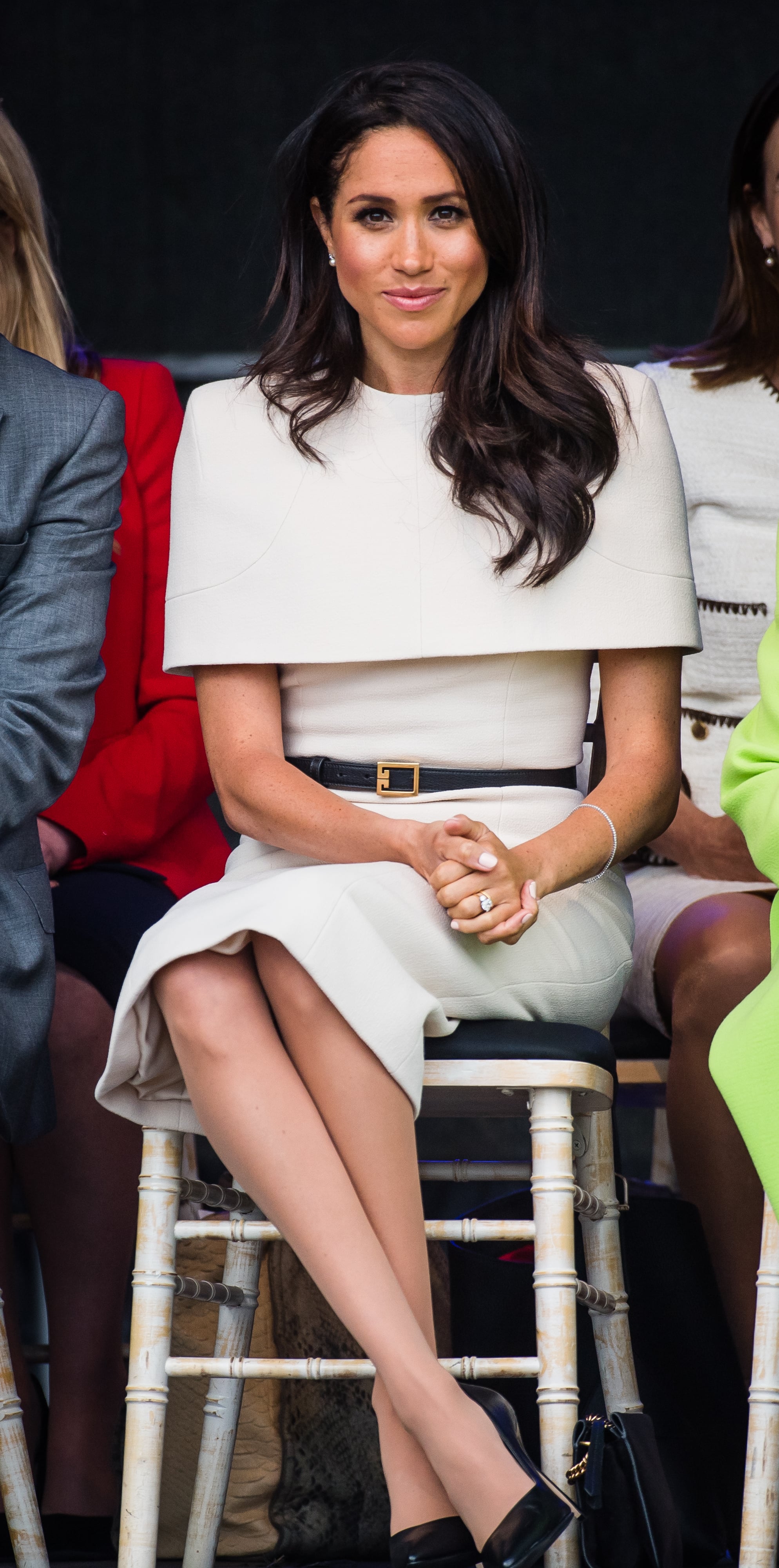 Meghan Markle has been diving right into her royal duties since marrying Prince Harry nearly a month ago. This week, the newly appointed Duchess of Sussex embarked on her first official appearance without Harry, instead joining Queen Elizabeth II on an overnight train ride to Cheshire, England. No pressure! While visiting North West England, Meghan and the queen made each other giggle as they sat side by side to watch a performance from cute kids — and the way Meghan positioned herself on the chair is just one example of the new etiquette rules she's picked up since becoming a member of the British royal family.
Like Kate Middleton before her, Meghan was likely trained by palace aides in the "duchess slant." The move is characterized by the knees and ankles being kept tightly together, while the legs are slanted to the side. The "duchess slant" is an unofficial term first coined by Beaumont Etiquette and named after the Duchess of Cambridge herself. Kate and Meghan's late mother-in-law, Princess Diana, also perfected the pose during her time as a royal family member.
According to Beaumont Etiquette founder Myka Meier, the slant is used "when a lady has to sit for an extended amount of time while keeping poise and posture." She told People that it's the perfect pose "for when a camera is shooting directly in front of you." By "slightly slanting the knees to create a zig-zag effect when wearing a dress or skirt," the camera can only shoot the side of your legs and "protect your modesty."
We first saw Meghan employing the move when she and Harry joined Kate and Prince William at the Royal Foundation Forum in March, and judging by her most recent outing, she's nailing it. It was reported in March that Meghan had received and mastered royal protocol and etiquette lessons faster than any other royal bride — even though she might need a helpful nudge every once in a while, it's impressive to see how quickly she's picked up new moves. We love an overachiever!