What Is It Like to Meet the Backstreet Boys?
What It's Like to Meet the Backstreet Boys After Being a Fan For 20 Years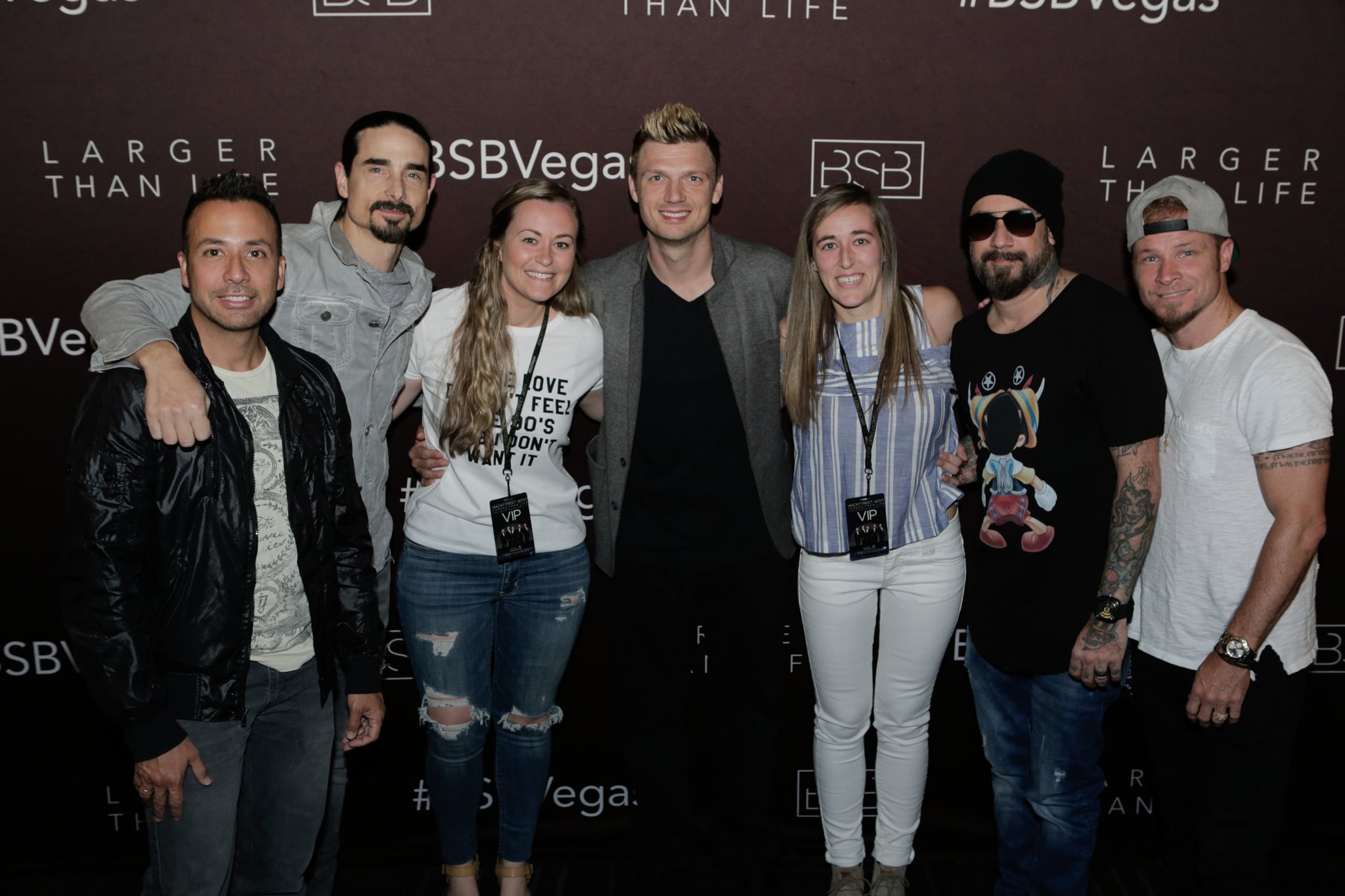 In order for me to fully tell this story, I need to take you back to the year 1996. The scene is this: my 8-year-old self is patiently listening to KISS FM's top 10 countdown so that I can hear the Backstreet Boys's latest hit, "I'll Never Break Your Heart," the wallpaper my mom carefully picked out for the room my sister and I shared was completely covered in BSB posters (her side was AJ, mine was Brian), and I was daydreaming about what it would be like to break the news to my friends that I was quitting school to go on the road with my new boy band boyfriend. Sound pathetic? I don't even care. Everyone that I know has had similar embarrassing stories about their famous crushes back in the day, and if any of them were part of a boy band, things just seemed to be on an entirely different level.
Little did I know that that was only the beginning of a very long journey that still continues to this day. You see, in the whole "Backstreet Boys or *NSYNC" battle of the late '90s and early 2000s, I was 100 percent a BSB girl. Always have been, always will be (still love you though, JT). I've been to six of their concerts, a few of their random appearances, and I even supported AJ during his brief solo career. And while I consider myself to be a big fan, I don't even compare to my older sister, Eileen. She'll kill me for telling you this, but one time when we flew into Orlando for a Disney World trip as kids, she said out loud, "Oh my God, we're, like, flying over AJ's house right now." Her AIM screen name was also "AJs1nOnlyBabe." (Sorry, sis, had to.) Our love for BSB was something we shared and bonded over, and it was so much fun to grow up with our five favorite guys together.
Now let me bring you back to the present day. Our love for BSB obviously isn't as intense as it was when we were younger, but it's still there, resurfacing every time a new song is released or an old hit plays on the radio. So when we heard they were heading to Las Vegas for a residency, we immediately tried to put a trip to Sin City on the calendar. Thanks to our amazing parents who planned the whole thing for a surprise Christmas gift, we were able to not only go to the concert, but also meet them beforehand. A few seconds before it all happened, my sister looked at me and said, "My legs are shaking. What do I even say to them? I've dreamed of this day my whole life? No, dreamed is too creepy. I want them to think I'm cool and relaxed." And let me just say: they are all as amazing as I would have hoped.
While many celebrities can be awkward and stand-offish during meet-and-greets, BSB couldn't have been more welcoming. AJ greeted us with outstretched arms for a huge bear hug, Nick took me by the hand and placed me right next to him for a photo, Kevin smiled at me and said "Sorry, one second" while retying his man bun, Brian was just being his hilarious self, and Howie asked us how we were doing. I told them I work for POPSUGAR and that we all love them here, to which Nick excitedly replied, "My wife and I love POPSUGAR! We read it all the time." The rest of the boys followed suit with praise. They asked us if we were excited for the show and made no effort to rush us on our way. Instead of feeling like were just two girls in a long line of fans, they made us feel like we were the only two people they wanted to talk to in that moment. They said goodbye with really tight hugs, and thanked us for taking the time to meet them. They thanked us. I just about died. After returning from their concert later that night (which is unbelievably amazing, by the way), I felt like I was back in my old childhood bedroom again, listening to their hit songs with pure joy.
Image Source: POPSUGAR Photography / Caitlin Hacker