Quotes From Harry and Meghan's Africa Tour Documentary
Harry and Meghan Got Extremely Candid in Their Documentary: "It's Constant Management"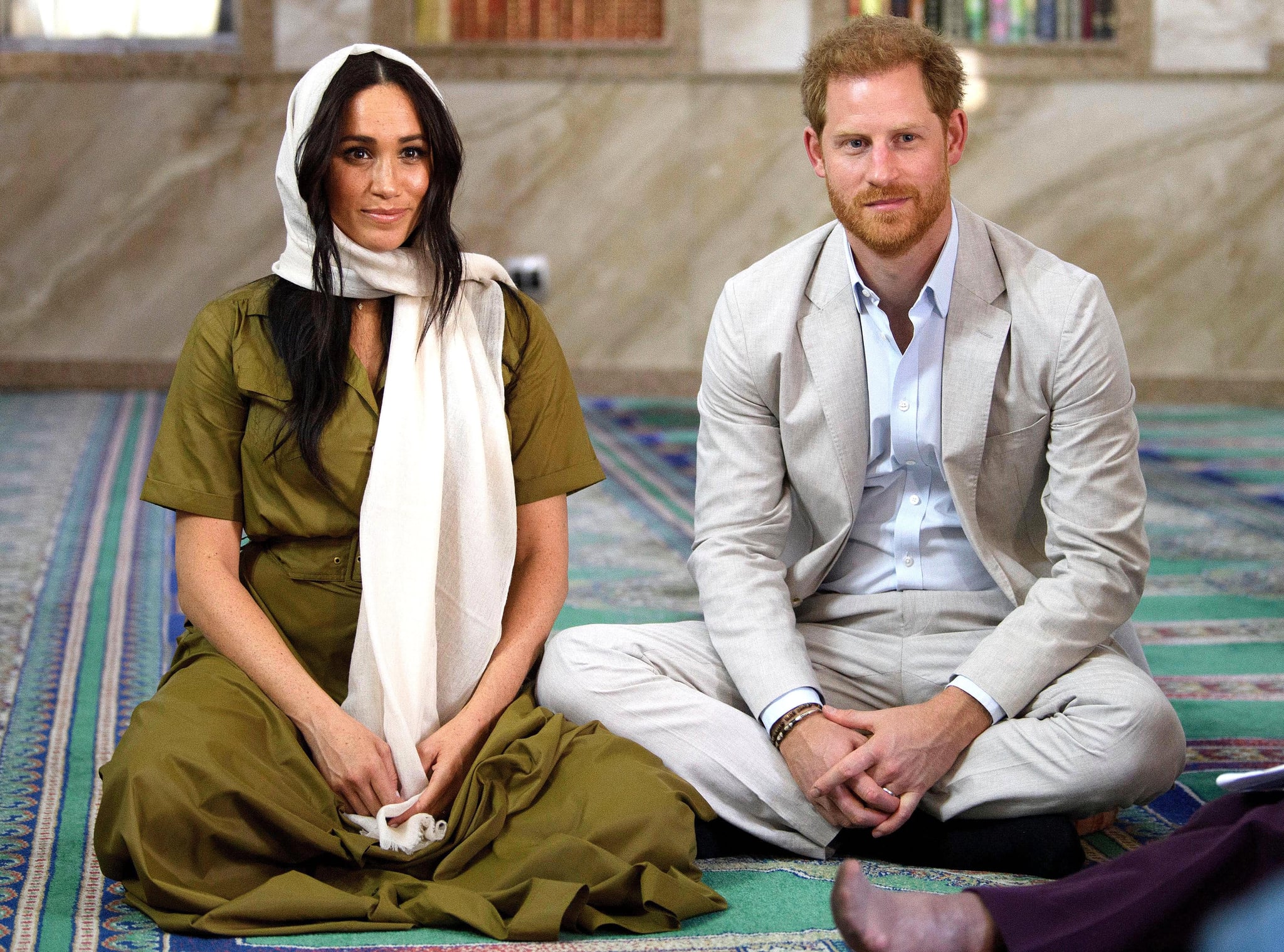 Image Source: Getty / Tim Rooke
Prince Harry and Meghan Markle are a huge talking point right now, having shared some of their deepest emotions in a new ITV documentary about their recent tour of Southern Africa. In Harry and Meghan: An African Journey, we learned more about the pressures they face as one of the most famous royal couples in the world, but we also saw the happiness and pride they take in each other; their son, Archie Mountbatten-Windsor; and their work for good causes. In fact, the documentary provided quite the insight into just how emotional the past year has been for the Duke and Duchess of Sussex.
Those emotions became apparent in a series of candid interviews, which saw Harry and Meghan challenge the royal practice of keeping feelings behind palace doors. Both the Duke and Duchess of Sussex spoke about the impact they feel from the constant scrutiny placed upon them by the British press. Talking to presenter Tom Bradby under the stars of an Angolan night sky, the Duke of Sussex was honest about his mental health, speaking openly about having to find new ways of dealing with his own personal challenges, confessing, "It's management, it's constant management." The raw nature of Harry's feelings was easy to see as he spoke about those issues, explaining, "I thought I was out of the woods, and then suddenly it all came back and I suddenly realized that this is something that I have to manage."
VIDEO: Prince Harry on that "rift" with his brother, William: "Inevitably stuff happens" he said. "We are certainly on different paths at the moment but I'll always be there for him".
pic.twitter.com/MouenCO3T4

— Chris Ship (@chrisshipitv) October 20, 2019
Those emotions came to the forefront again when he spoke of his love for his brother, Prince William, while also admitting that "stuff happens" and confirming that their lives are now on different tracks. It was also hard not to be moved at the sight of Harry walking in the footsteps of his mother, Diana, or to feel his loss when he spoke about the inspiration he takes from her, saying, "Everything that I do reminds me of her."
There were emotional admissions, too, from the Duchess of Sussex, who shared that the British stiff upper lip just didn't work for her, saying, "I tried, I really tried. But I think that what that does internally is probably really damaging." The toll that scrutiny and criticism has taken on her was clear in her face as well as her words. And while her willingness to open up about the conversations she's had with Harry about whether it's enough just to survive a situation causing them both pain has grabbed headlines around the world, Meghan's words of love for her son and husband were just as powerful, as she ended her interview stating, "That's OK, I've got my baby and I've got my husband, and they're the best."
Meghan: "It's not enough just to survive something, right? That's not the point of life."
She says she's tried to adopt the British "stuff upper lip" but "what that does internally is probably really damaging" #HarryandMeghan pic.twitter.com/GLGB8qzguF

— Chris Ship (@chrisshipitv) October 20, 2019
While much of the focus of the documentary was on their personal feelings, the public passion Harry and Meghan have for being a "force for change" was also on show from the very start. An exclusive chat with the couple as they undertook their first engagement in Cape Town saw them talk about their determination to "shine a spotlight" on social change. And Meghan revealed that while they always want to listen and learn, they also felt compelled to ask, "What can we do to help?"
As the documentary followed them through a busy diary in South Africa, we also saw how much positive change means to the couple. Meghan was often heard talking about the inspiration she experienced in the country. As she sat down to tea in the home of a Muslim family in Bo Kaap, she praised the optimism in the area, while the couple's hugs and handshakes for everyone they met underlined how they are trying to reach as wide an audience as possible.
The romance that began this royal story was also evident throughout the documentary, with Meghan blushing as she shared the sweet name she has for her husband (she calls him "H"). Meanwhile, Harry couldn't hide his pride every time he referred to her as "my wife." One of the sweetest moments came as Meghan confided that she asked Harry about changes she wanted to make to a speech as his opinion was what mattered most to her.
While we were all cooing over just how much like his daddy Archie really is, Meghan's pride in her son getting to meet one of the greatest peace advocates of all, Archbishop Desmond Tutu, was another emotional insight into this young family's journey. "It's not lost on us what a huge and significant moment that is. I think Archie will look back at that for so many years and understand that right at the beginning of his life he was fortunate enough to have this moment with one of the best and most impactful leaders of our time," the proud duchess said. Sleepy Archie nodded off on his father's chest as his mom spoke of the couple's plans for the future, a sweet reminder that behind the debate this program has caused, there's a young family settling into a new life.
The documentary has led to questions about how the Duke and Duchess of Sussex will develop their royal roles in the future, but while it might not be the way we're used to seeing royals, it offered a rare insight into how emotions affect everyone, royals included.