A Timeline of Harry Styles and Taylor Swift's Relationship
There are a handful of moments that define pop culture, or at the very least shake it up a bit. Case in point: when Taylor Swift and Harry Styles dated in 2012. The two singers sparked romance rumors in the fall of that year when Swift was rehearsing for her performance on "The X Factor" and Styles was reportedly on hand to support her, according to E! News. Not long after, #Haylor took the world by storm. However, their romance was short-lived, as they split in January 2013.
While the breakup between Swift and Styles is 10 years in the past, the aftermath of their brief relationship has continued to play out, with both singers using their music to touch on the highs and lows of their relationship. Last year, Swift released her "Midnights" album, and fans have theorized that "Maroon" and "Question...?" may be about Styles. And this October, Swift is releasing "1989 (Taylor's Version)," the rerecorded version of her 2014 album that features quite a few songs about their romance.
In light of the recent speculation, here's a timeline of Swift's relationship with Styles.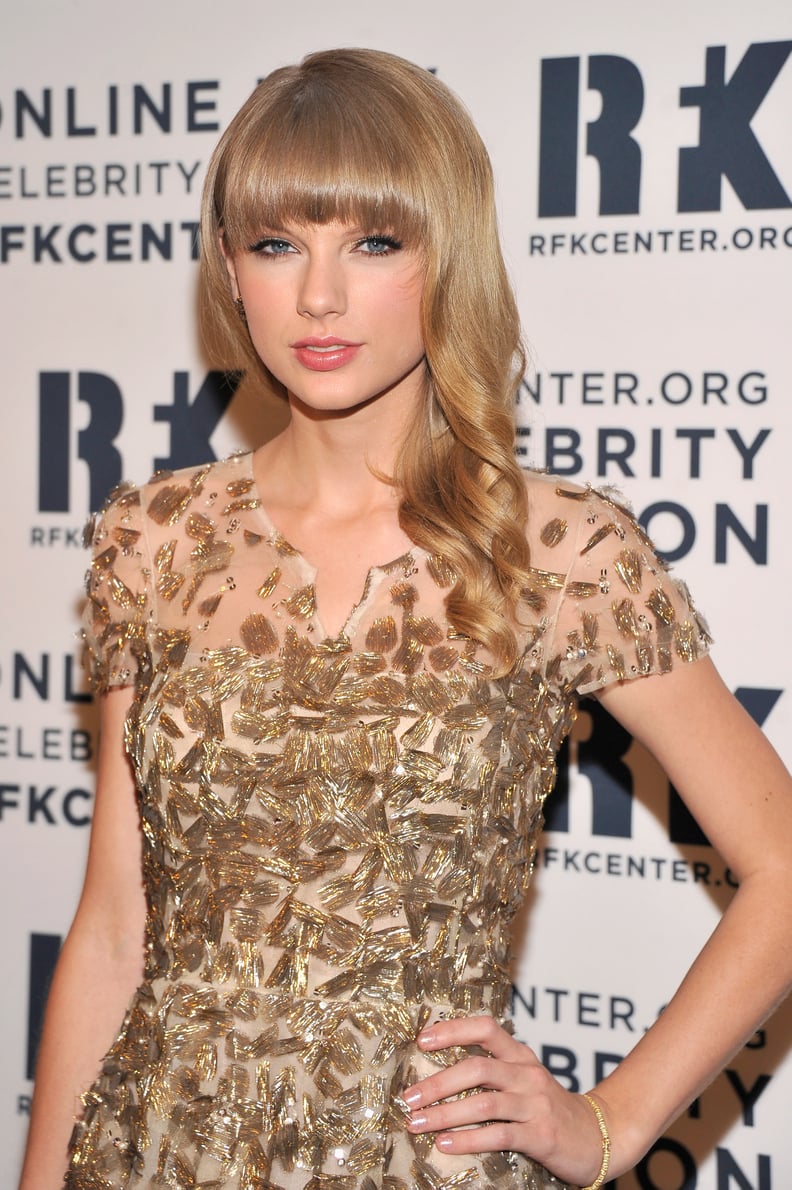 Fall 2012: Harry Styles and Taylor Swift Spark Dating Rumors
Back during Styles's One Direction days, he notoriously wore a silver paper-plane necklace on the regular, so much so that Swift would eventually reference this necklace later in her iconic song "Out of the Woods," but we'll get to that later. In the fall of 2012, the two sparked dating rumors when Swift was seen wearing the same necklace, though neither confirmed the speculation at the time. Earlier that year, Styles told Seventeen of Swift, "[Taylor]'s a really lovely girl. Honestly, she couldn't be a sweeter person," adding that's she's "extremely talented."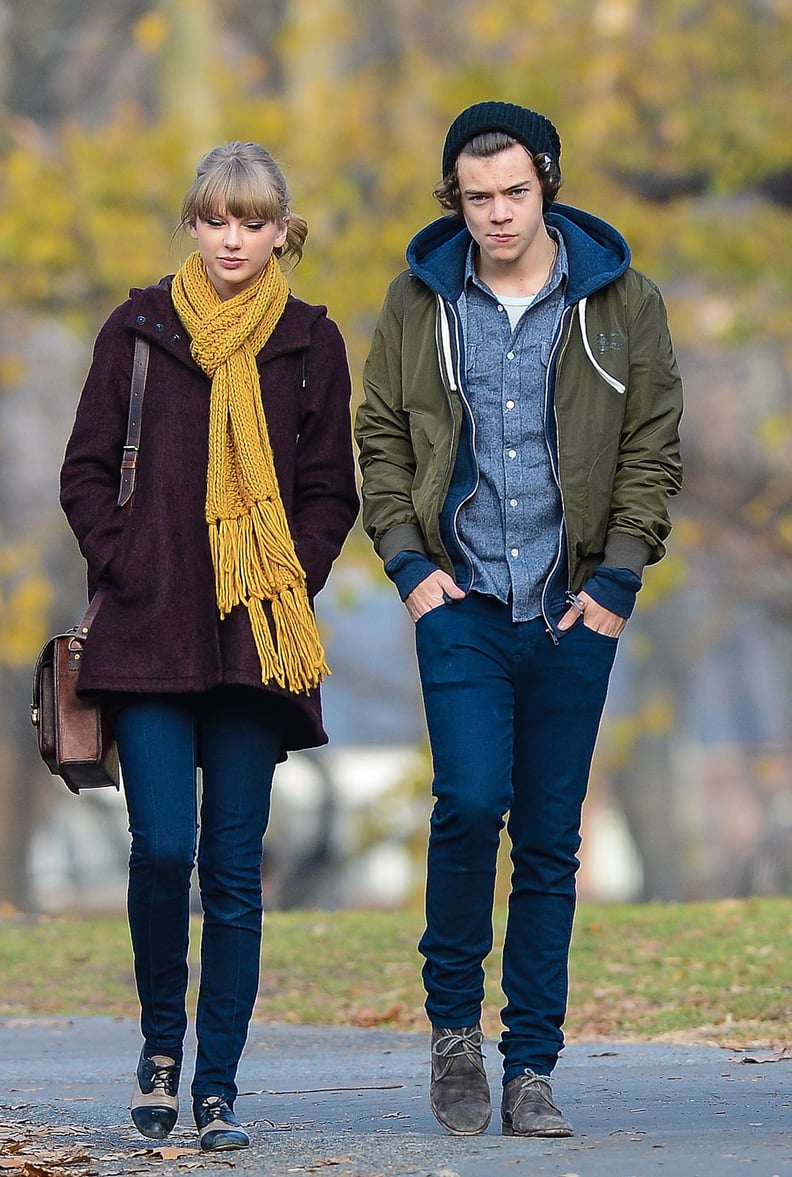 December 2012: Harry Styles and Taylor Swift Are Pictured Together
It didn't take long for Styles and Swift to take their relationship public. In December 2012, the two pair were spotted on a stroll in New York City. According to E! News, Styles and Swift were walking in the Central Park Zoo along with Styles's hair stylist, Lou Teasdale, plus Teasdale's fiancé and their daughter, Lux. "Harry and Taylor were walking next to each other. They seemed happy to be together, talking and smiling. Taylor seemed to be in a great mood. Lou and Tom were walking next to them and pushing their baby Lux in a stroller," a source told the outlet at the time.
January 2013: Harry Styles and Taylor Swift Break Up
After just a few short months of dating, Styles and Swift called it quits. Us Weekly reported that the breakup occurred while the two were vacationing together in the British Virgin Islands. Following the split, Swift reportedly traveled back to Nashville, while Styles remained on vacation and was even seen stopping by the home of billionaire Richard Branson.
October 2014: Taylor Swift Releases Multiple Songs Rumored to Be About Harry Styles
Swift is known for pouring her heart into her music projects, and her 2014 album "1989" is no different. The album features multiple songs that touch on her brief relationship with Styles, most notably "Out of the Woods" and "Style."
While "Style" blatantly references her ex's name, the lyrics in "Out of the Woods" are a little more subtle, but they couldn't be clearer to fans who love and follow both artists. In the synthy pop piece, she draws attention to their infamous paper-plane necklaces, singing, "Your necklace hanging 'round my neck / The night we couldn't quite forget / When we decided / To move the furniture so we could dance / Baby, like we stood a chance / Two paper airplanes flying, flying, flying."
Swift also highlights a harrowing experience that involves a snowmobile accident with an ex, who many believe to be Styles. "Remember when you hit the brakes too soon / Twenty stitches in a hospital room," she sings. According to a September 2014 interview with Rolling Stone, the "Lover" singer explained that the lyrics were inspired by a scary snowmobile crash that supposedly sent both her and an ex to the emergency room.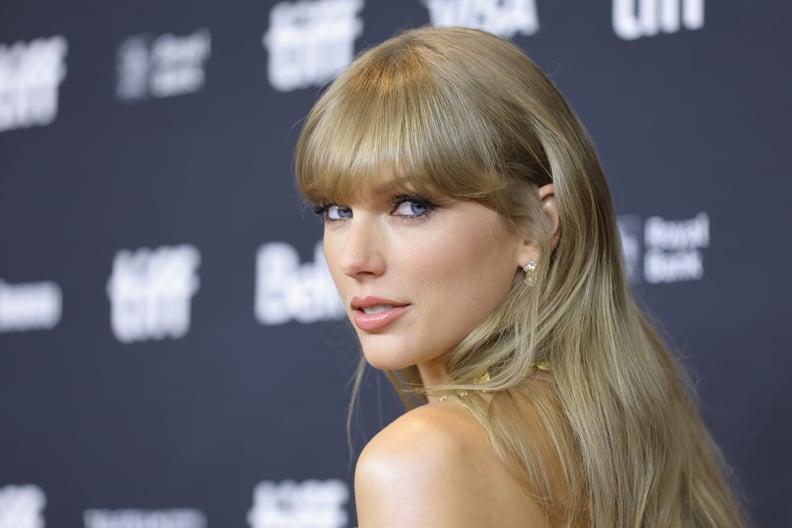 2015: Taylor Swift Discusses Having Anxiety While Dating Harry Styles
Swift may not have explicitly named Styles as her boyfriend to the public, but she hasn't shied away from referencing her relationship with him over the years. In 2015, the singer delivered a stunning performance of "Out of the Woods" during a a Grammys listening session and dived into the inspiration behind the song to the audience.
"The song itself, what I wrote, hearing this track, it just kind of conjured up all these feelings of anxiety that I had had in a relationship where everybody was watching, everybody was commenting on it," Swift said. "You're constantly just feeling like 'Are we out of the woods yet? What's the next thing going to be? What's the next hurdle? We're going to have to jump over it. Are we going to make it to next week?'"
October 2015: Harry Styles References Taylor Swift in One Direction's "Perfect"
On their last album, 2015's "Made in the A.M.," One Direction included the song "Perfect." Styles and his bandmate Louis Tomlinson are among the writers on the track, and it has some pretty obvious references to Swift. The song's pre-chorus includes the lyrics, "When I first saw you from across the room / I could tell that you were curious," which acts as a second point of view to Swift's lyric, "I knew you were trouble when you walked in." Other lyrics allude to hiding from paparazzi in hotel rooms, and Styles ultimately sings, "And if you're looking for someone to write your breakup songs about / Then baby, I'm perfect."
May 2017: Harry Styles Seemingly References Taylor Swift in "Two Ghosts"
Styles also seemingly referenced their romance when he went solo. In 2017, the singer released his debut solo album, "Harry Styles," and fans believe that one song in particular addresses his brief romance with Swift. In "Two Ghosts," Styles sings, "Same lips red, same eyes blue / Same white shirt, couple more tattoos," a direct reference to Swift's lyrics in "Style," which similarly mention red lips and a white T-shirt.
2020: Harry Styles Says He's "Flattered" by Taylor Swift Writing Songs About Him
Bringing relationship history into music can be messy, but not for Swift and Styles, who, in fact, has said he is flattered to serve as inspiration for some of his ex's songs. In an interview on "The Howard Stern Show" in 2020, Styles complimented Swift, saying, "I think about what it means to me to write a song about somebody else and for somebody else to do that, it's like flattering, even if the song isn't that flattering, you still spent time on it and ultimately, using Taylor as an example, she's a great songwriter. So at least they're good songs."
February 2021: Harry Styles and Taylor Swift Reunite at the Grammys
#Haylor stans everywhere completely lost it when Styles and Swift reunited at the 2021 Grammys. The biggest music event of the year nominated both artists for their accomplishments in the industry, with both Styles and Swift earning nominations in the pop vocal album and pop solo performance categories.
Sure, the video of the pair chatting at the award show doesn't include the audio of their exchange, but many were quick to fill in the blanks, and it appeared they had a light-hearted conversation and that all was well between them!
October 2022: Fans Speculate Taylor Swift's "Question...?" and "Maroon" Reference Harry Styles
It wouldn't be abnormal for Swift to address her romantic history, especially her brief time with Styles, in her music once again. The "August" singer released her latest album, "Midnights," on Oct. 21, and fans immediately leaped at the opportunity to analyze the album's many songs. Two songs in particular, "Question...?" and "Maroon," have many thinking that Swift is talking about Styles again.
Most notably, "Question...?" starts with "I remember," and makes a direct reference to the many instances Swift sings the phrase in "Out of the Woods." One Twitter user commented on the similarities, saying, "STOP I realized 'Question...?' samples 'Out of the Woods' because the entire chorus is asking a question about where the relationship is headed, which Taylor elaborates on in this song... OMFG A TRUE MASTERMIND."
In "Maroon," Swift sings, "The burgundy on my T-shirt when you splashed the wine onto me." Coincidentally, Styles's song "Olivia" contains the line, "Just thinking how I went about it wrong / This isn't the stain of a red wine, I'm bleeding love," leading to speculation that Styles may have spilled red wine onto Swift at one point.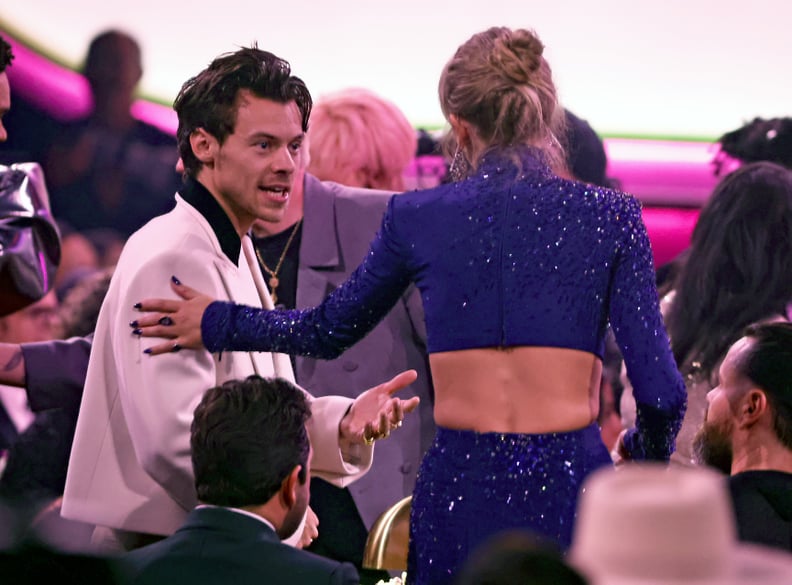 February 2023: Taylor Swift and Harry Styles Catch Up at the 2023 Grammys
Swift and Styles were caught chatting during a commercial break at the 2023 Grammy Awards. And when Styles took home some of the night's big awards — including album of the year — Swift cheered for her ex, which was also caught on camera.