JoJo Siwa Says She Was Used "For Views" After Avery Cyrus Breakup
JoJo Siwa and content creator Avery Cyrus have called it quits after three months of dating. Cyrus and Siwa shared the news in a Dec. 17 TikTok video featuring them and a group of friends on a Caribbean cruise. In the video, the Nickelodeon star gives her ex a gift from a claw machine and says, "This is my sorry for breaking up with you present."
The former couple's fans were shocked to hear Siwa and Cyrus had split. Cyrus responded to one fan's comment, writing of the breakup, "We decided that we are better off as friends! We are both so young and still just trying to figure our stuff out."
Despite their seemingly amicable split, it seems like there may still be some hard feelings. In a video posted to her mom Jessalynn Siwa's Instagram Story on Dec. 19, an unidentified person asks JoJo Siwa why she's angry, and per People, Siwa replies, "'Cause I got used! For views and for clout, and I got tricked into being told that I was loved, and I got f*cking played!" Siwa does not name Cyrus in the video, though fans assumed she might be referencing her ex because of their recent breakup.
On Dec. 20, Cyrus told E! News that she didn't know of any bad blood between her and Siwa. "From my perspective, me and JoJo left on great terms and are still friends," she told the outlet in a statement. "The relationship was very real, and I have nothing but love for JoJo and her family. I'm still very hurt that JoJo broke up with me. And I'm saddened and confused by the situation."
The "Dance Moms" alum previously confirmed her budding romance with Cyrus in a TikTok video shared on Sept. 12. In the clip, Siwa and Cyrus cozied up and cracked jokes together in a Chuck E. Cheese photo booth before sharing a kiss. Siwa captioned the post "happiest girl" with a heart-hands emoji. Two days after confirming their romance, the couple made their red carpet debut at the Los Angeles premiere of "Jagged Little Pill" on Sept. 14.
Less than a month later, Siwa shared another update on her new relationship in an Oct. 9 Instagram post, which included a photo of a sign that read, "JoJo Be My GF?" That same day, the "Dancing With the Stars" alum posted a since-deleted YouTube video where she opened up about her and Cyrus's romance and shared footage of the sweet moment when the latter asked her to be her girlfriend during a trip to Disney World. "I'm so happy you said yes," Cyrus said in the video, to which Siwa replied, "Of course. My God. I'd be insane if I said no. You're the best girl in the world."
Prior to revealing their romance, Siwa and Cyrus both frequently posted about each other on social media. Cyrus previously flew from Florida to visit Siwa because she was sick and wanted a hug. The two also filmed a mukbang and a few joint-dance videos in addition to popping up in each other's Instagram photo dumps. Plus, they fed into the dating speculation with a cheeky lip-synced TikTok video of them joking about their "purely platonic" friendship, set to old audio of an exchange between Kourtney Kardashian Barker and ex Scott Disick.
Before announcing their relationship, both stars had recently parted ways with other partners. In August, Kylie Prew revealed that she and Siwa had broken up for the second time after rekindling their relationship in May. On Instagram Live, Prew told her followers, "It's not deep, I promise. Everything's fine. Not everything has to be messy and gross because it's not, and I just want to clear the air. We're both safe and happy and healthy, and that's all that matters." Meanwhile, Cyrus dated fellow TikTok creator Soph Mosca for two years before splitting in August.
Scroll ahead to see all the TikTok videos Siwa and Cyrus posted together over the course of their relationship.
JoJo Siwa and Avery Cyrus Confirm Break Up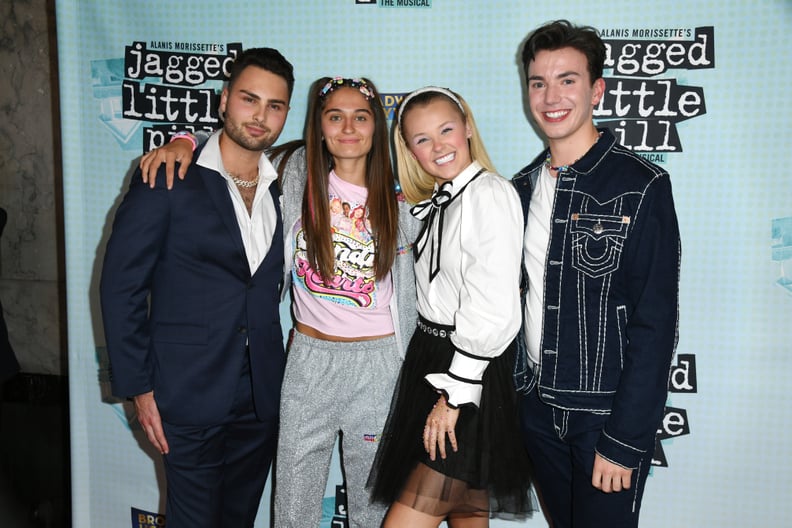 JoJo Siwa and Avery Cyrus Make Their Red Carpet Debut at the LA Premiere of "Jagged Little Pill"
JoJo Siwa and Avery Cyrus's TikTok Videos