Lili Reinhart, Camila Mendes, and Madelaine Petsch Dressed Up as the Sanderson Sisters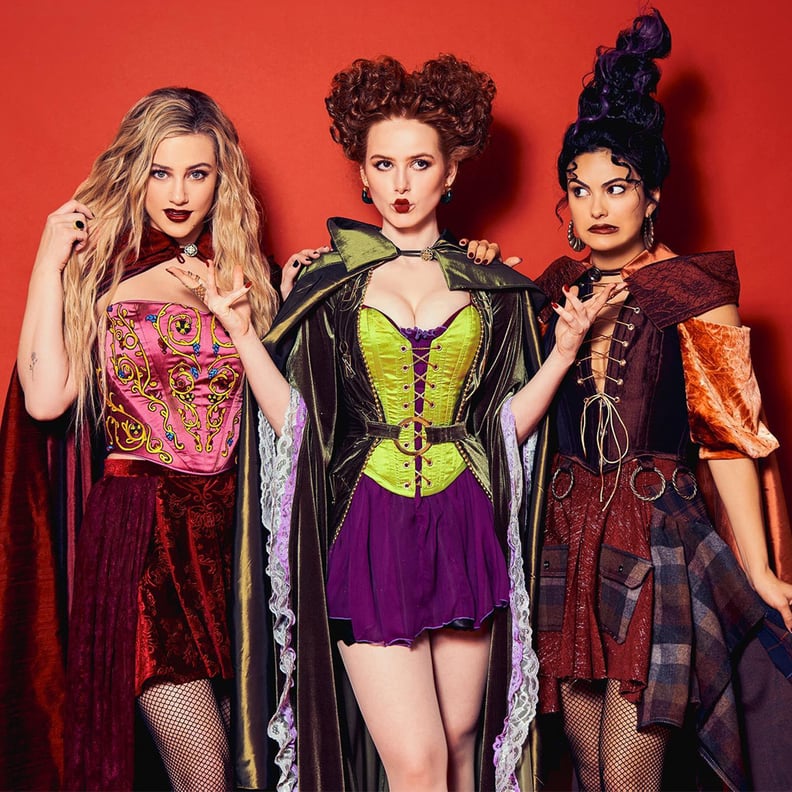 Costume designer Marco Marco made magic happen on Instagram this Halloween. In honor of the spooky holiday, "Riverdale" stars Lili Reinhart, Madelaine Petsch, and Camila Mendes tapped Marco for three bewitching costumes that have us convinced the Sanderson sisters have been resurrected once more. "It's just a little HOCUS POCUS," Reinhart captioned photos of their costumes, taken by Cibelle Levi.
The friends each strapped into lace-up corsets and miniskirts, which they paired with capes in the Sanderson sisters' signature colors. "Hoecus pocus," Mendes captioned her post.
While Marco gave the trio's outfits a sexy 2022 makeover, the "Riverdale" crew did have one detail in common with the iconic witches: their hair color. Reinhart embraced her inner Sarah Sanderson (Sarah Jessica Parker), letting her blond waves hang freely over her red velvet cape, which she paired with a miniskirt, fishnet stockings, and a pink corset.
Letting her black hair guide her costume — that updo is like a tower! — Mendes transformed into Mary Sanderson (Kathy Najimy) in a brown lace-up corset with orange sleeves. The top also featured silver hoops that dangled over her blood-red skirt. Like Reinhart, she completed the look with fishnets and a cape.
Petsch rounded out the trio's look as Winifred Sanderson (Bette Midler), the most powerful of the three witches. Wearing her red hair in a heart-shaped updo, Petsch would have made Winnie herself green with envy in her neon-green corset layered over a purple minidress.
Quoting the sequel, "Hocus Pocus 2," Petsch wrote, "This time if we see a teenager, we kill it." Makeup artist Jen Tioseco and celebrity hairstylist Matthew Collins completed the costumes with bold lipstick and spot-on hairstyles.
See Reinhart, Petsch, and Mendes dressed up in their full Sanderson sisters ensembles ahead, and see more of our favorite celebrity Halloween costumes here.