Tarek and Heather Rae El Moussa's Relationship Timeline Is a Total Whirlwind
HGTV's Tarek El Moussa and "Selling Sunset"'s Heather Rae El Moussa have had quite a whirlwind romance. After meeting on July 4, 2019, the couple quickly hit a lot of relationship milestones — which included traveling the world, moving in together, and seemingly falling madly in love. And on July 25, 2020, Tarek got down on one knee and proposed marriage to Heather. Since then, the two have tied the knot and welcomed their first child together.
Tarek was previously married to "Flip or Flop" costar Christina Hall for seven years before he filed for divorce in January 2017. The two share two kids together — Taylor and Brayden El Moussa.
"When we first started dating three years ago, we went into our relationship not planning on having children together," Heather told People in a July 2022 interview after announcing her pregnancy. "I really love being a bonus mom to Taylor and Brayden. They're such incredible kids and I love them so much. But as your love grows more and more and you fall deeper in love with someone and you build this life together, I started picturing myself having a child with Tarek. I started thinking I just wanted to create something with the man that I'm in love with."
Tarek added that he's "obsessed" with his kids, whom he describes as his "everything," but "having another one is just icing on the cake." Read ahead for all the major moments in Heather and Tarek's years-long romance.
01
July 4, 2019: Heather and Tarek Meet
The couple first met on Independence Day 2019 in Newport Beach, CA, after Tarek spotted Heather on a mutual friend's yacht while they were docked side by side. Tarek reflected on the fateful day in an Instagram post, writing, "It was the last thing I ever expected but I met the love of my life. The second our eyes connected and we smiled at each other I knew my life would never be the same."
Heather credits Tarek for making the first move, as she revealed in her own Instagram post, where she wrote, "Thank you for honking your boat horn at me the day we met, that will forever be the moment that you became my game changer."
02
July 23, 2019: Heather and Tarek Become "Official"
Heather and Tarek had their second date on July 23, which is when they decided to date exclusively. Five days later, they (inadvertently) went public with their romance (thanks to photos published by TMZ) after they engaged in some PDA on a yacht at the Portofino Hotel & Marina in Redondo Beach, CA.
On August 8, the new couple became Instagram official, confirming their relationship with joint posts. That same day, Tarek spoke about his new girlfriend during an interview with Entertainment Tonight, revealing that he'd introduced to Heather to his family — including his mom, dad, stepdad, sister, and two kids, Taylor and Brayden — the night before.
03
Aug. 14, 2019: Heather and Tarek Give Their First Joint Interview
Just about a week after confirming their relationship status, Heather and Tarek gave their first joint interview to PeopleTV's "Reality Check." Of his new romance, Tarek said, "We really focus on having fun and living life and just enjoying each other's company. And going out to dinner, and going boating, and . . . I'm talking too much because I'm excited."
04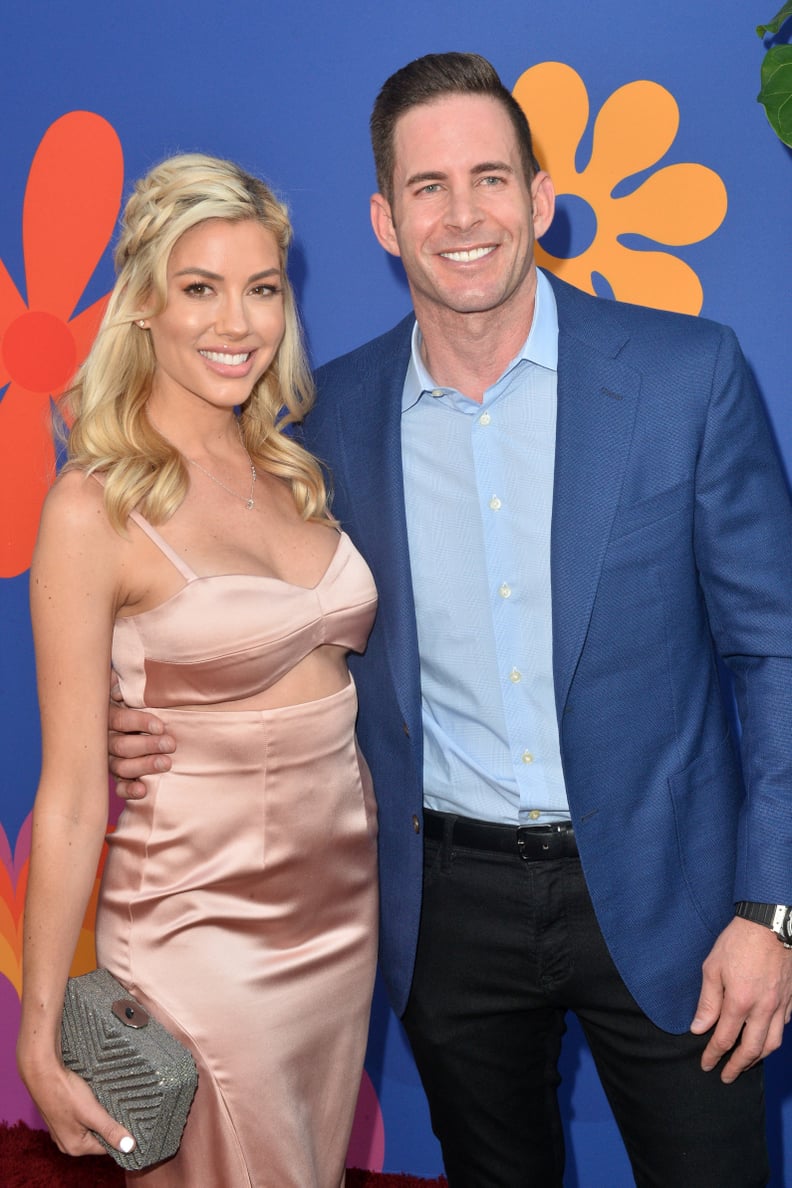 Sept. 5, 2019: Heather and Tarek Make Their Red Carpet Debut
On Sept. 5, the duo walked the red carpet together for the premiere of HGTV's "A Very Brady Renovation" at The Garland Hotel. "I'm on the best date in the entire world tonight," Tarek gushed to Entertainment Tonight. "It's our first red carpet event, so we're really happy to be here." He also confessed that he'd recently introduced Heather and his ex-wife, Christina Anstead, without warning either lady first. "I threw them together in the same room, next thing I knew they were talking about vegan food and running, so it worked out great," he said.
05
Oct. 31, 2019: Heather and Tarek Take Their First Family Photo
On Halloween 2019, Heather posed with Tarek and his two kids for their first family photo, and that night, the four of them met up with Tarek's ex, Christina, and her new husband, Ant Anstead, to go trick-or-treating as a group. "It was a lot of fun — we took the kids out and it was the first time we all got together," Tarek later told People.
06
February 2020: Heather and Tarek Film Their First Show
Though Tarek isn't able to appear on "Selling Sunset" because of his contract with HGTV, the couple was able to interact in front of the camera while filming an episode of Tarek's HGTV show, "Flipping 101 With Tarek El Moussa." "For the first time ever, @heatherraeyoung and I filmed my new show together!" Tarek announced in an Instagram post. "We were both excited and nervous but we had a blast!! She was so cute on camera I couldn't stop smiling!"
Heather expressed a similar sentiment to House Beautiful, saying, "I was able to film a whole episode with him on 'Flipping 101', which was really fun, because that was our first time being on camera together. And we had the best time on camera. We have great chemistry." They finished filming the episode in May, and the episode aired on Sept. 17, 2020, per Deadline.
07
April 2020: Heather and Tarek Buy Their First House
Though Heather apparently moved in with Tarek "less than a week" after their first date, per an Instagram post from Tarek, the duo bought their first home together in April. In the span of one week, Tarek sold his Costa Mesa, CA, home — which he'd been living in since his divorce from Christina — and bought a new house with Heather in Newport Beach, CA.
However, the couple decided that the new home needed some work, so they moved into a rental beach house less than a block from the ocean, where they'll stay until construction is finished. " . . . I'm letting a piece of the past go," Tarek said of the move while chatting with People. "It was a very defining moment in my life after my divorce and now it's time to move on to the next chapter."
08
July 25, 2020: Heather and Tarek Get Engaged
After just about a year of dating and almost one year to the date after becoming "official," Tarek proposed to Heather with an eight-carat emerald-cut diamond ring, and she said yes. Tarek told People that he popped the question on July 25 while celebrating their one-year anniversary with a boat trip to Catalina Island, CA. According to Tarek, his now-fiancée hadn't been expecting the big moment.
Both took to Instagram the next day to share the news. "The Future Mrs. Tarek El Moussa!!!!" Heather captioned her Instagram post, while Tarek captioned his own Insta post, "She said yes!" Congrats to the happy couple!
09
October 23, 2021: Heather and Tarek Get Married
After two years of being together, the couple tied the knot in an outdoor, Old Hollywood-style ceremony surrounded by 150 guests in Montecito, CA, People reported. Of their wedding, the bride told the outlet, "It was just so magical. Better than we even expected it to be." The groom added: "It felt like it was straight from a movie. Everything was just spectacular."
The newlyweds shared their big moment with Tarek's two children, daughter Taylor and son Brayden, and several of the "Selling Sunset" cast members — including Chrishell Stause, Mary Fitzgerald, Davina Portratz, Emma Hernan, Romain Bonnet, Vanessa Villela, and Jason and Brett Oppenheim.
10
July 13, 2022: Heather and Tarek Announce They're Expecting Their First Child Together
Nine months after Heather and Tarek got married, the pair announced that they're expecting their first child together, People shared on July 13. "It was a huge shock," Heather said of her pregnancy. "We just weren't expecting this. We had just gone through IVF. We had embryos on ice. We had a plan . . . I'm so excited that it happened like this." The couple also revealed Heather's baby bump on social media, sharing photos of their reveal on Instagram and behind-the-scenes videos via TikTok. Their baby is due early 2023.
11
Jan. 31, 2023: Heather and Tarek Welcome Their First Child Together
Almost seven months after Heather and Tarek revealed they were expecting their first child together, the pair announced the arrival of their little one, a baby boy, by sharing his first photo on Instagram. "Our baby boy is here 🤍 1.31.23," they declared on Feb. 2 in a joint post. "Mama & baby are happy, healthy, tired but doing well. Our hearts are so happy ❤️." The couple hasn't revealed their son's name yet, but their newest family addition joins Tarek's older children — Brayden, 7, and Taylor, 12, — whom he shares with ex-wife Christina Hall.