Vanessa Hudgens Plays The Sims and Doesn't Care Who Knows It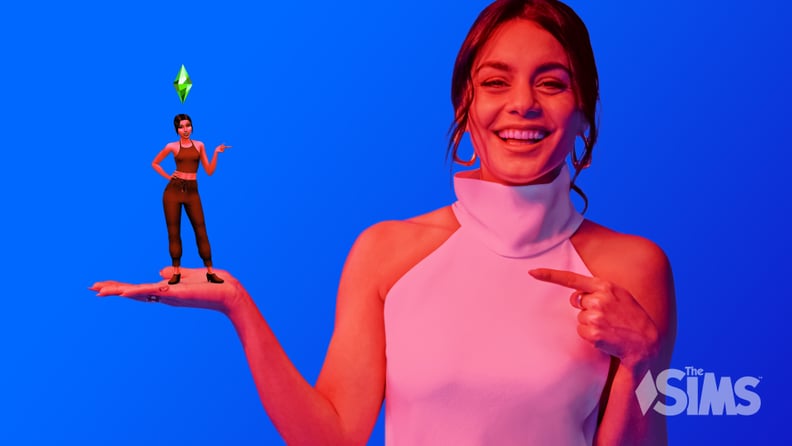 Courtesy of Sims
Courtesy of Sims
There's a lot that you likely know about Vanessa Hudgens. She's an actress, singer, and dancer who rose to fame as a cast member of the High School Musical franchise. Most recently, she starred in the Netflix holiday rom-com The Knight Before Christmas and in this year's Bad Boys For Life. But the 31-year-old also harbors a deep, dark secret; one that she bravely shared with me during a phone call on March 3.
You see, Vanessa Hudgens is what we in the community call a Simmer. Simply put, she is an enthusiastic player of the iconic life simulation game The Sims, which celebrates its 20th anniversary this year. Vanessa first discovered The Sims after watching her younger sister Stella play and has become such a dedicated Simmer that she's partnering with EA for their ongoing Play With Life campaign, which encourages fans to unleash their creativity, joy, and love of adventure in The Sims 4. She even got her very own Sim for the occasion, which you can check out ahead and download here. As a fellow obsessive of The Sims, I was delighted to chat with Vanessa about her play process (we all have one!), and how she uses the game as a tool for creative expression (and, you know, full control).
Britt Stephens: I love hearing that you got into The Sims by watching your sister play, because that's exactly how it was for me. What made you want to start playing the game yourself?
Vanessa Hudgens: I just love the fact that anyone can create their own world, their own rules, and their own story. It's just so customizable and I'm such a detailed person that I love being able to pick out every single tiny little thing in my Sims' house and have that be my online refuge. I also love magic, so the Realm of Magic game pack really got me going [laughs]. I love Halloween, and now I can escape into this magical world? Winning!
BS: I think everyone has a play process, so I'd love to know yours. For instance, my sister puts the bare minimum in her home, like a toilet, an oven, and a shower, and starts playing right away. Whereas I spend six hours just picking out outfits and decorating my Sims' house.
"There are no boundaries, and it's really cool to have that in such a safe space."
VH: I love the details! I love being able to pick out my clothes and creating my own character that's going to be in the game was so much fun because there were so many options that I could use to actually make my character look like me — and a great representation of me, not like the Bratz doll version [laughs]. It is legit me, and I love getting to interact and engage in this world that I can create for myself. There are no boundaries, and it's really cool to have that in such a safe space.
BS: Absolutely. Would you say that most of the Sims you make are reflective of you, or do you like making characters that aren't anything like you?
VH: I mean, I like it looking like me. But when it comes to the way that I dress, that tends to be all over the place. Some days I want to be wearing a full tuxedo and other days I want to be like a warrior woman, and that's what you get to do in the game, so I'm taking full advantage of it!
BS: Have you played Get Famous, the expansion pack that allows you to be an actress and go on set?
VH: Yeah. That's another great one because I can be an actress and I can be a singer. It's just fun.
BS: If you could have any aspect of the Sims in your own life, what would it be? For me it would be the motherlode cheat code.
VH: Just the fact that I have full control over what happens. Life is crazy, and it's a crazy time in the world right now, so being able to have full control over everything . . . that sounds maybe not healthy in the real world [laughs]. But, wishful thinking.
The Sims has been in my life for so long because of my sister playing it. So just the fact that I'm going to be a character in it is kind of bewildering to me. It's such a safe, inclusive place; when The Sims started 20 years ago, it was literally the only game that allowed players to form LGBTQ+ relationships. And I think it's really beautiful that they've been supporting that since the beginning. It's a community.