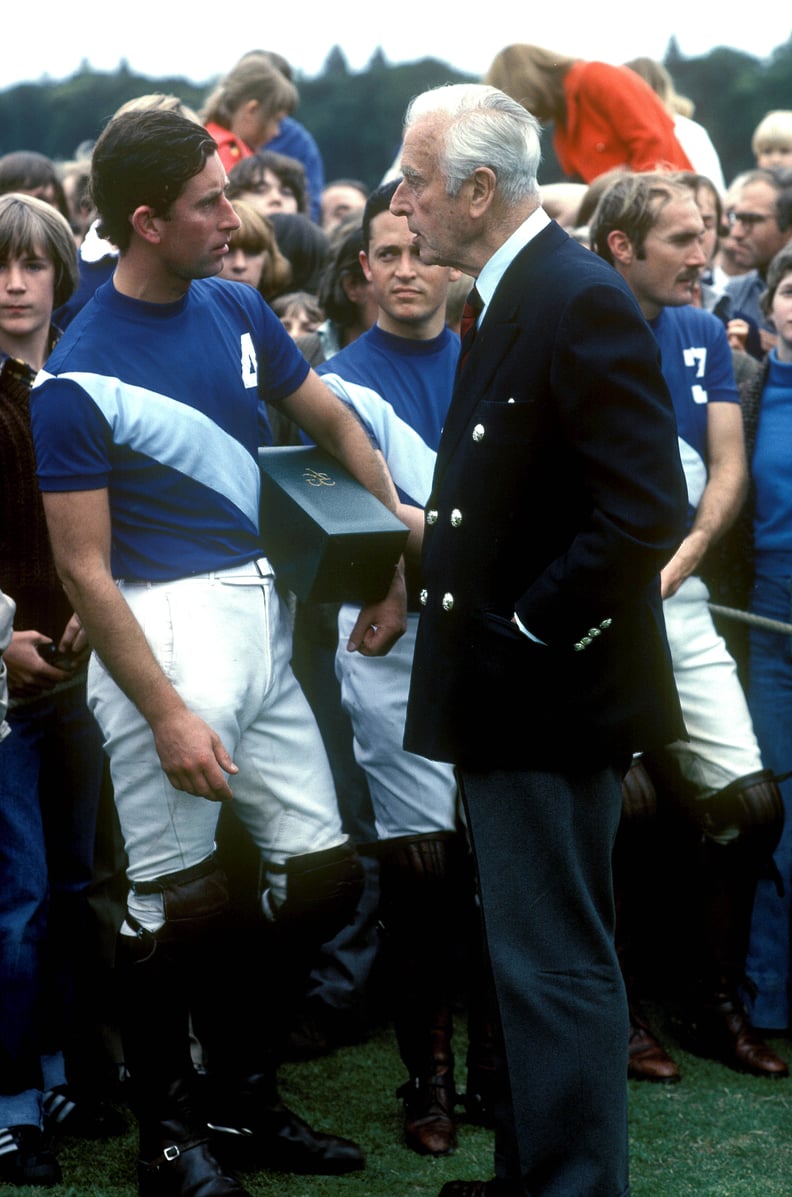 Getty | John Shelley Collection
The royals of The Crown suffer a huge loss in season four with the assassination of Lord Mountbatten, aka "Uncle Dickie," and no one is hit harder than Prince Charles. In real life, as on the show, Charles was particularly close to this uncle of his, and although some of the specific conversations between them were made up for dramatic purposes, their relationship was largely what is shown on screen.
Charles was actually related to Lord Mountbatten through both of his parents, albeit distantly, since the Queen and Prince Philip are distantly related themselves. As a descendant of Queen Victoria (his grandmother, Alice, was one of Victoria's daughters), Mountbatten was related to the Queen, whose line descends from Alice's brother, Edward VII. Technically, Mounbatten and the Queen were second cousins, once removed. His relationship through Philip's side of the family is much clearer: Mountbatten was the brother of Princess Alice, Philip's mother, making him Charles's great-uncle.
In Jonathan Dimbleby's authorized biography of Prince Charles, The Prince of Wales: A Biography, he revealed a detail that The Crown subtly incorporated into the final scene between Mountbatten and Charles: they affectionately called each other "Honorary Grandfather" and "Honoraray Grandson." Mountbatten was one of the most formative mentors in Charles's life and, while we don't actually know if he went as far as his fictional counterpart did to break up his nephew and Camilla Shand, he did famously advise Charles to date around a bit and then find a young, innocent, suitable girl to marry. At one point, he may have even tried to set up Charles with his own granddaughter, Amanda Knatchbull!
Because of how close they were, Mountbatten's death was especially hard on Charles. He was asked, as in the show, to give a reading at Mountbatten's funeral. In 2015, Charles made the emotional journey to Mullaghmore, the village where Mountbatten was killed. "At the time I could not imagine how we could come to terms with the anguish of such a deep loss, since for me Lord Mountbatten represented the grandfather I never had... It seemed as if the foundations of all that we held dear in life had been torn apart irreparably," he said on the trip, according to Newsweek. He even shook hands with Gerry Adams, the IRA leader who publicly justified the assassination right after it happened.
Ahead, take a look at some of the photos of Prince Charles and Lord Mountbatten over the years: