Everything We Know About the Kardashian Pregnancies in 1 Easy Place
If you thought keeping up with the Kardashian ladies was hard before, just wait until the newest editions join the family and start taking over Calabasas, CA!
For those of you keeping track, three of the six Kardashian-Jenner children are already parents, and as of last month, they aren't the only ones bringing new life into the reality-star clan. We all know that Kourtney Kardashian has three children — Mason, Penelope, and Reign — with ex-boyfriend Scott Disick. Kourtney was the first sister to have a baby, but the second oldest in the family, Kim Kardashian, was quick to follow. She has two children with her husband, Kanye West, daughter North and son Saint. Lastly, Rob Kardashian, who is the youngest of four children from Kris Jenner and her late ex-husband Robert Kardashian, became a father to his adorable daughter Dream (whom he shares with on-again, off-again ex-girlfriend Blac Chyna) in November 2016.
At this point, there are actually three Kardashian-Jenner kids expecting — or at least reportedly expecting — a bundle of joy. Clearly, it's about to get even more crazy within the hectic lives of the Kardashian-Jenner households, and we can't wait to see it all unfold. The good news is that if you want (or need) more information, we've got you covered.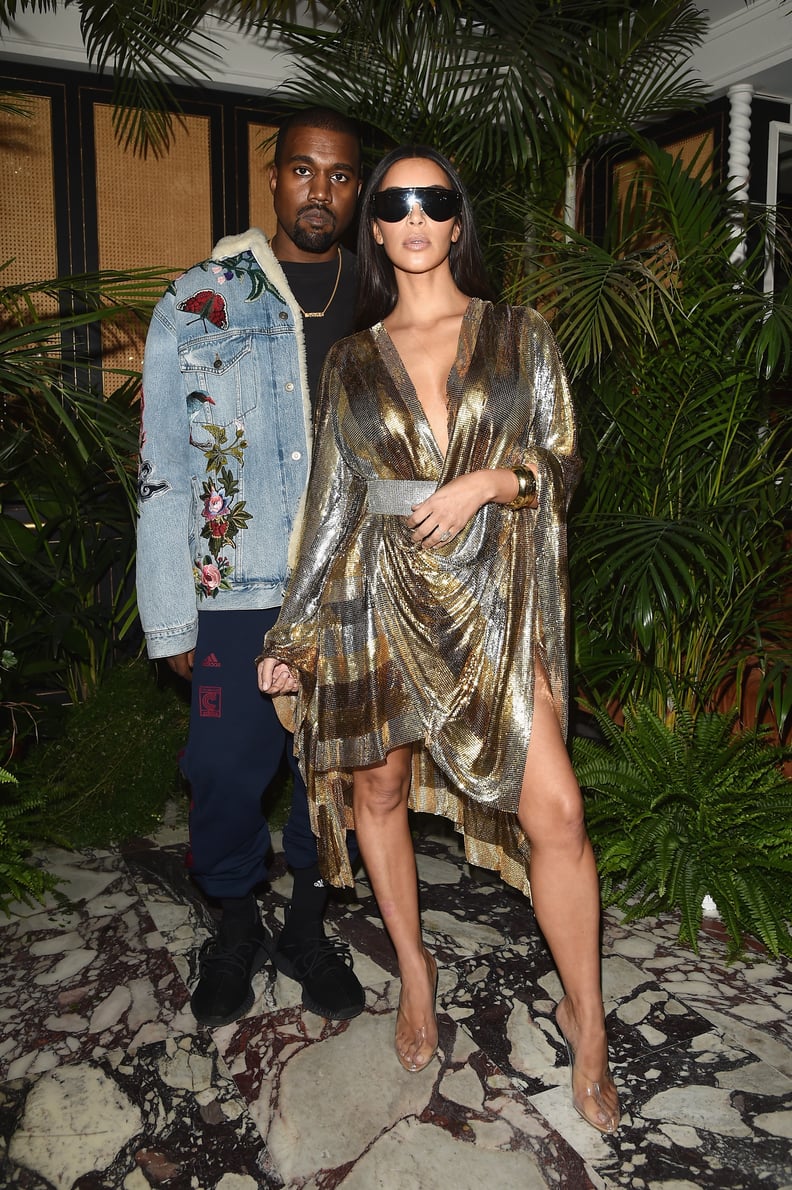 Kim and Kanye West
Kim Kardashian West and husband Kanye West are the only couple on the "Kardashians Expecting" list that have actually done this before . . . and this time around, they aren't doing it alone. After having two tough pregnancies herself — which brought the couple their two children, North (who is now 4 years old) and Saint (who is now 1 year old) — Kim opted for a surrogate for baby number three.
In early September, news broke that the 36-year-old reality star and her husband of three years were in fact expecting via surrogate. "The entire family is over the moon. Kim had been looking for a surrogate for months until recently when she found the perfect candidate," a source told People early last month.
Although the family has yet to publicly confirm the news that baby number three is on its way — the newest edition is reportedly another little girl — their reality series did. Ahead of the new season of Keeping Up With the Kardashians (which began on Sunday), a teaser clip for season 14 unveiled that Kim is getting another baby.
In the teaser, Kim is FaceTiming her sister Khloé, and after talking with her for a little bit, she announced, "We're having a baby!" It's super cute and the closest thing we have to an official family confirmation on any of the current pregnancies. PS: Kim's surrogate is due sometime in January.
Now all we have to do is start guessing what sort of unique name this bundle of joy will have!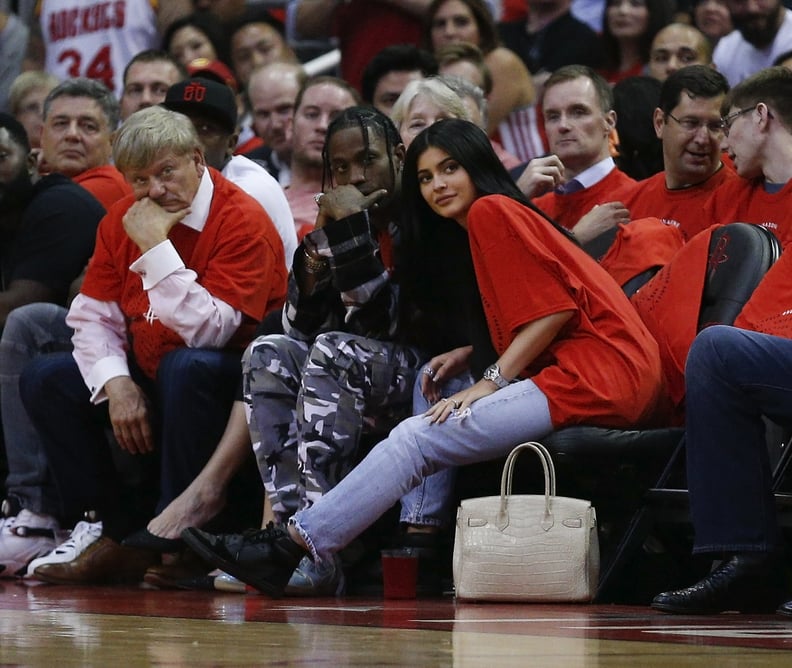 Kylie and Travis Scott
Days before Khloé's baby announcement took over the news circuit, Kylie Jenner was the center of attention among the Kardashian-Jenner girls because she is reportedly pregnant!
On Sept. 22, news broke that Kylie is expecting her first child with boyfriend Travis Scott, and that was just the tip of the iceberg. The Kardashian reps — and family members — haven't confirmed Kylie's (or anyone else's, for that matter) pregnancy as of now. In fact, her mother, Kris Jenner, told Ryan Seacrest via text message on Live With Kelly and Ryan on Sept. 25 that "Kylie's not confirming anything."
According to numerous reports, however, Kylie is in fact pregnant with her first child, and TMZ reported that she's having a girl. Despite the fact that Kylie is only 20 years old and trying to run a makeup empire, sources say that she is beyond excited to be a mom and having Khloé due around the same time (they are both reportedly four months along and due in February) is the cherry on top of this baby sundae.
"Kylie loves how close-knit her family is and is thrilled to bring that to her own family. She feels more prepared than ever, especially since she will be sharing this journey with Khloé," a source told People last week. "They are looking at it like a unifying experience for them as sisters."
Khloé and Tristan Thompson
Khloé Kardashian's dream of becoming a mother is finally coming true! The 33-year-old reality star and designer is expecting her first child with NBA star boyfriend Tristan Thompson, E! News reported after being told the news by "multiple sources."
People also reported the baby news, revealing that Khloé is expecting her first child with Tristan, who recently became a father after welcoming a son in December with his ex-girlfriend. "Yes, Khloé and Tristan are expecting and they are absolutely thrilled," a source told People last week after the news broke. "This isn't something they were in a rush to announce to the whole world, and it's only been in just the past week or so that they've felt comfortable telling most of their inner circle."
Although Khloé and Tristan have yet to confirm the news themselves, the Revenge Body star has previously talked about wanting to have children with the Cleveland Cavaliers player, whom she began dating back in September 2016. In fact, at the end of season 13 of Keeping Up With the Kardashians, Khloé revealed that she was no longer on birth control in hopes of starting a family.
"Tristan and I definitely talk about starting a family," she said during the episode. "He wants to have five or six kids with me and that's lovely. We could start at one and we could grow from there. But now knowing I'm not on birth control is just like — it's scary. It's like a really big step."
It was a big step indeed, and now Khloé, who is reportedly four months pregnant, is getting her wish, and the couple will be welcoming their first child together — one of many, if Tristan has his way — in February.