Pete Davidson's Dating History Includes Ariana Grande, Kim Kardashian, and More
Pete Davidson's love life is a little infamous at this point, but the comedian doesn't really appreciate all the buzz. "I'm in my 20s and I've dated people. And for some reason, that's very crazy and interesting to people," he said in an interview on the "Real Ones With Jon Bernthal" podcast on March 30, per Entertainment Tonight. "I don't think it's interesting. I've been in show business for, like, half my life almost — for 14 or 15 years, and on a national TV show. In 12 years I've dated 10 people. I don't think that's that crazy, but to some people, that's very interesting. That became all anyone would talk about."
In the interview, Davidson said most of his relationships have resulted from his time on "Saturday Night Live." "I'm not, like, flexing, you know what I mean?" he said. "These people that I've dated, I met them at work. I wasn't in anyone's DMs, no one was in mine. Suddenly you're in this zeitgeist and that has nothing to do with the work," Davidson added of the notoriety his relationships have brought him. "And that's a really sh*tty feeling."
Still, Davidson's relationships have seemingly catapulted him from a notable "SNL" cast member to a full-on superstar. The 29-year-old comedian has dated some of the most famous women in the world over the years, including Ariana Grande, Kaia Gerber, Phoebe Dynevor, and Kim Kardashian.
In the past, Davidson has been transparent about his romantic woes, explaining that they've all taught him how to better handle his relationships. In a May 2021 interview with "The Breakfast Club," the comedian said he's "just very, very honest" with the women he dates and doesn't like "playing any of the games."
Ahead, take a look at all of Davidson's past partners, as well as who he's reportedly dating now.
01
Carly Aquilino
Davidson and Aquilino dated on and off for two years starting in 2015, per E! At the time, Aquilino was a cast member on MTV's "Girl Code," and Davidson appeared on the brother show "Guy Code." Even though they're no longer together, it looks like they might have remained friends, as they were spotted hanging out in NYC in February 2019.
02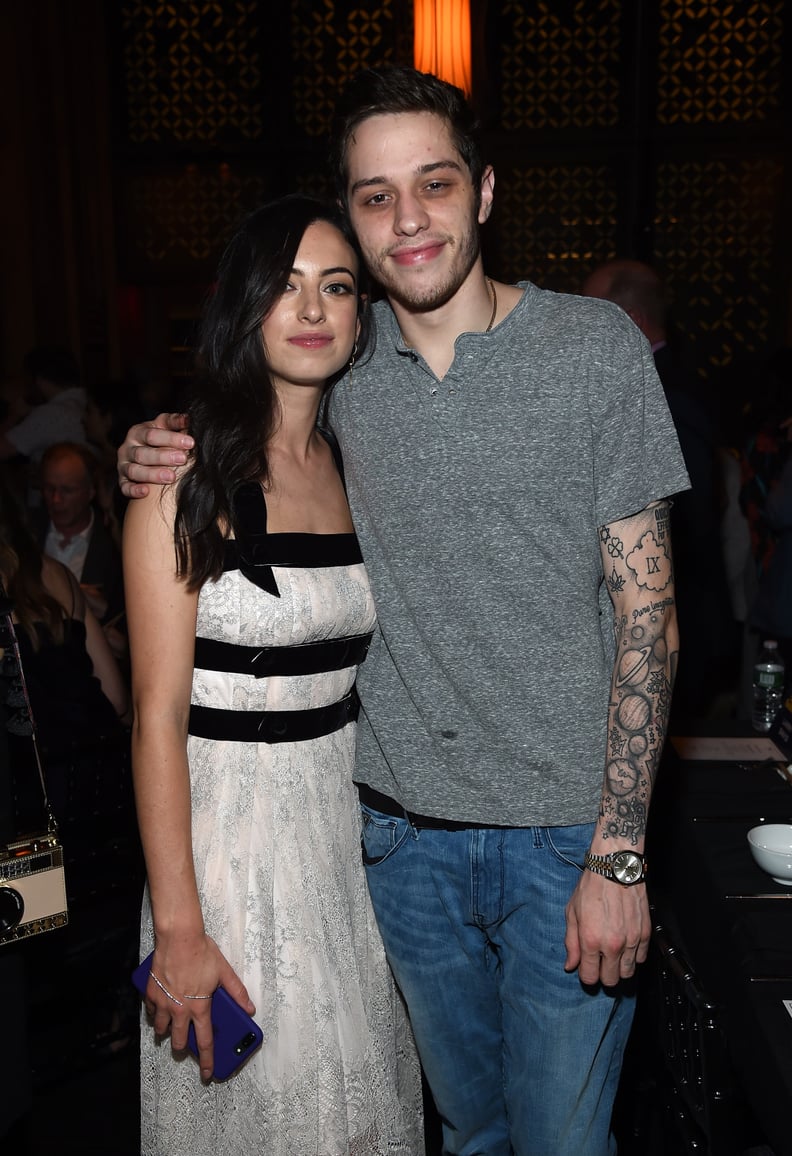 Cazzie David
Following his romance with Aquilino, Davidson moved on with writer and actor Cazzie David. Her dad, legendary comedian Larry David, hosted "SNL" in the winter of 2016, which is when many believe Davidson met Cazzie. The couple dated for two years before calling it quits in May 2018, per Us Weekly. During their time together, Davidson opened up about dating David, telling Entertainment Tonight, "I'm very lucky. She's very, very supportive."
03
Ariana Grande
After breaking things off with David, Davidson got together with Ariana Grande in May 2018. They had previously met when she appeared on "SNL." A few weeks after their romance went public, the two were engaged. But their relationship was short-lived as they broke up in October 2018.
Grande later referenced the breakup in her "Mean Girls"-inspired "Thank U, Next" music video, where she dedicated a page in her burn book to Davidson and made a reference to his BDE (Big D*ck Energy), writing, "HUUUUGE." She also wrote on the page, "Sry I dipped," implying that she was the one who ended things.
04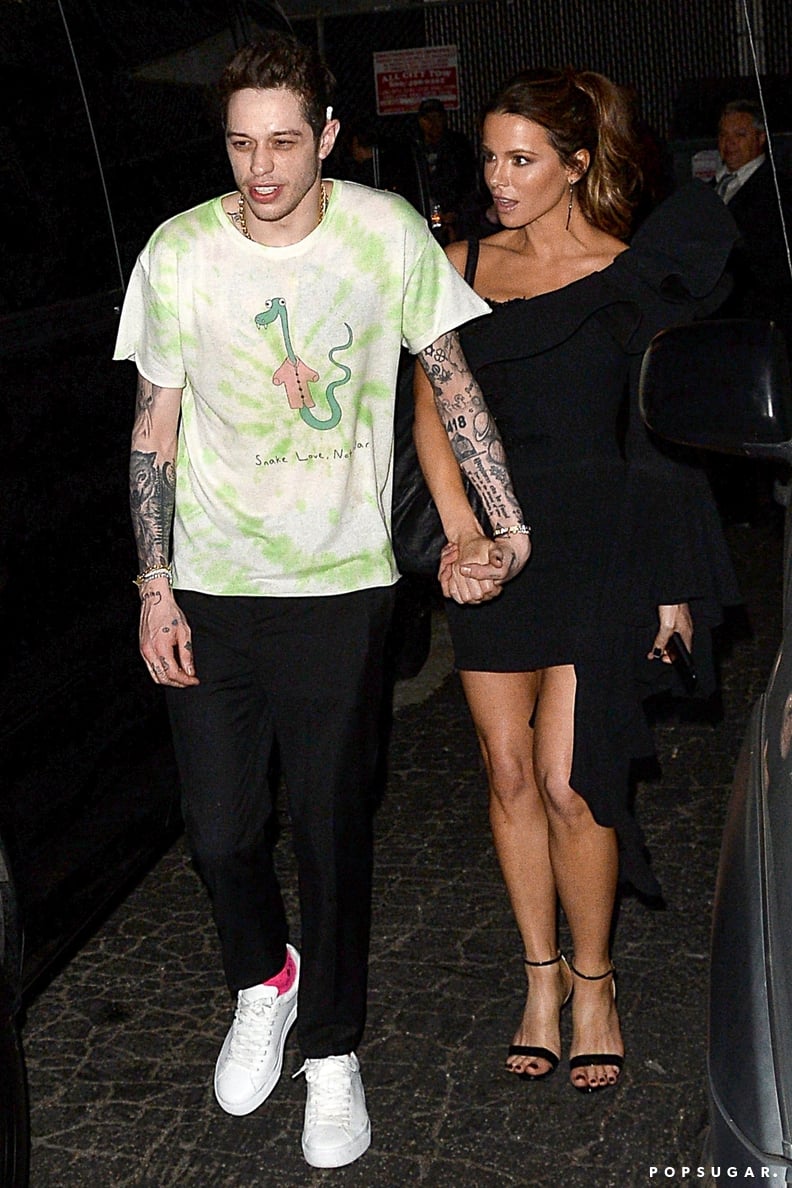 Kate Beckinsale
Davidson and Kate Beckinsale sparked romance rumors in January 2019 after they were reportedly spotted getting cozy at a Golden Globes afterparty, per Variety. The pair basically confirmed the dating reports the following month when they were seen holding hands during an LA date night, and they were photographed quite a few times kissing in public. Still, their romance eventually fizzled out as they split in May 2019.
05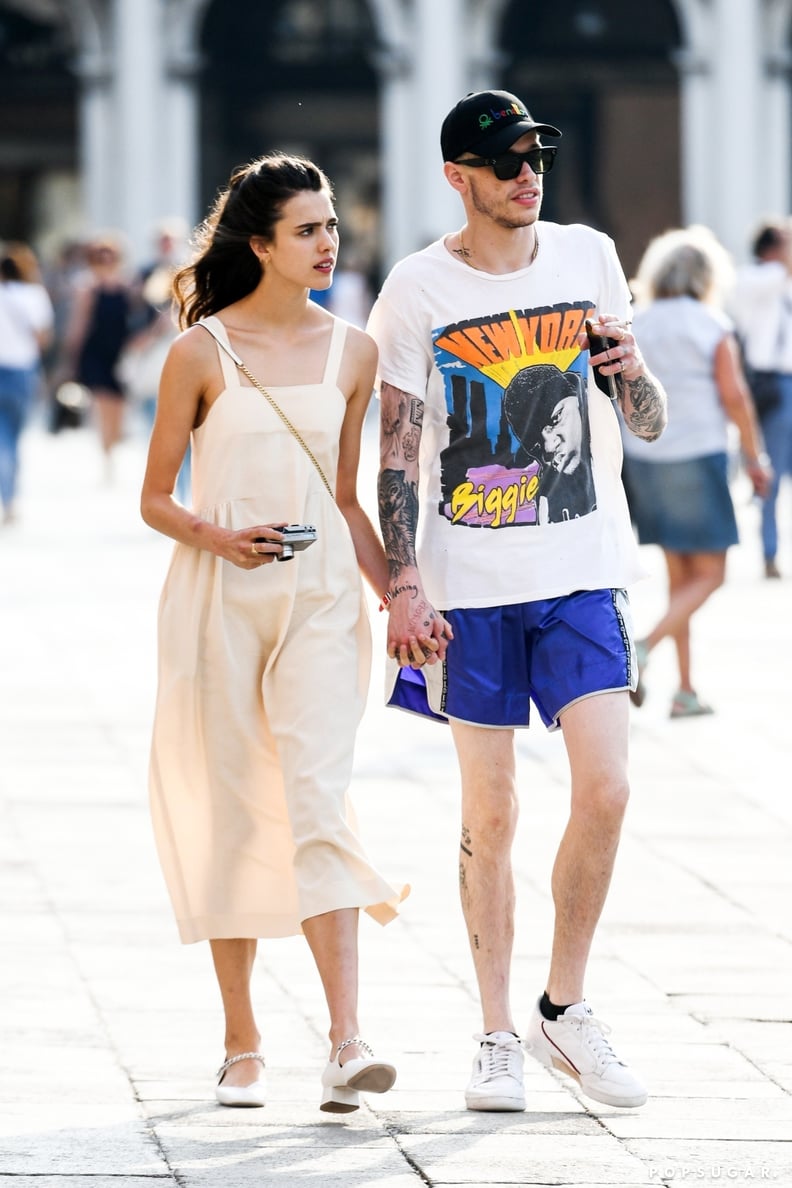 Margaret Qualley
06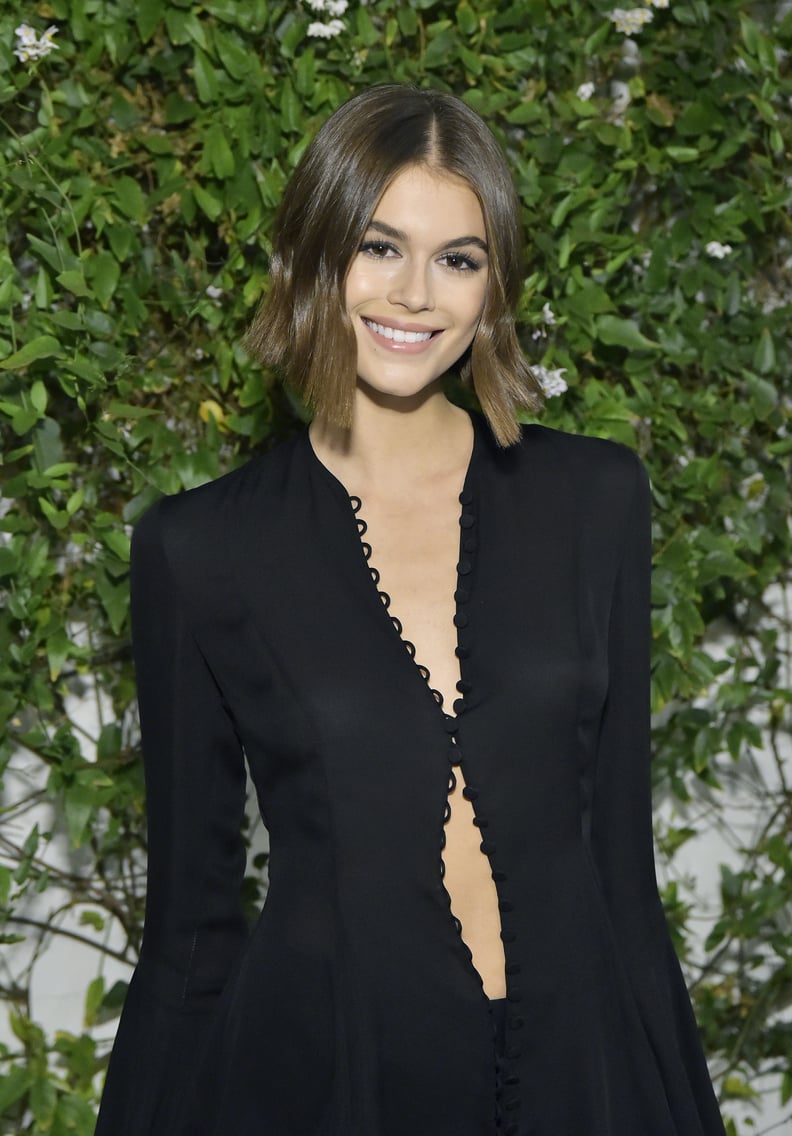 Kaia Gerber
Davidson was first linked to model Kaia Gerber in November 2019. Neither has gone on the record about how they first met, but in May 2019 Davidson walked in Alexander Wang's fashion show at Rockefeller Center, and Gerber was in the very same show.
The pair ultimately split after three months of dating. "She's very young, and I'm f*cking going through a lot and it was before I went to rehab," Davidson said in an interview with Charlamagne tha God in 2020 about his ex, whose mom is model Cindy Crawford. He added: "It just wasn't the right place or the right time at all."
07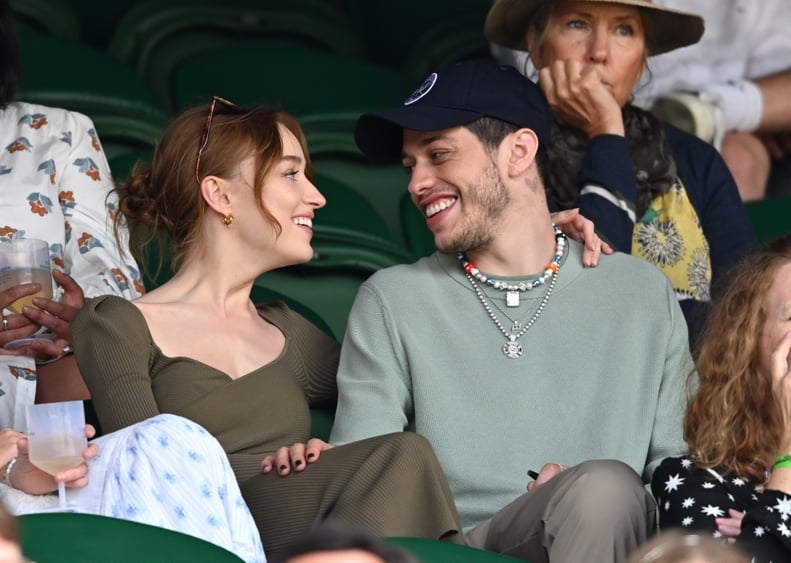 Phoebe Dynevor
After weeks of speculation, Us Weekly confirmed in April 2021 that Davidson and Phoebe Dynevor were coupled up. According to Entertainment Tonight, an insider said the pair "hit it off" after they met at a gathering in NYC. "They started off as friends and quickly realized there was chemistry between [them]," the source said. "Pete and Phoebe started out casually dating but things have gotten a bit more serious recently."
Their romance was also short-lived, as they reportedly broke up in August 2021 due to long distance.
08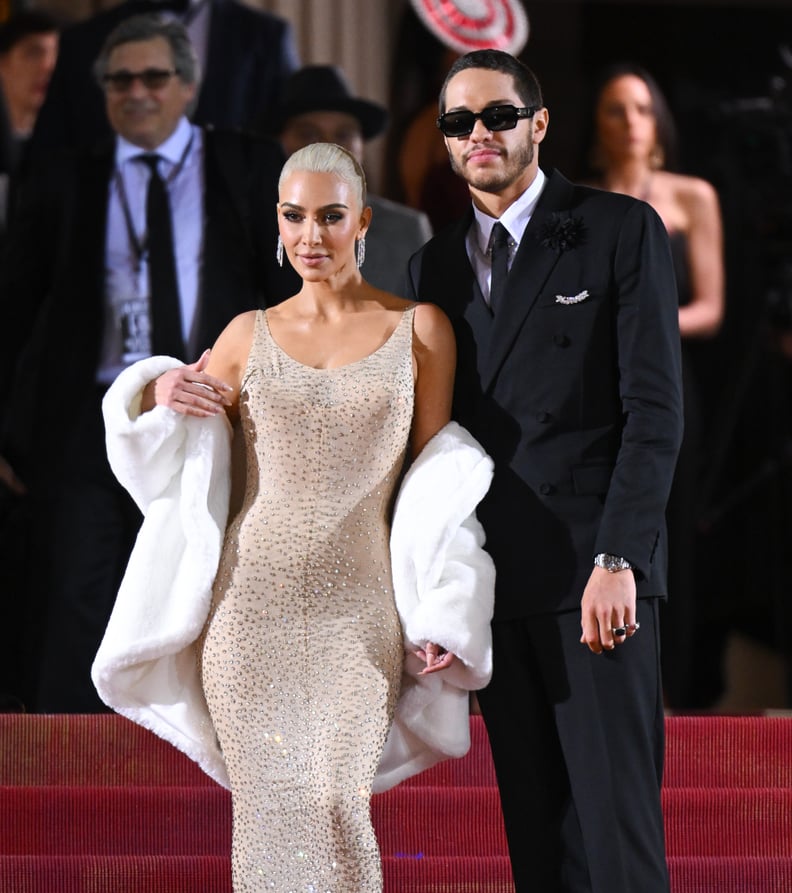 Kim Kardashian
Davidson and Kim Kardashian were first romantically linked in October 2021. Just a month prior, the two met at the Met Gala (which was held in September that year) and they reconnected when the reality TV star hosted "Saturday Night Live." Though they rarely spoke about their romance publicly, the pair were occasionally seen out on their romantic dinner dates and trips together, and they made their red carpet debut as a couple in April 2022 at the White House Correspondents' Dinner. After attending the Met Gala together that May, the pair split in the summer of 2022.
09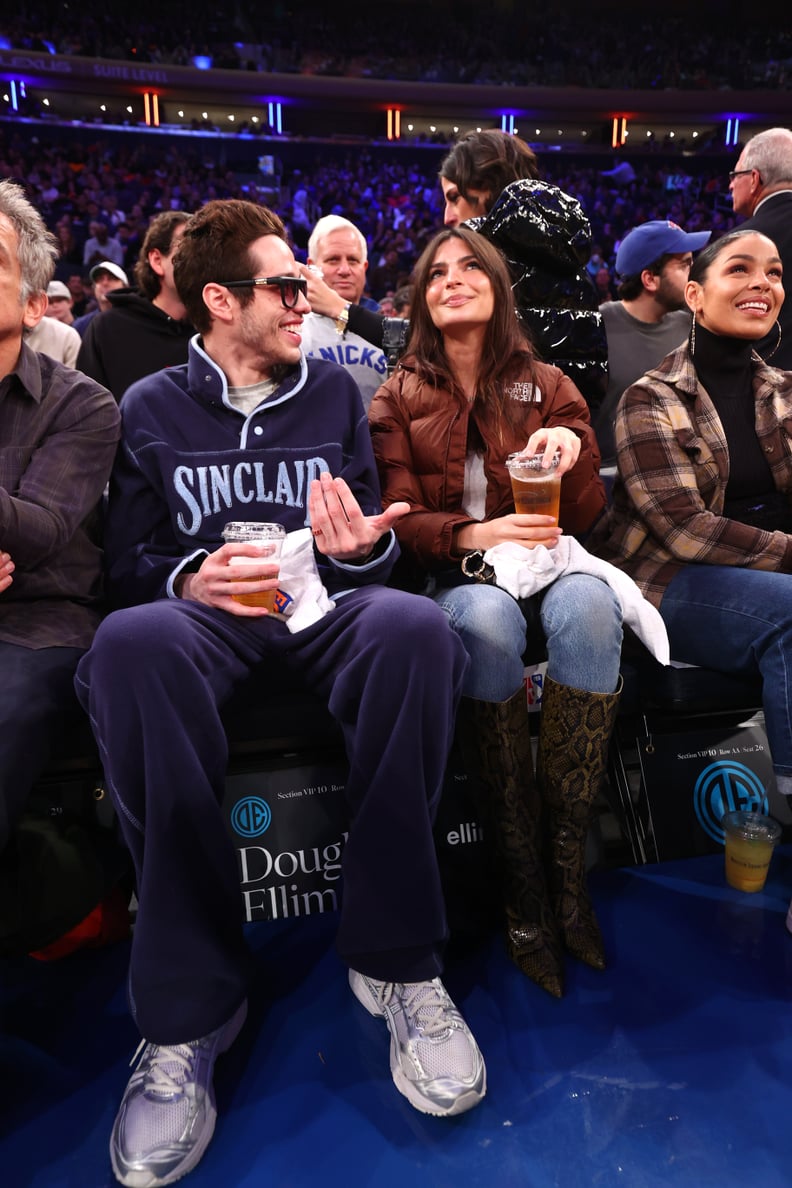 Emily Ratajkowski
Dating rumors about the comedian and Emily Ratajkowski sparked in November 2022 when a tip was sent to Deuxmoi claiming the two had been spotted out together in New York City. On Nov. 14, 2022, People reported that a source close to the pair claimed they were "seeing each other." Later that month, they were spotted at a New York Knicks game. However, in December Ratajkowski was spotted kissing NYC artist Jack Greer and was later linked to Eric André, and Davidson also moved on. Ratajowski has since been connected to Harry Styles.
10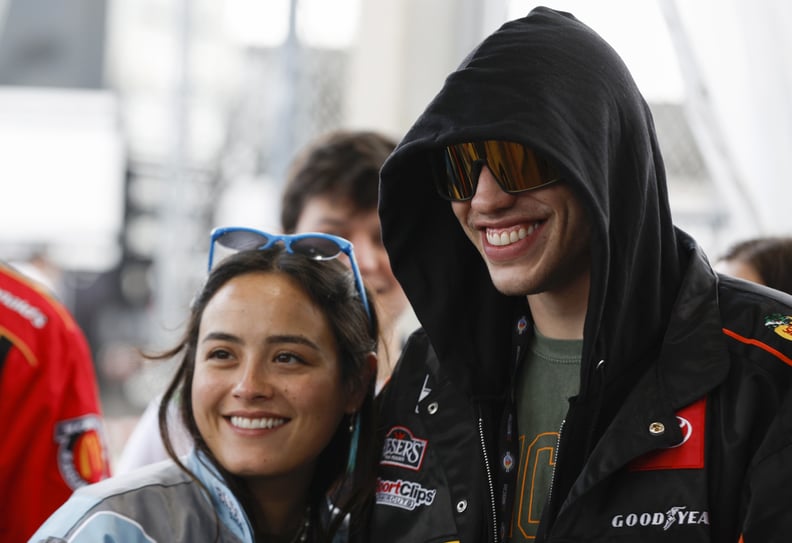 Chase Sui Wonders
Davidson was spotted out with actor Chase Sui Wonders a few times in December 2022, and in February 2023 they attended the Daytona 500 together. The pair were photographed kissing on a beach in Hawaii in early March 2023. Wonders played Davidson's girlfriend in the 2022 film "Bodies Bodies Bodies," and the pair apparently first connected while on set in 2021, per Us Weekly. Wonders also plays his girlfriend in his Peacock series "Bupkis," in which Davidson plays himself.
While the pair never officially confirmed the relationship themselves, Martha Stewart basically told the world for them. On April 9, she posted a photo of the pair visiting her house on Instagram. She wrote in the caption, "@hellofrommuffin dropped by with two friends @pete_davidson_bupkis and @chasesuiwonders They were out looking at our beautiful town of Bedford . I showed them around the farm and inside the winter house where the Easter Bunnies were getting ready for Sunday . Very cute couple !!!!"
However, news broke on Aug. 24 that the pair had split up. "He's single again," a source said of the actor. "He's out and about and doing really well."
11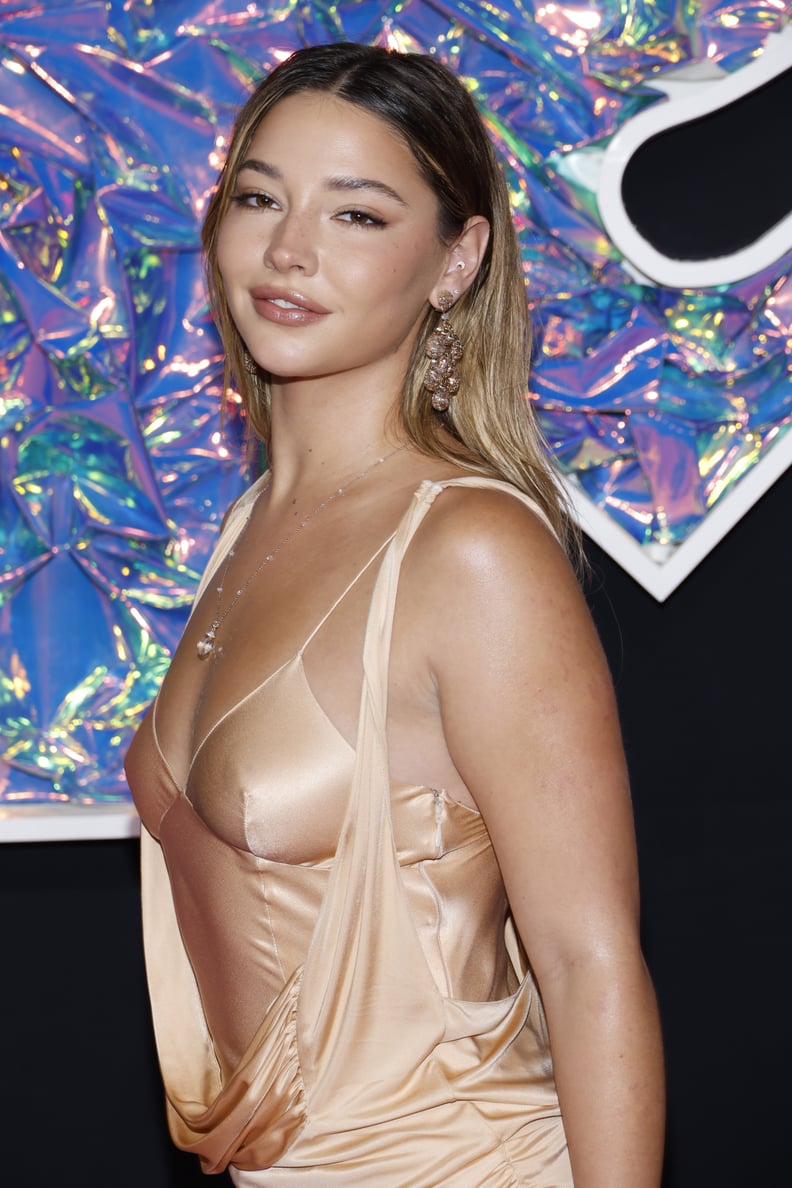 Madelyn Cline
On Sept. 22, less than a month after news of his split from Wonders, Us Weekly reported that Davidson has now moved on with "Outer Banks" star Madelyn Cline. "Pete and Madelyn are dating," a source told the outlet. "They spent the night together at the Beverly Hills Hotel and then had breakfast together there the next morning. They were really low-key and kept things casual, wearing baseball hats." Reps for Davidson and Cline did not immediately respond to POPSUGAR's requests for comment.
Previously, Cline dated "Outer Banks" costar Chase Stokes from early 2020 until November 2021, when People reported, per sources, that they had split after one year of dating. Still, their relationship status remained ambiguous until the summer of 2022, when they were rumored to be seeing other people. Stokes is currently dating country singer Kelsea Ballerini.