From Joe Jonas to a Quick Fling With Matty Healy, Everyone Taylor Swift Has Dated Through the Years
One of the benefits of being a massively successful pop star is, presumably, that instead of having to agree to go on an awkward date with Ted from accounting, you have a whole buffet of celebrity bachelors at your disposal. If anyone is a good example of this, it's Taylor Swift.
Her relationship status has been making headlines for well over a decade now, starting when she joined forces with Joe Jonas in 2008. From dating another Taylor (Taylor Lautner) to cozying up with Harry Styles, Swift has dated plenty of movie stars and musicians, and she also famously has a penchant for memorializing her fallen relationships in song. Though "Dear John" and "Style" are contenders, perhaps none of the songs she's written about her "long list of ex-lovers" are quite as famous and beloved as "All Too Well" — especially the 10-minute version — which chronicles her relationship with Jake Gyllenhaal.
For six years, Swift was in a committed relationship with actor Joe Alwyn until the pair split in March. People confirmed the news of their breakup on April 7. The pair met at the Met Gala in 2016 and proceeded to keep their relationship largely out of the spotlight — possibly because Swift's past romances have been the subject of so much scrutiny over the years. Swift explained why she didn't talk about her relationship with Alwyn much in a 2019 interview with The Guardian. "I've learned that if I do, people think it's up for discussion, and our relationship isn't up for discussion," she said. "If you and I were having a glass of wine right now, we'd be talking about it. But it's just that it goes out into the world. That's where the boundary is, and that's where my life has become manageable. I really want to keep it feeling manageable."
Still, Swift did let the public in on some parts of their relationship over the years. Music was a part of their love story right from the start, with Alwyn appearing as a cowriter under the pseudonym William Bowery on her albums "Folklore" and "Evermore." He also appeared again as a cowriter on Swift's "Midnights" album, which she released last October.
Swift's love life was back in the conversation again in May and June following her quick rumored romance with The 1975 lead singer, Matty Healy. And with the release of "Speak Now (Taylor's Version)," some fans are revisiting the singer's past romantic connections to see who she may be referencing on the re-released album. Ahead, relive Swift's many headline-making relationships over the years.
01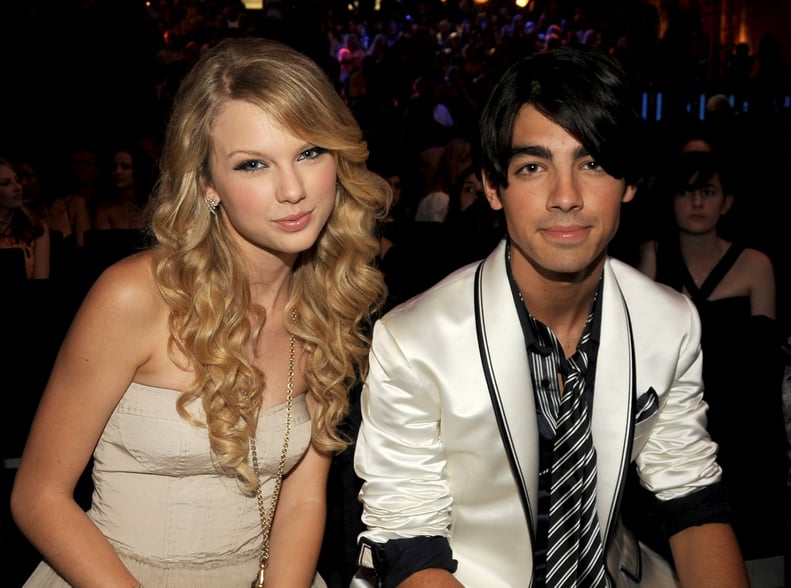 Joe Jonas
When: July 2008 — October 2008
Swift's first highly publicized relationship was with the Jonas Brothers singer. The pair dated for a few months before Swift famously told Ellen DeGeneres that he broke up with her over a 27-second phone call. Swift responded by writing the breakup songs "Last Kiss" and "Forever and Always" about him, but things got even more strained between them when Jonas went on to date actress Camilla Belle. Swift penned a fiery tune called "Better Than Revenge," which includes lyrics aimed at Belle like, "She's an actress / But she's better known / For the things that she does on the mattress."
Per People, Jonas later spoke out about the breakup in a MySpace post that read:
"Several things I will state with all my heart. I never cheated on a girlfriend. It might make someone feel better to assume or imply I have been unfaithful but it is simply not true. Maybe there were reasons for a breakup. Maybe the heart moved on. Perhaps feelings changed. I am truly saddened that anything would potentially cause you to think less of me."
It looks like the phrase "time heals all wounds" is true, though, because the exes were eventually able to bury the hatchet. During a 2019 appearance on "The Ellen DeGeneres Show," Swift admitted that she regrets putting Jonas "on blast."
02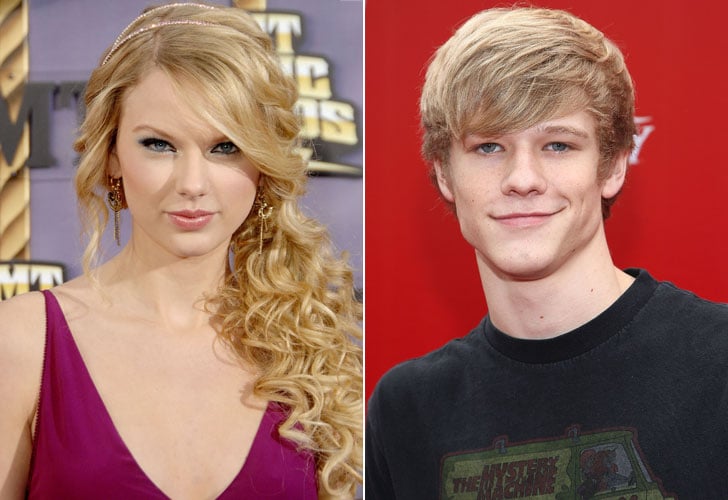 Lucas Till
When: March 2009 — April 2009
Sparks apparently flew between Till and Swift when he costarred in her "You Belong With Me" music video, but their romance was short-lived. In an interview with MTV, Till revealed his reason behind why they couldn't make things work. "We dated for a little bit, but there was no friction because we were too nice," he explained. "We just really both liked each other . . . [but] most relationships work out cause you get along and then you don't, and then you make up and it's passionate, and with us I really just liked her as a friend."
03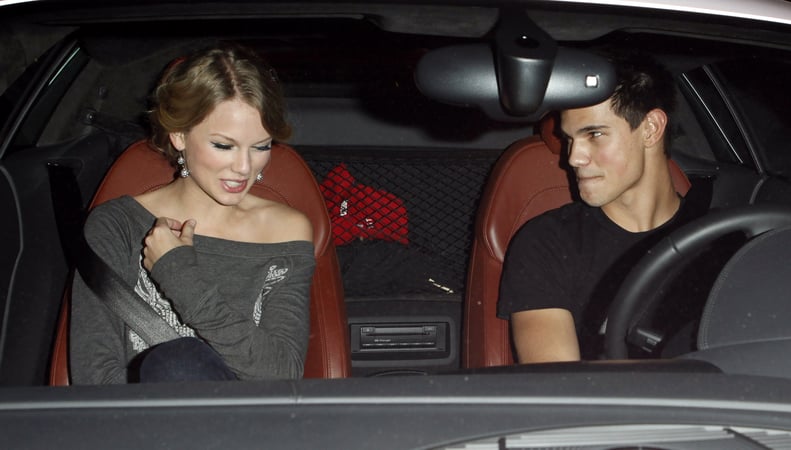 Taylor Lautner
When: August 2009 — December 2009
After playing boyfriend and girlfriend in the 2010 rom-com "Valentine's Day," these two Taylors started dating for real. Although their relationship earned one of Hollywood's cutest nicknames, "Taylor Squared," a source close to the then-country singer told People, "They went out on a few dates and realized this was just not going anywhere." The sad song "Back to December" off of Swift's "Speak Now" and "Speak Now (Taylor's Version)" albums is reportedly about the "Twilight" star, which expresses regret for how she ended things with him and has lyrics referencing his "tan skin" and "sweet smile."
The good news is the two Taylors (plus Lautner's wife, Taylor Dome) are pretty good friends today. The exes reunited during the July 7 stop of Swift's Eras Tour and even recreated the famous Spider-Man trio meme with Dome. Also, Lautner appeared in Swift's "I Can See You" music video, which dropped the same day as the tour stop and re-release of "Speak Now."
04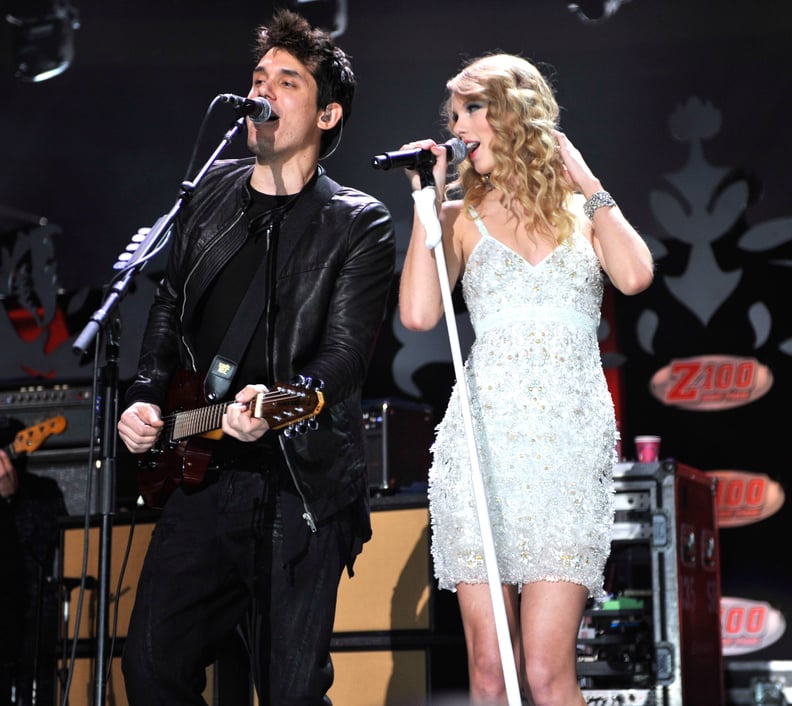 John Mayer
When: December 2009 — February 2010
Swift was romantically linked to Mayer when they collaborated on his song "Half of My Heart," but things between the couple quickly soured. Swift titled the breakup song "Dear John" about him, which clearly didn't hide who it was about. With lyrics like "Dear John, I see it all, now it was wrong / Don't you think 19 is too young to be played by your dark twisted games, when I loved you so?" the "Daughters" singer was none too pleased.
"It made me feel terrible, because I didn't deserve it," he told Rolling Stone in a 2012 interview. "I'm pretty good at taking accountability now, and I never did anything to deserve that. It was a really lousy thing for her to do."
Mayer found himself back in headlines with Swift in the weeks leading up to the release of "Speak Now (Taylor's Version)," as Lautner joked that he was "praying for John" — seemingly nodding to the re-release of "Dear John" and other "Speak Now" songs rumored to be about Mayer.
05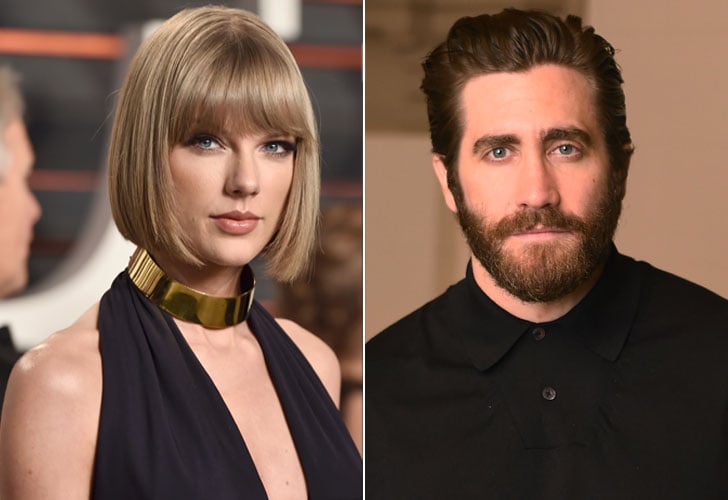 Jake Gyllenhaal
When: October 2010 — January 2011
Gyllenhaal and Swift began quietly dating and sharing maple lattes together in the fall of 2010, and per Marie Claire, it was rumored Gyllenhaal was so enchanted by her that he dropped $160,000 just so he could fly her in on a private jet for a date. Talk about getting bit by the love bug, huh?
By New Year's Eve, however, Gyllenhaal and Swift had gone their separate ways. Swift got all of her emotions about their relationship out in "All Too Well," with lyrics like, "Oh, your sweet disposition and my wide-eyed gaze / We're singing in the car, getting lost upstate / The autumn leaves falling down like pieces into place, and I can picture it after all these days."
In 2021, Swift released a 10-minute version of "All Too Well" along with a short film starring Sadie Sink that provided even more details about their relationship's emotional conclusion.
Neither Swift or Gyllenhaal have ever directly confirmed the song is about their romance, but after the long version's release, Swift's fans flocked to his social media to criticize him, so much that he had to turn off comments on his Instagram. "It has nothing to do with me. It's about her relationship with her fans," he told Esquire in February. "It is her expression. Artists tap into personal experiences for inspiration, and I don't begrudge anyone that."
06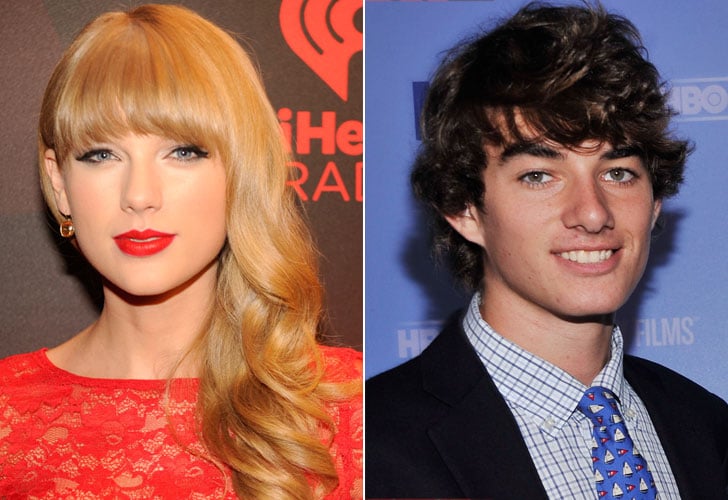 Conor Kennedy
When: July 2012 — October 2012
Kennedy struck up an intense summer romance with Swift in 2012, which started that July when, per E! News, they were first spotted together sharing lunch at a pizza place in Mount Kisco, NY. The rest of that summer was filled with plenty more supercute, supercouple-y activities between the two, like making out at his family's estate in Hyannis Port, MA, and splashing around in the ocean. It started to look like things between Swift and Kennedy weren't going so well when his family accused Swift of crashing the wedding of Kennedy's cousin Kyle in August, according to E! Her reps denied it, but it appeared the damage had been done. As the warmer months cooled off, so did Swift and Conor's relationship. They split by October.
07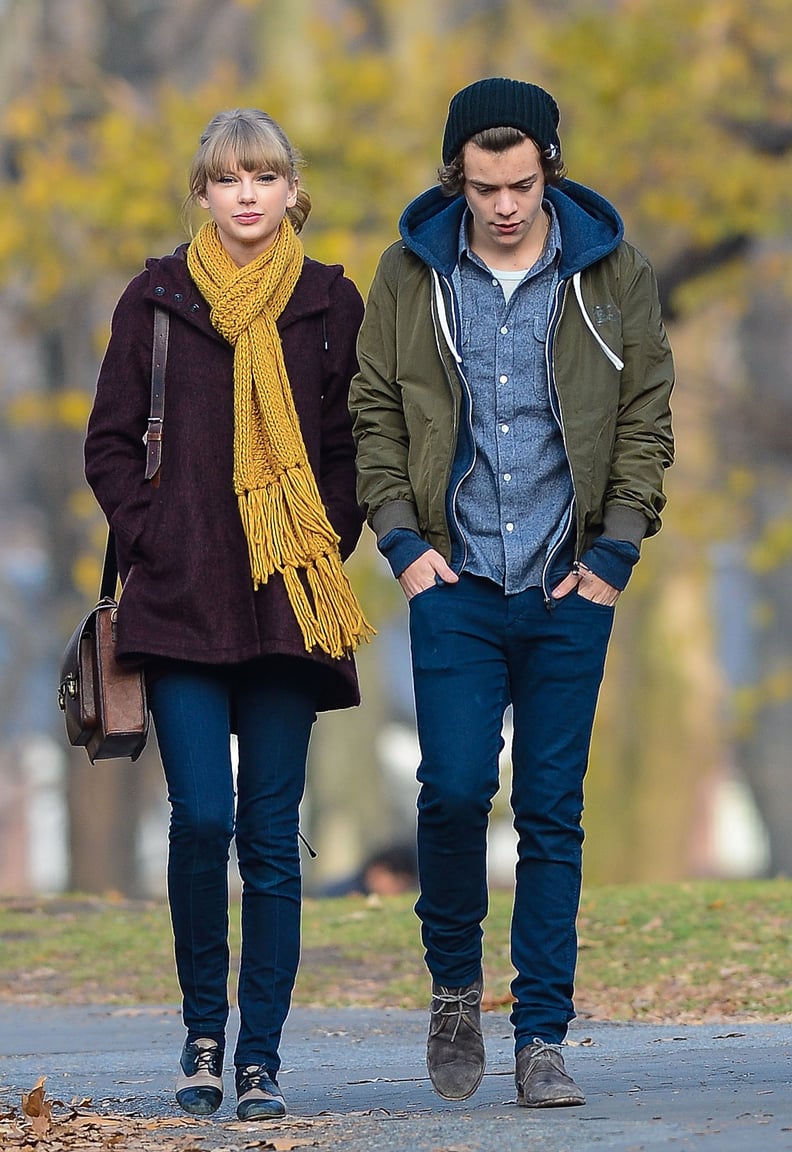 Harry Styles
When: December 2012 — January 2013
Swift's roller-coaster relationship with One Direction's Harry Styles might have only lasted a month, but it had to have been passionate. How else did she — at least according to rumors — get an entire album out of it?! Swift and Styles were seen strolling through NYC in December 2012 and even ushered in the new year with a kiss at midnight. Before January was over, they'd called it quits, and one of Swift's biggest singles off of "Red," "I Knew You Were Trouble," started a long list of songs inspired by him.
Swift and Styles have since remained friendly, and were even spotted chatting during the 2023 Grammy Awards.
08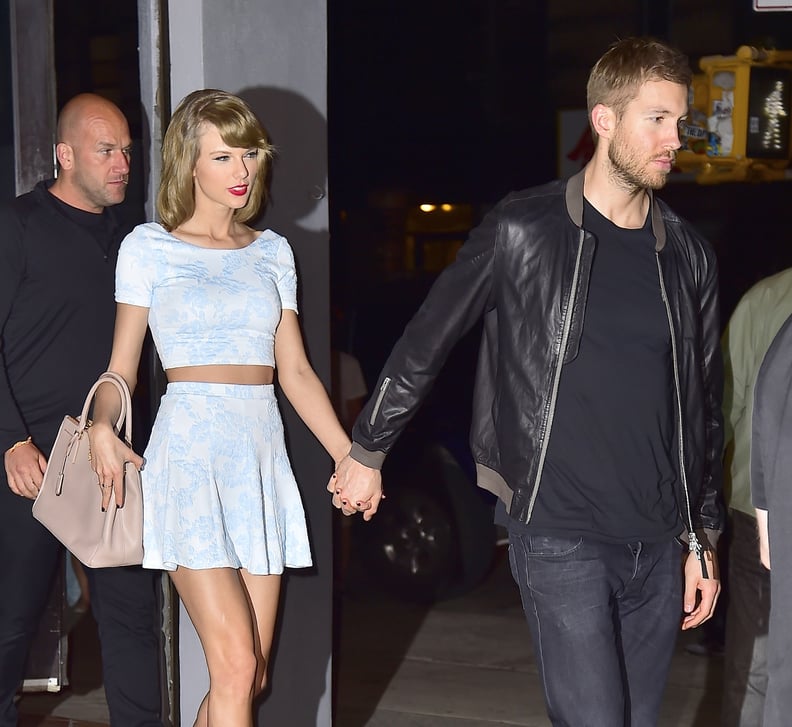 Calvin Harris
When: March 2015 — June 2016
Swift first met Scottish DJ Harris when mutual friend Ellie Goulding introduced them at the Elle Style Awards in February 2015. By March, they were inseparable. With their romance clocking in at just over a year, the two went on a number of cute dinner dates and packed in plenty of award-show PDA. Although Harris and Swift had heaps of nice things to say about each other, they broke up not long after celebrating their one-year anniversary and just shortly after Harris got into a car crash.
Their split seemed to be amicable at first, but when Swift was seen kissing Tom Hiddleston two weeks after breaking things off with Harris, the DJ was left "hurt" and "blindsided," according to sources. Per Vanity Fair, Harris took down the tweet he posted that asserted their breakup was full of "respect" and "love," and he also claimed in a series of tweets that Swift's team was deliberately trying to make him look bad after it was revealed Swift wrote Harris's hit song "This Is What You Came For." He eventually opened up about his social media rant, saying he just "snapped."
09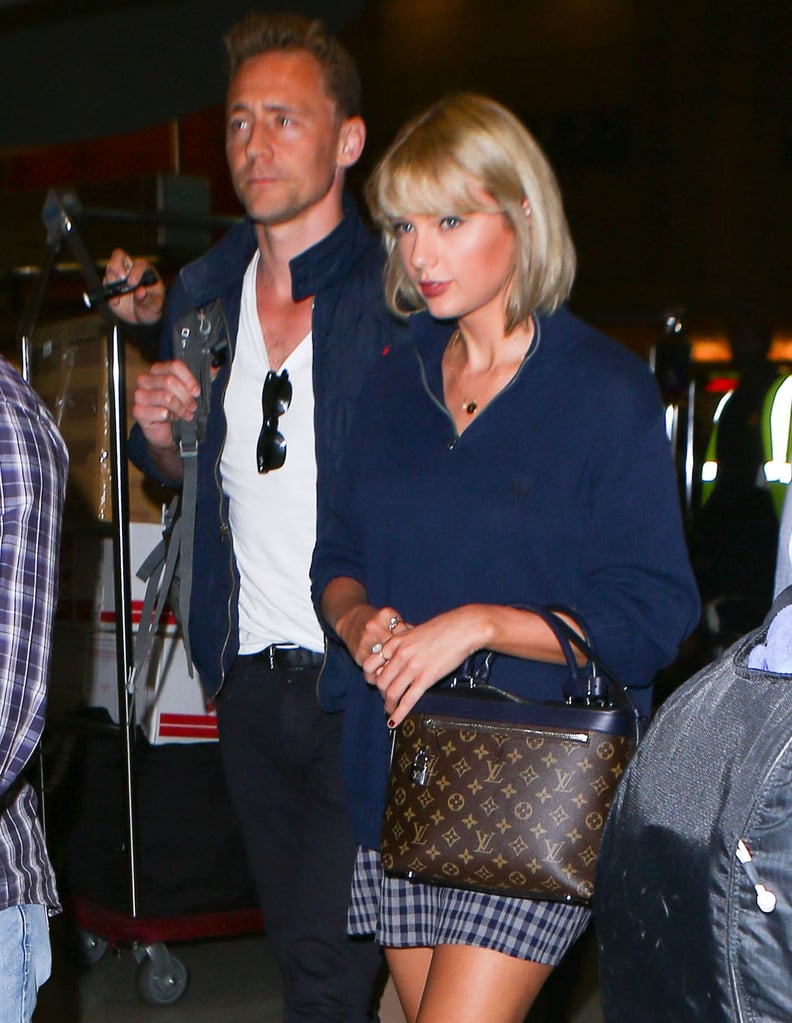 Tom Hiddleston
When: June 2016 — September 2016
In 2016, Taylor was seen tearing up the dance floor at the Met Gala with Hiddleston. Still, the photos of Swift and Hiddleston kissing and cuddling on a beach in Rhode Island that hit the internet two weeks after her breakup with Harris came as a surprise. Their whirlwind, PDA-filled romance took them all over the globe, with stops in Italy, Tennessee, Rhode Island, New York City, Australia, and England.
The two called it quits after just three months because Hiddleston reportedly wanted the romance to be more public. A few months later, he responded to rumors that their relationship was all for show, telling GQ: "Of course it was real. Taylor is an amazing woman. She's generous and kind and lovely, and we had the best time."
10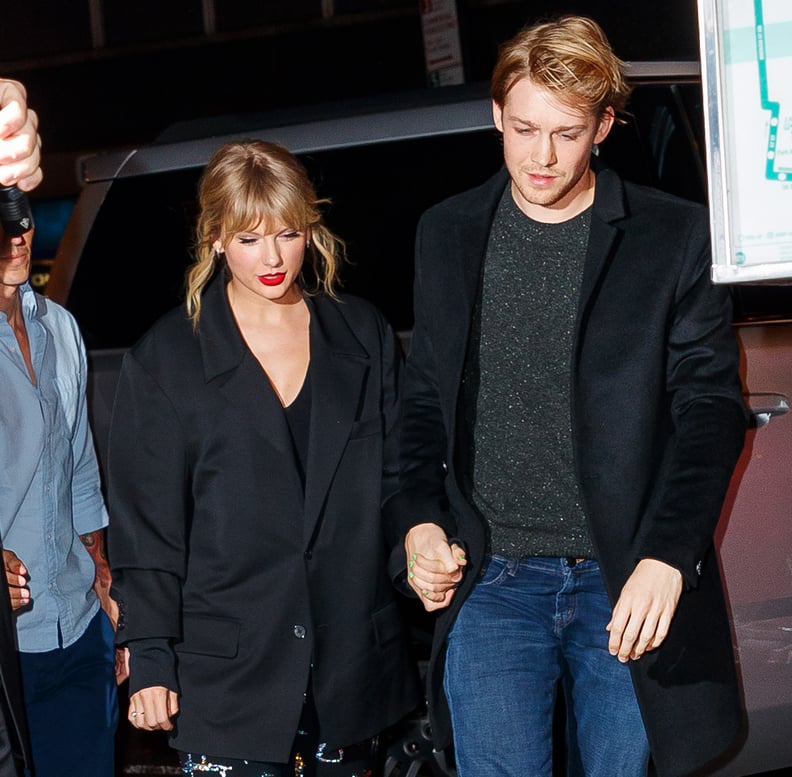 Joe Alwyn
When: Probably the end of 2016 — March 2023
After splitting from Hiddleston (and having a reignited feud with Kim Kardashian and Kanye West), Swift disappeared almost entirely from the spotlight. She was no longer active on social media, she didn't attend any events, and there were virtually no paparazzi photos of her. But while she laid low professionally, her romantic life was heating up again.
News broke in May 2017 that Swift was dating English actor Alwyn and that their under-the-radar romance had been going on for months. In one of the deluxe versions of "Lover," Swift alluded that they officially started dating sometime around late September/early October 2016. They went on to keep their romance pretty much under the radar from that point on. But Swift did give Alwyn a shout-out during her acceptance speech at the Grammys in 2021. "Joe, who is the first person that I play every single song that I write, and I had the best time writing songs with you in quarantine," she said.
They continued to stay quiet, but Swift also acknowledged him in an Instagram video promoting a song on her new album, "Midnights," called "Lavender Haze." "If the world finds out that you're in love with somebody, they're gonna weigh in on it," she said. "Like my relationship for six years, we've had to dodge weird rumors, tabloid stuff, and we just ignore it. And so this song is sort of about the act of ignoring that stuff to protect the real stuff."
As Swift kicked off her Eras Tour, a source told People that Alwyn "will travel with her when he can." However, on April 7, People confirmed that Swift and Alwyn had split after six years of dating.
A source told Entertainment Tonight that their split "was not dramatic." They added "the relationship had just run its course. It's why [Alwyn] hasn't been spotted at any shows."
11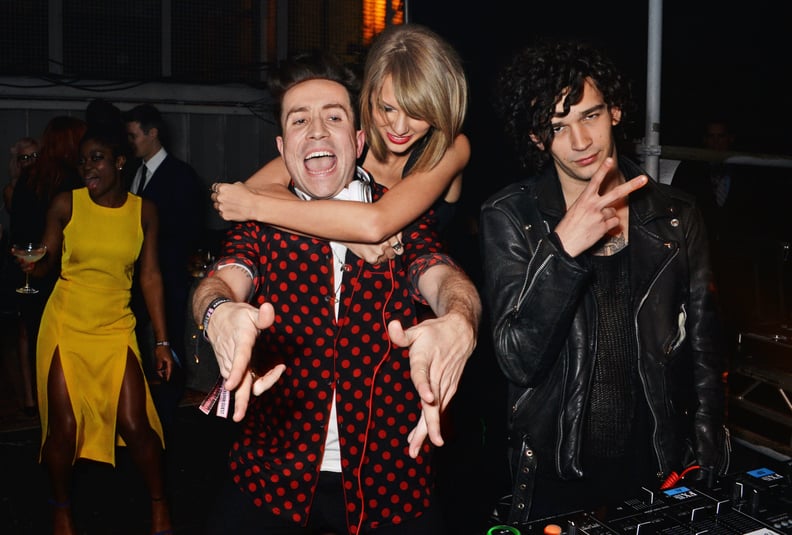 Matty Healy
When: May 2023 - June 2023
Shortly after Swift's breakup from Alwyn was made public, rumors began swirling that Swift was seeing Matty Healy, the first reports originating from The Sun on May 4. A day later, The 1975 lead singer was spotted attending Swift's Eras Tour concert in Nashville. While there was some debate among fans about whether or not Healy and Swift were just hanging out as friends or dating, things seemingly moved firmly into romantic territory when the musicians were photographed by a fan holding hands at a restaurant in New York City on May 11.
Swift and Healy are actually longtime friends, with rumors that they dated going all the way back to 2014 when Swift was once spotted wearing a The 1975 t-shirt (they're pictured together here having fun at the 2015 Brits afterparty).
In 2016, Healy squashed dating rumors after he courted controversy for telling Q Magazine that March that he would find being Swift's boyfriend "emasculating." In a May 2016 tweet addressing the controversy (via Yahoo), he wrote, "I didn't even date Taylor, but the media's incessant and brutal obsession with her has meant that even a guy who DIDN'T DATE HER has been so battered by their never-ending questions that he's inevitably said something that can be lifted and moulded into something that resembles 'shade.' It's really sad."
Swift and Healy have yet to address their latest dating rumors publicly, but it seems whatever was on is now off. On June 5, multiple outlets reported that Swift and Healy's romance had fizzled out.