Taylor Swift's "Midnights" Album Is Finally Here — Listen Here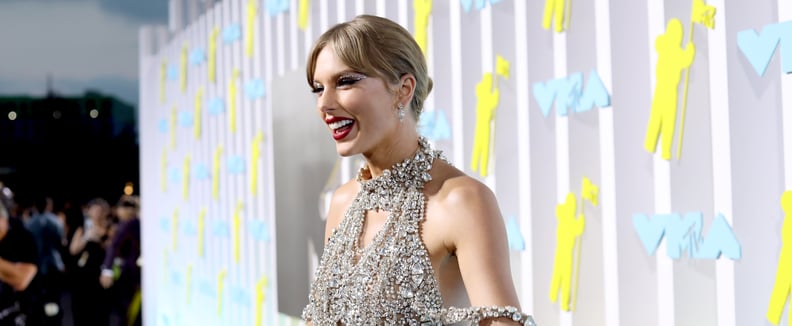 Image Source: Getty / Catherine Powell
We need to calm down — but we just can't! After two months of anticipation, many Easter eggs, and not a single hint of what the songs would sound like, Taylor Swift's "Midnights" is finally here. And it comes with a few surprises! Swift announced on Oct. 20 that "Midnights" will be a visual album and that she directed music videos for the tracks. A few hours after the album was released, she shared the first video, for "Anti-Hero." Swift also announced seven additional tracks on the extended edition of the album, officially titled "Midnights (3am Edition)."
Swift first announced details about the album, her 10th, just under an hour after winning video of the year at the 2022 MTV VMAs and teasing that she was about to announce new music. In an Instagram post at midnight on Aug. 29, Swift unveiled the album's title, "Midnights," alongside the cover artwork: a photo of the singer with heavy blue eye makeup and holding a lighter. "'Midnights,' the stories of 13 sleepless nights scattered throughout my life, will be out October 21. Meet me at midnight," she wrote in the caption.
A second slide featured an image of Swift with her head in her hand and includes the text: "We lie awake in love and in fear, in turmoil and in tears. We stare at walls and drink until they speak back. We twist in our self-made cages and pray that we aren't — right this minute — about to make some fateful life-altering mistake. This is a collection of music written in the middle of the night, a journey through terrors and sweet dreams. The floors we pace and the demons we face. For all of us who have tossed and turned and decided to keep the lanterns lit and go searching — hoping that just maybe, when the clock strikes twelve . . . we'll meet ourselves."
On Sept. 16, Swift confirmed that she's, once again, teamed up with producer Jack Antonoff for the album. "The making of Midnights 🌌," she captioned a behind-the-scenes video on Instagram.
The album being new and not one of her long-awaited re-recordings, like "1989 (Taylor's Version)," was another big surprise from the singer. The album will be Swift's first completely new album since she released "Evermore" in December 2020. Her other latest offerings were re-recordings: in 2021, she released "Fearless (Taylor's Version)" and "Red (Taylor's Version)," the first two of six expected rerecorded albums. Swift also dropped new single "Carolina" from the movie "Where the Crawdads Sing" earlier this year.
Ahead, listen to every song from Swift's "Midnights," including the seven 3 a.m. tracks.
"Lavender Haze" by Taylor Swift
"Anti-Hero" by Taylor Swift
"Snow On The Beach" by Taylor Swift
"You're On Your Own, Kid" by Taylor Swift
"Midnight Rain" by Taylor Swift
"Question... ?" by Taylor Swift
"Vigilante Shit" by Taylor Swift
"Bejeweled" by Taylor Swift
"Labyrinth" by Taylor Swift
"Sweet Nothing" by Taylor Swift
"Mastermind" by Taylor Swift
"The Great War" by Taylor Swift
"Bigger Than The Whole Sky" by Taylor Swift
"High Infidelity" by Taylor Swift
"Would've, Could've, Should've" by Taylor Swift
"Dear Reader" by Taylor Swift