From Mod Sun to Tyga, Here Are Avril Lavigne's Romances Through the Years
Pop-punk icon Avril Lavigne is known for defining much of the 2000s for teenagers with her alternative, edgy music. The award-winning singer has definitely transformed since her "Sk8er Boi" days, but her latest album, "Love Sux," taps into the nostalgic sound that drew listeners to her all those years ago. The artist has remained present in the music scene throughout her career, but most don't know much about her romances as she's kept those details mainly private over the years.
Lavigne recently called off her engagement to singer-songwriter and music producer Mod Sun. The two initially met while collaborating on his 2021 album, "Internet Killed the Rockstar," and got engaged in Paris in March 2022. Sun is not Lavigne's first romance in the music world; in fact, Lavigne has been linked to a few famous names over the years, including Tyga currently. From Brody Jenner to Nickelback's Chad Kroeger, here is everyone the singer has dated in the past.
01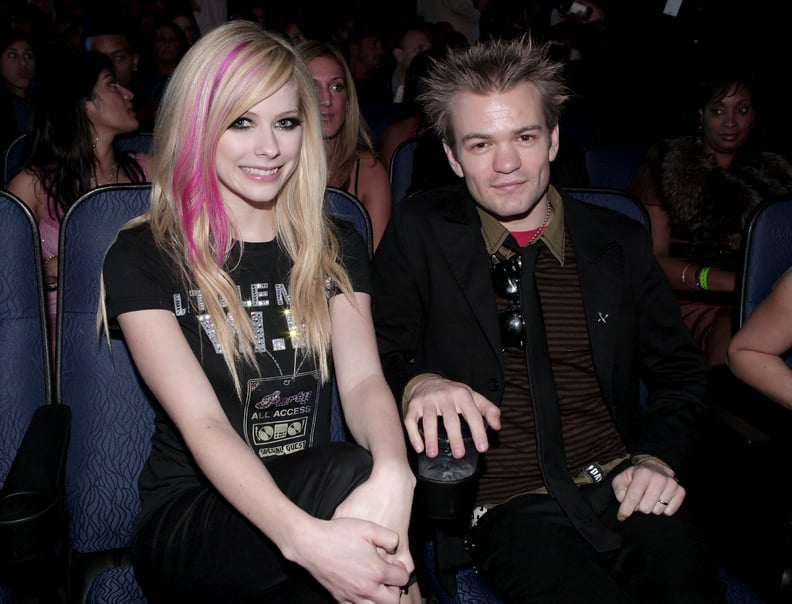 Avril Lavigne and Deryck Whibley (2004-2009)
Lavigne first met Sum 41 frontman Deryck Whibley in 2001 when she was 17 years old. She told Rolling Stone in 2011, "I made out with him the first day I met him. He gave me my first shot of Jäger. I had a tie on — it was back in the days of the tie." At the time, the two were in the same punk-rock music circle and became friends before they eventually started dating in 2004. One year after they started dating, Whibley proposed to the "Complicated" singer in June 2005, per MTV News. The musicians married in July 2006, and in a 2008 interview on "The Late Late Show With Craig Ferguson," she revealed a heart-shaped tattoo on her wrist was dedicated to Whibley.
By 2009, however, the couple split up, and Lavigne filed for divorce. The singer released a statement on her divorce (via Ok!), saying, "We have been friends since I was 17, started dating when I was 19, and married when I was 21. I am grateful for our time together, and I am grateful and blessed for our remaining friendship."
Despite their divorce, Lavigne and Whibley went on to collaborate together on her 2011 album, "Goodbye Lullaby," and remained friends after breaking up.
02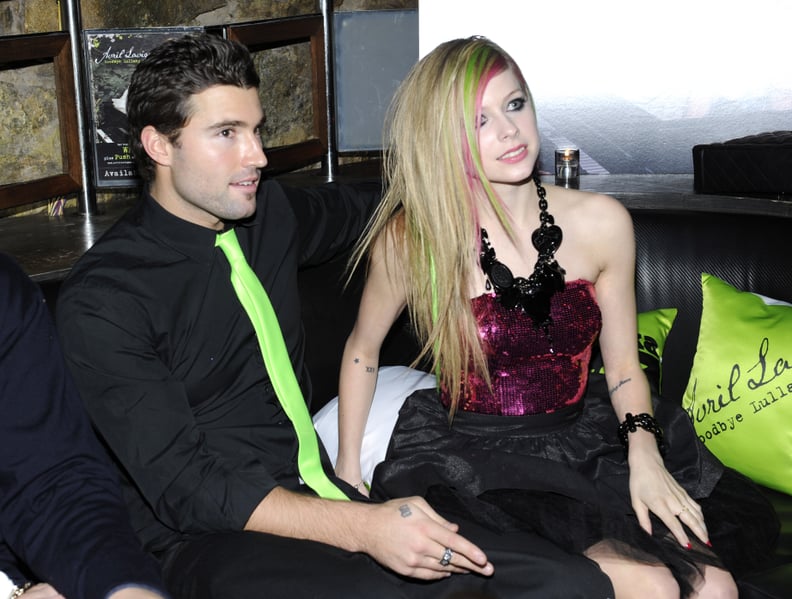 Avril Lavigne and Brody Jenner (2010-2012)
Shortly after her divorce from Whibley, the "Girlfriend" singer was linked with Brody Jenner in April 2010 when the two got couples tattoos of one another's names, perE! News. At the time, the star of "The Hills" got Lavigne's handwritten name tattooed on his arm, and she got a "Brody" tattooed on her rib cage. According to MTV News, the two also got matching lightning bolt and f-bomb tattoos the same year.
Lavigne and Jenner dated for almost two years before ultimately splitting in January 2012. Conflicting goals and Lavigne's busy schedule were allegedly the cause of their breakup.
03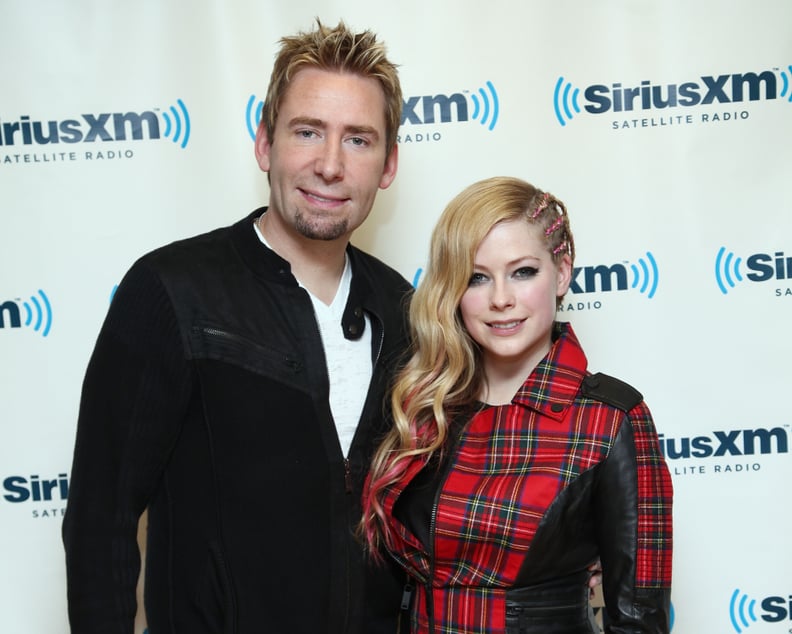 Avril Lavigne and Chad Kroeger (2012-2015)
Around the time Lavigne broke up with Jenner, she met Nickelback frontman Chad Kroeger in March 2012. While working together on Lavigne's self-titled album in 2012, the two grew close and started dating in July 2012. One month after they made their relationship official, Kroger proposed to the "I'm With You" singer. On her proposal, Lavigne told Ryan Seacrest in 2013, "I had been making this scrapbook of my time in the studio. I walk over, and he had taken a photo of himself holding the ring box and put the Polaroid in my scrapbook. . . . It was really romantic and kind of made sense."
On July 1, 2013, the two tied the knot, with the date signifying something special for the pair, per People. According to Kroeger, the pair started officially dating on July 1, which also happens to be Canada Day (fitting for the two Canada natives). The couple remained married for the next two years until their split in 2015. Lavigne announced their separation on Instagram, writing, "Through not only the marriage, but the music as well, we've created many unforgettable moments. We are still, and forever will be, the best of friends, and will always care deeply for each other."
Similar to her other breakups, the singer and Kroeger stayed close after separating, with Lavigne telling People in 2019, "Chad and I are super close. . . . He's just always been a cheerleader of mine and always been such a huge fan. He's in my corner, he's on my side, and he's always been really great."
04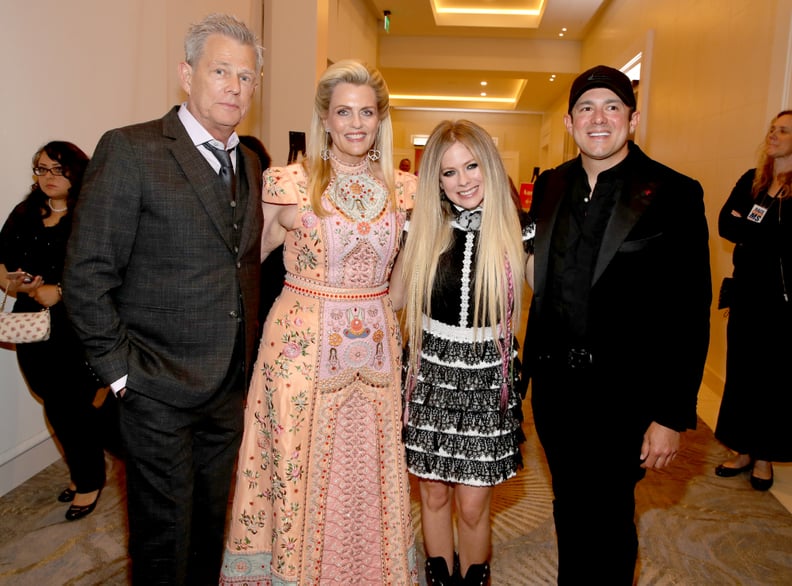 Avril Lavigne and Phillip Sarofim (2018-2019)
Lavigne didn't date anyone publicly for a few years, at which point she began dating Phillip Sarofim around February 2018. According to E! News, the couple met through mutual friends and connected immediately. The two kept their relationship under the radar and called it quits in February 2019 after one year of dating, according to People.
05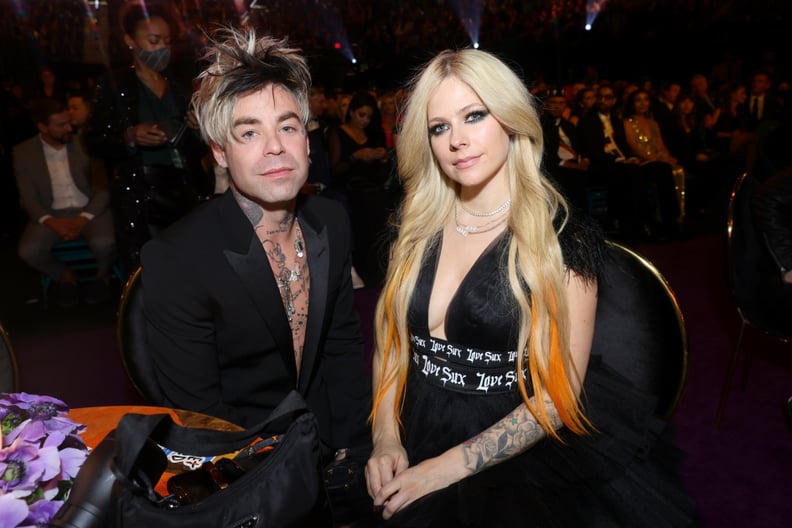 Avril Lavigne and Mod Sun (2021-2023)
Similar to her previous romances, Lavigne met her latest beau while working on music together. In December 2020, the singer collaborated with musician Mod Sun on his 2021 album, "Internet Killed the Rockstar." Their song, "Flames," was released in January 2021, and in April 2021, Lavigne told People the pair "had an immediate connection from the first day in the studio." Rumors of the two dating circulated for months following their collaboration, but Sun didn't confirm their relationship until September 2021 when he shared a post on Instagram in appreciation of his girlfriend, writing, "I'm so lucky, I love this girl so much."
The two shared plenty of cute moments together, from red carpet appearances to award shows, and took their relationship to the next level on March 27, 2022. In front of the Eiffel Tower, Sun proposed to Lavigne with a beautiful heart-shaped diamond ring. About her proposal, Lavigne told People, "It was the most perfect, romantic proposal I could ever ask for. . . . We had a violin player, champagne and roses. It felt like time stood still, and it was just the two of us in the moment."
In April 2022, the couple shared on Instagram their Parisian, pink-themed engagement party, which they enjoyed in the company of friends and loved ones, including Machine Gun Kelly.
However, in February 2023, the "Complicated" singer's rep confirmed to POPSUGAR that Lavigne and Sun had split after two years together. Lavigne's rep didn't provide any further details on the breakup, but a source close to the former couple told People that "Avril and Mod Sun have been on and off for the past two months."
Interestingly enough, though, Sun's rep told POPSUGAR at the time that "they were together and engaged as of three days ago when Mod left for tour so if anything has changed that's news to him." Sun kicked off his "God Save the Teen" Tour in Sacramento, CA, on Feb. 19, 2023.
06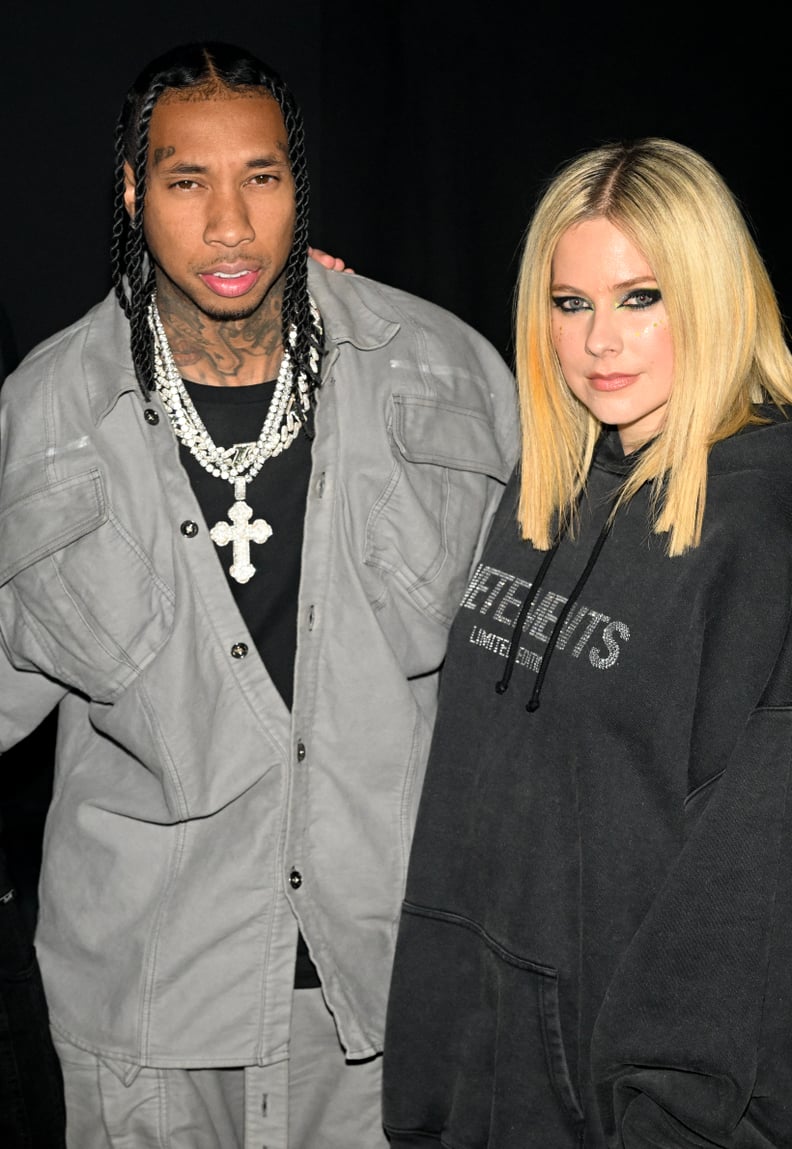 Tyga (2023-Present)
Sun and Lavigne's split came around the same time TMZ published photos of Lavigne hugging Tyga outside of Nobu in Malibu, CA. "Avril and Tyga are genuinely friends and nothing more. There was absolutely no third party involved in the split," an insider told People about their relationship.
However, it seems there may have been some truth to those romance rumors after all. On March 6, Lavigne and Tyga seemingly confirmed their relationship when they were spotted kissing at a party during Paris Fashion Week. Reps for Lavigne and Tyga did not respond to POPSUGAR's request for comment, but the PDA-filled photos pretty much speak for themselves.