Why I Wish I Had a JoJo Siwa Growing Up
I Wish I'd Had JoJo Siwa When I Was a Queer Kid, but I'm Glad Today's LGBTQ+ Youth Do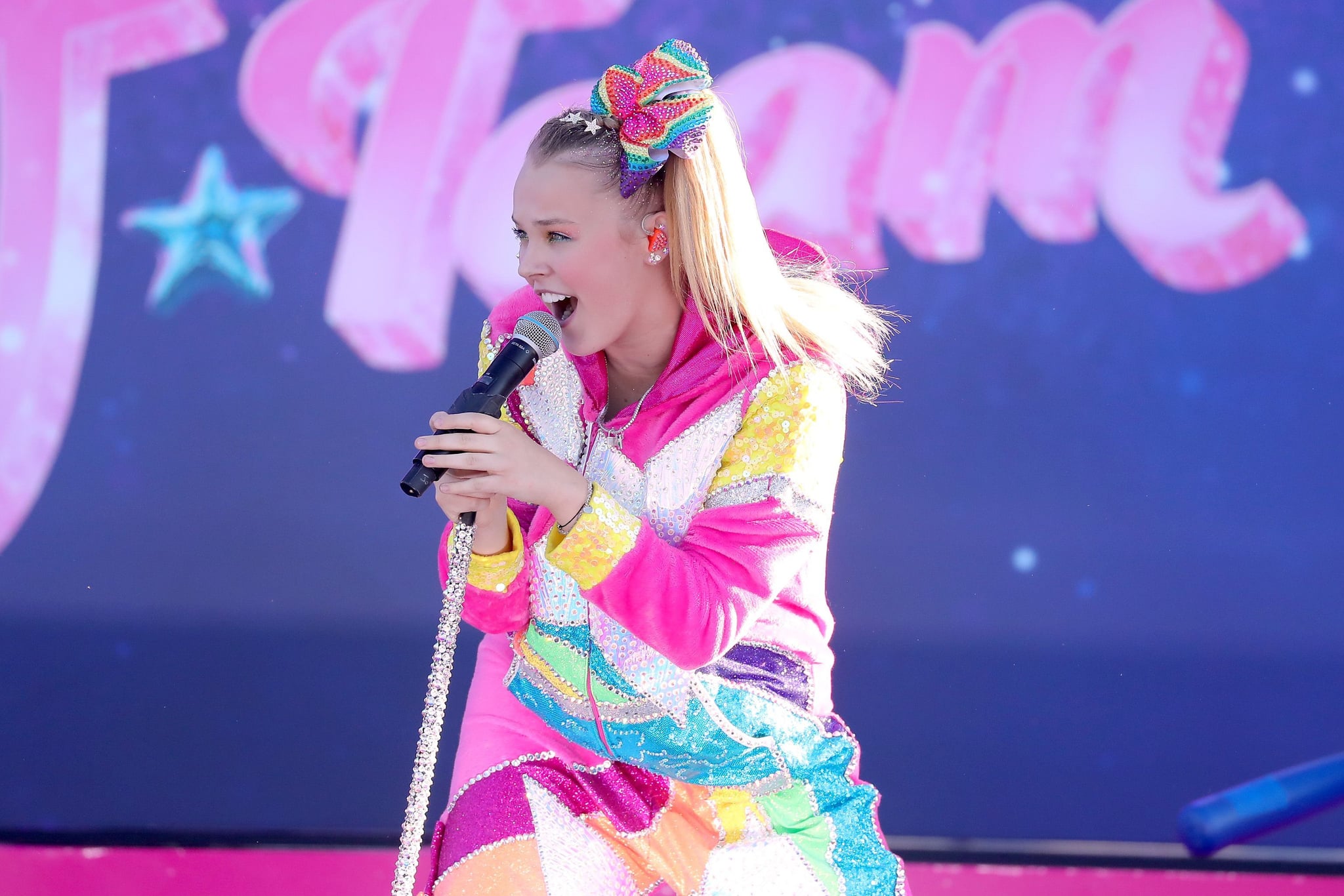 Of the many things I anticipated crossing off my 2021 bingo card, being a dedicated JoJo Siwa stan was not one of them. Yet, here I am, 22 years old and spending every Monday night watching Dancing With the Stars just to cheer on the teen sensation as she makes history as half of the show's first same-sex couple. In addition to this being a truly massive moment for LGBTQ+ representation on television, there was a part of me that was just so happy that younger queer viewers watching this at home had someone to look up to — a luxury I didn't have when I was 12 years old.
During middle school, I was a lot like everyone else: awkward and uncomfortable. However, I was also queer — as evidenced by my repeatedly rewatching of Bring It On "for the plot" — but at the time, I didn't know it. Or, maybe I did, but I wasn't sure exactly what that looked like for someone like me.
You see, in 2011 Kurt (Chris Colfer) and Santana (Naya Rivera) from Glee were the only major representations of queerness on primetime television. In addition to this, Tyler Oakley was the only gay YouTuber that had achieved the same level of stardom as his straight peers. And while all of this LGBTQ+ representation was and is important, Kurt and Santana were still just characters, and Tyler Oakley was 10 years older than me — so my ability to relate was limited.
During this time, the celebrities that I looked up to were the ladies of Disney Channel – Hilary Duff, Raven-Symoné, Miley Cyrus, Selena Gomez, and so on. Had I woken up one day to news that High School Musical's Vanessa Hudgens or Camp Rock's Demi Lovato were gay, trans, or anywhere else on the LGBTQ+ spectrum, accepting that I was too would've been a lot easier.
As it turns out, many of the stars I looked up to were queer — Demi Lovato, Miley Cyrus, and Alyson Stoner, to name a few. But, in 2011, coming out was a career ender, especially for those with younger fans. Since no one I looked up to at the time was out, 12-year-old me felt incredibly isolated.
That is precisely why JoJo Siwa being out and proud at only 18 years old is more than just important, it's crucial for LGBTQ+ youth. Siwa's decision to be honest with not only herself, but also with her fans no matter the consequences, represents a shift in our culture that has been a long time coming. Gone are the days where queerness is seen as inherently adult or a "bad trait" for a role model to have. We are now living in a time where LGBTQ+ kids and teenagers get to watch one of the most popular childhood entertainers in the world be unapologetically themselves — and be adored by millions for it.
Siwa's decision to be honest with not only herself, but also with her fans no matter the consequences, represents a shift in our culture that has been a long time coming.
I think the biggest takeaway from JoJo Siwa's groundbreaking moment is that queerness is slowly, but surely, becoming more normalized. For impressionable young people figuring out who they are, being accepted and not othered is everything. Seeing Siwa dancing with another female partner on a huge show like Dancing With the Stars is a tremendous step in the right direction for LGBTQ+ representation, especially for the queer kids out there. Even Siwa herself shared a similar sentiment during a Television Critics Association panel a few months before the episode aired.
"It's really special that not only now do I get to share with the world that you get to love who you want to love, but also you get a dance with whom you want to dance," Siwa said. "There's a lot of barriers that we're going to have to break through — who leads, how do you dress, what shoes do you wear? But I think it's all something that I'm looking forward to. It's going to be tricky, but it's going to give so much to people out there — people of the LGBTQ community, people who feel just a little different. It's going to give them a sense of happiness."
To be clear, JoJo Siwa's coming out and Dancing With the Stars moment aren't magic solutions to the deep-seated homophobia that's in our culture. However, it's a step that is certainly worth celebrating. Although I didn't have a JoJo Siwa when I was 12 years old, I am ecstatic that today's kids do, and beyond hopeful that future generations will as well.