I'm Still Mad About Britney Spears's MTV Vanguard Award Tribute
For many of us who were teenagers in the 2000s, Britney Spears is the VMAs. Not only have her music videos influenced a generation of young girls (for better or for worse), but her headline-making performances at the show always have people talking.
Like you, dear reader, I remember exactly where I was when Britney ripped off her suit and exposed a nude-colored bra and pants covered in rhinestones to perform "Oops! . . . I Did It Again." I vividly recall when she danced around that stage holding a giant Burmese python for "I'm a Slave 4 U" (when will your fave?), and I'll never forget when she kissed Madonna and the camera immediately panned to her ex Justin Timberlake, who was barely keeping himself together in the audience. And even though I shudder to think about the lackluster, half-hearted performance of "Gimme More" that she gave during one of her lowest points in 2007 — the Year We Do Not Speak Of — it doesn't take away from the fact that Britney Spears has given the VMAs many of its best moments. So in 2011, when MTV announced that they would be honoring the pop star with their coveted Michael Jackson Video Vanguard Award, I was thrilled. She more than deserved it.
Britney had a considerably tough few years, but by then, she was back and better than ever. She looked amazing, she seemed healthy, happy, and in love, and dammit, I was ready to see Queen Spears get her crown. Given all that (plus the fact that MTV's promos touted a can't-miss tribute), I expected something big. But what I got still hurts my feelings, even all these years later. Britney didn't perform — OK, fine, whatever, I can get over that — but was instead honored by a group of young dancers who performed choreography to a medley of her hits that was sped up and remixed so aggressively, that I just know it's playing in a SoulCycle class somewhere.
I expected something big. But what I got still hurts my feelings, even all these years later.
But the most egregious part was that the tribute was presented by some guy named Jo Calderone. Yes, Lady Gaga (who, by the way, needs a Vanguard Award of her own) for some reason decided it was a good idea to emcee Britney's event as her male alter ego. Gaga quite impressively stayed in character throughout the tribute; after welcoming Britney to the stage to give an acceptance speech, Jo Calderone proceeded to hit on her, and the ensuing exchange gave me permanent forehead lines from cringing so hard.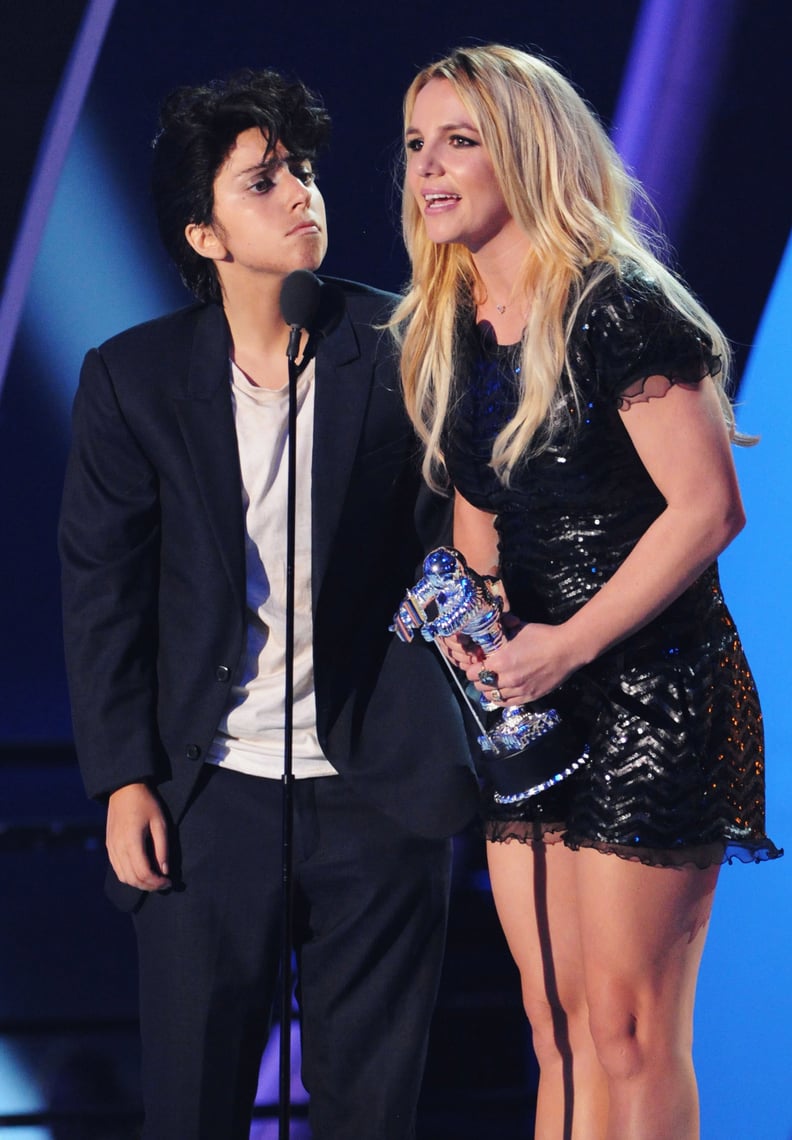 I still hold a sizable grudge against MTV for this whole operation. This is Britney Spears we're talking about! The inventor of Catholic schoolgirl uniforms and red pleather jumpsuits! She's been a flight attendant! She's been on Mars! She's the reason why I pierced my belly button, got a lower back tattoo, and changed my name to Brittney! I'm obviously kidding, but come on. Even if MTV asked Britney to perform and she declined, I feel strongly that they could have assembled something better than a dance medley and an uncomfortably creepy interaction with Lady Gaga — on top of making Britney introduce a performance by Beyoncé, in which she would steal the show by announcing her pregnancy.
The consummate sweetheart, Britney grinned and giggled through the performance and played along during the awkward moment on stage with Jo Calderone. She later told MTV what "an honor" it was to be celebrated in such a "sweet" way. "It was really crazy. I had no idea what to expect," Britney said. "The kids were amazing and so entertaining, and it was a really fun night. It was really cool." That Britney may have appreciated the tribute, but this Brittney was at home seething. It just felt disrespectful — not because of how much Britney means to me, but because of how big a part she's played in the magic of the VMAs in general.
I do have to give MTV credit for one thing, though: perhaps after realizing how much it let me down with Britney's tribute, the network decided to make it up to me by not only choosing my forever bae Justin Timberlake as their next Vanguard Award honoree two years later, but bringing *NSYNC back together on stage as well. While I haven't completely forgiven them for doing Britney the way they did, it was a nice consolation.