This 13 Reasons Why Callback to Season 1 Just Made My Heart Hurt a Little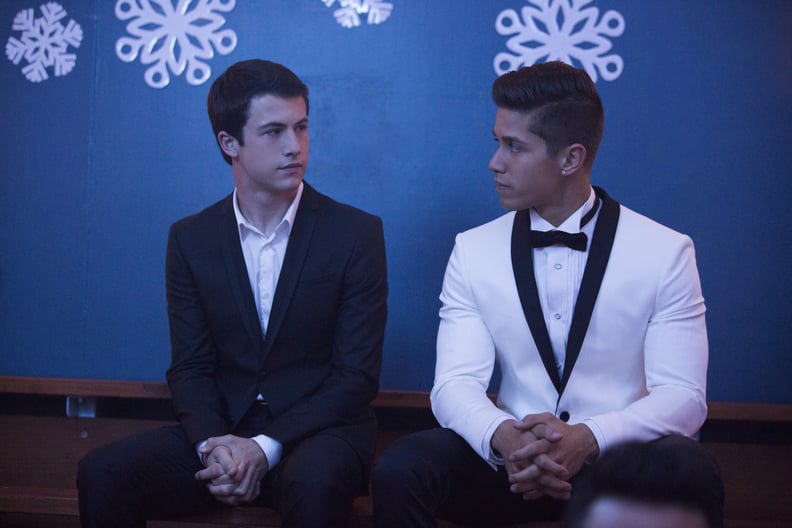 13 Reasons Why's remarkable first season centers on the suicide of Hannah Baker, but if you forgot about the other untimely death — that of Jeff Atkins — you missed a major callback in season four.
Let's rewind to season one, episode five: "Tape 3, Side A." Clay is tutoring jock and all-around-good-guy Jeff, and the two make a deal that if Jeff gets higher than a C, Clay will go to the school dance. Clay loses, and winds up at the dance. This ends up being a pivotal moment in Hannah's storyline, but there's also an important scene where Clay sits with Jeff on the bleachers and Jeff tries to convince him to ask Hannah to dance. In actuality, Jeff is wearing a gray suit. But in Clay's dream sequence that opens the episode, Jeff is wearing a white tux.
Justin Foley wears that same white tux — save for the buttons — to Liberty High School's prom in season four's ninth episode. Those who have finished the final season know this wardrobe choice is no coincidence; the tux foreshadows Justin's fate. Jeff Atkins dies in a car crash the night of Jessica Davis's party in season one, while Justin succumbs to AIDS in the series finale.
This had to be an intentional callback in a season that also included cameos from season one actors Tommy Dorfman and Michele Selene Ang. Though the show's final season is admittedly not my cup of tea, this particular moment did pull at my heartstrings. Time to rewatch season one?