American Horror Story Top Hat Clue Reveal
Solved! American Horror Story's Top Hat Mystery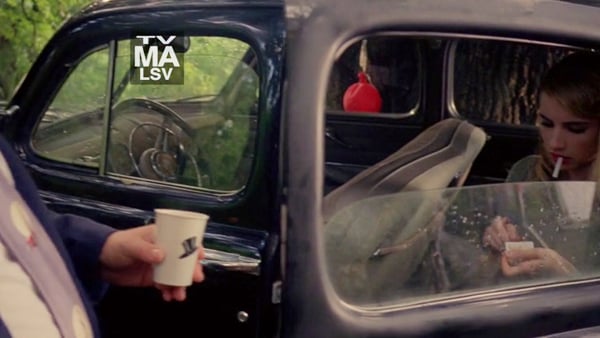 Source: FX
In all the excitement we've had over Lady Gaga joining American Horror Story, we almost forgot that creator Ryan Murphy hadn't addressed the top hat clue in Freak Show, which he said was "a big season 5 clue." (If you missed it, Emma Roberts's character reaches for a coffee cup with a top hat printed on it.) In the latest issue of Entertainment Weekly, it appears that the top hat clue pointed to Lady Gaga all along. Here's how.
EW confirms that the top hat is a reference to the 1935 film Top Hat, which was set in a hotel — i.e., season five's theme/title: American Horror Story: Hotel.
The song "Cheek to Cheek" was written for the 1935 film, a song that Lady Gaga sings with Tony Bennett on their duets album, which is also named Cheek to Cheek.
Mystery solved!