Kit Harington Kissing Emilia Clarke Game of Thrones Video
Don't Worry, Drogon, Kit Harington Also Gagged While Filming THAT Kissing Scene
Warning: the following post contains spoilers for Game of Thrones.
During the season eight premiere of Game of Thrones, the freshly consummated Jon Snow and Daenerys Targaryen make more and more people uncomfortable with every step they take in Winterfell. But no one cringes harder at the couple than Daenerys's dragons, Drogon and Rhaegal. During the icy PDA scene in the season premiere, Drogon and Jon have a staring contest after his goofy dragon ride with Daenerys. It's unclear if they hit Jon with "the look" because they're protective of their mother or if they know the truth about his lineage, but we're going to assume it's both.
In a behind-the-scenes clip from the episode filming, it looks like Kit Harington also has some feelings about the make-out session. Around the 12:10 mark of the video above, he and Emilia Clarke passionately smooch in front of a green screen replicating the idyllic waterfalls of the North. When he pulls away, Harington's fake gag reflex kicks in and he pretends to vomit. He might bend the knee, but he can't promise he won't puke while kissing his auntie. Watch the hilarious clip and relive the smooch below.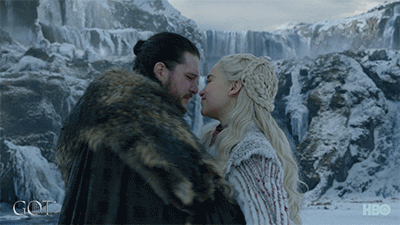 Image Source: HBO via Giphy