Reactions to Will and Grace Premiere
15 Reactions to the Hilarious and Heartwarming Will & Grace Premiere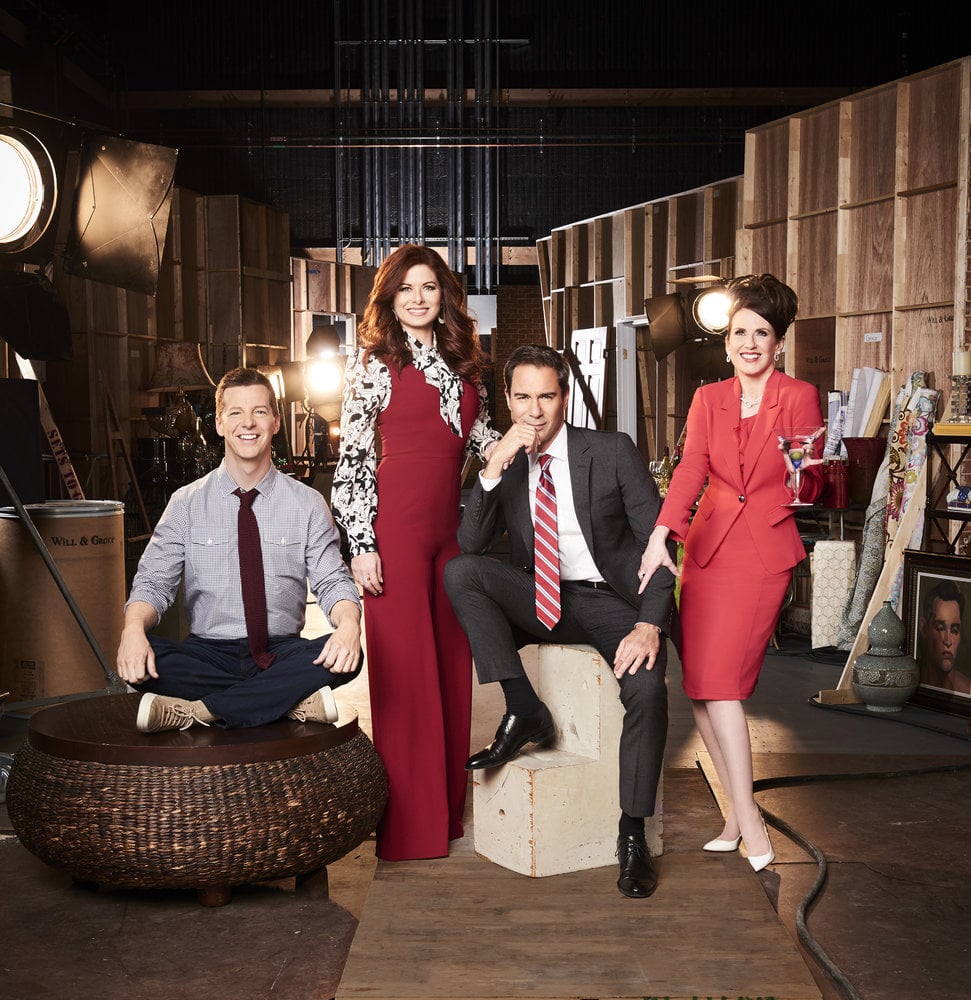 Image Source: NBC
Eleven years after the series finale, Will & Grace returned to our lives on Thursday night with the premiere of the highly anticipated reboot. We were brought right back to Will and Grace's NYC apartment and treated to Karen's hilarious one-liners and Jack's signature attitude. The chemistry between the main four picked up right where it left off, and they also addressed the unpopular 2006 series finale (spoiler: Karen dreamed it all). While most people were excited to have the iconic TV show back in their living rooms, others weren't happy about the strong political messages in the premiere.
Will & Grace, which was a groundbreaking show during its first run due to its main gay characters and unfiltered jokes, got the green light for the reboot due to politics. After reuniting last year in an ad that encouraged people to vote in the 2016 presidential election, the overwhelming response inspired NBC to bring it back for good. One of the show's creators, David Kohan, told Variety that they want to continue to advocate for gay rights with the reboot, saying, "[The characters] have their opinions and their attitudes, their judgments of what's going on in the world. They're going to definitely say things. I think that's been one of the hallmarks of the show."
See the best reactions from the premiere below.
The return of #WillAndGrace has melted my heart. From a gay kid to gay attorney now, I love this show as much as ever. @WillAndGrace I ❤u!

— Patrick Ryan Blood, Esq. (@thepatrickryan) September 29, 2017
@WillAndGrace IS BACKKKKKK🙌 pic.twitter.com/6AY0MKyybF

— *kissmekatelynn* (@kissmekatelynn) September 29, 2017
If the orange cheeto tweets about Will & Grace tomorrow then they need an Emmy just for that amazing season premier episode #WillAndGrace

— Shaydeen Paongo (@missshaydeen) September 29, 2017
@WillAndGrace Thank you for bringing back the best thing to happen to tv. It's everything we needed & more. Perfect timing & class, assface👌

— Danielle Tasses (@dtasses1) September 29, 2017
"MAKE AMERICA GAY AGAIN" YES, THANK YOU @WillAndGrace

— Celia (@Celia195) September 29, 2017
Omg making sure the curtains match Trumps colouring and Grace pulls it a bag of cheetos #WillAndGrace pic.twitter.com/PMeoIdwkXB

— Christine McLaren (@tine_mclaren) September 29, 2017
can't believe i am watching will & grace 😭😭😭😭😭😭😭

— shosh (@brucehlomla) September 29, 2017
"i used to be woke....now i use my pussy hat to smuggle candy into movies" #WillAndGrace

— shełbytayłor (@shelby_zarlenga) September 29, 2017
A Russian/English dictionary & a fidget spinner 😂😂😂😂😂😂😂
Thank you @WillAndGrace
Thank you a lot 😂#WillAndGrace

— Hales (@GoodDoBee) September 29, 2017
#WillAndGrace is so overtly political that's it's almost refreshing pic.twitter.com/AaMvpGtqMh

— Cara Anne Anderson (@cara_02) September 29, 2017
But there were also a few people who weren't feeling it:
So here are my thoughts on Will & Grace last night. Honestly, I was kinda disappointed. Yes, they are still funny. But I think they pushed

— michael. (@michaeldaqueen) September 29, 2017
I couldn't wait to watch Will & Grace last night-so disappointed. Did not enjoy at all. I guess that's another one I won't be watching.

— rozkdyches (@rozkdyches62) September 29, 2017
I can't tell if the new @WillAndGrace will be funny because they forced a laugh track on us and now my ears hurt while watching it.

— Lindsey Ann (@pinkwallflower) September 29, 2017
It bothers me that @WillAndGrace disregarded the original finale as if it was Karen's dream.

— Lydia Pedersen (@lydsyko) September 29, 2017
I was so looking forward to @WillAndGrace ... but then the politics. Hollywood, can we not find an escape from this? Seriously. Ugh.

— Gregg G. Ellis 🏀 (@MSUsportsGregg) September 29, 2017