Reactions to Outlander's Print Shop Scene
The Moment Outlander Fans Have Been Waiting For FINALLY Happened, and It Was Romantic AF
Major spoilers for Outlander below!
Outlander's third season might have started a few weeks ago, but that didn't necessarily mean the "Droughtlander" fans had been suffering through had ended. Claire and Jamie have spent most of season three separated by space and time (200 years, to be exact), but fortunately that all changed during Sunday night's emotional episode, "Freedom & Whisky."
After sharing a heartbreaking goodbye with her daughter Brianna, Claire travels back to Scotland to reunite with her long-lost love, Jamie. She successfully travels back in time through the stones and makes her way to A. Malcolm's print shop in Edinburgh (which is a little different from the books, but for good reason). Jamie has his back to her as she walks in, but after announcing that it's really, truly her, he turns around and . . . promptly faints.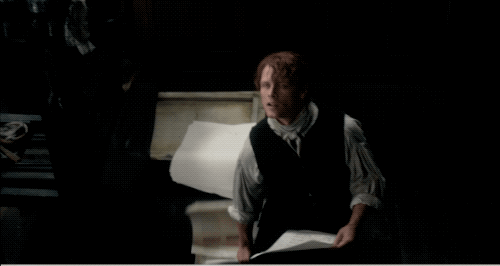 Coincidentally, that's exactly what plenty of Outlander fans did themselves after witnessing the highly anticipated (and a little funny, c'mon) moment between Claire and Jamie.