Riverdale Season 4 Details
Here's All of the Crazy Sh*t You Can Expect to Go Down in Season 4 of Riverdale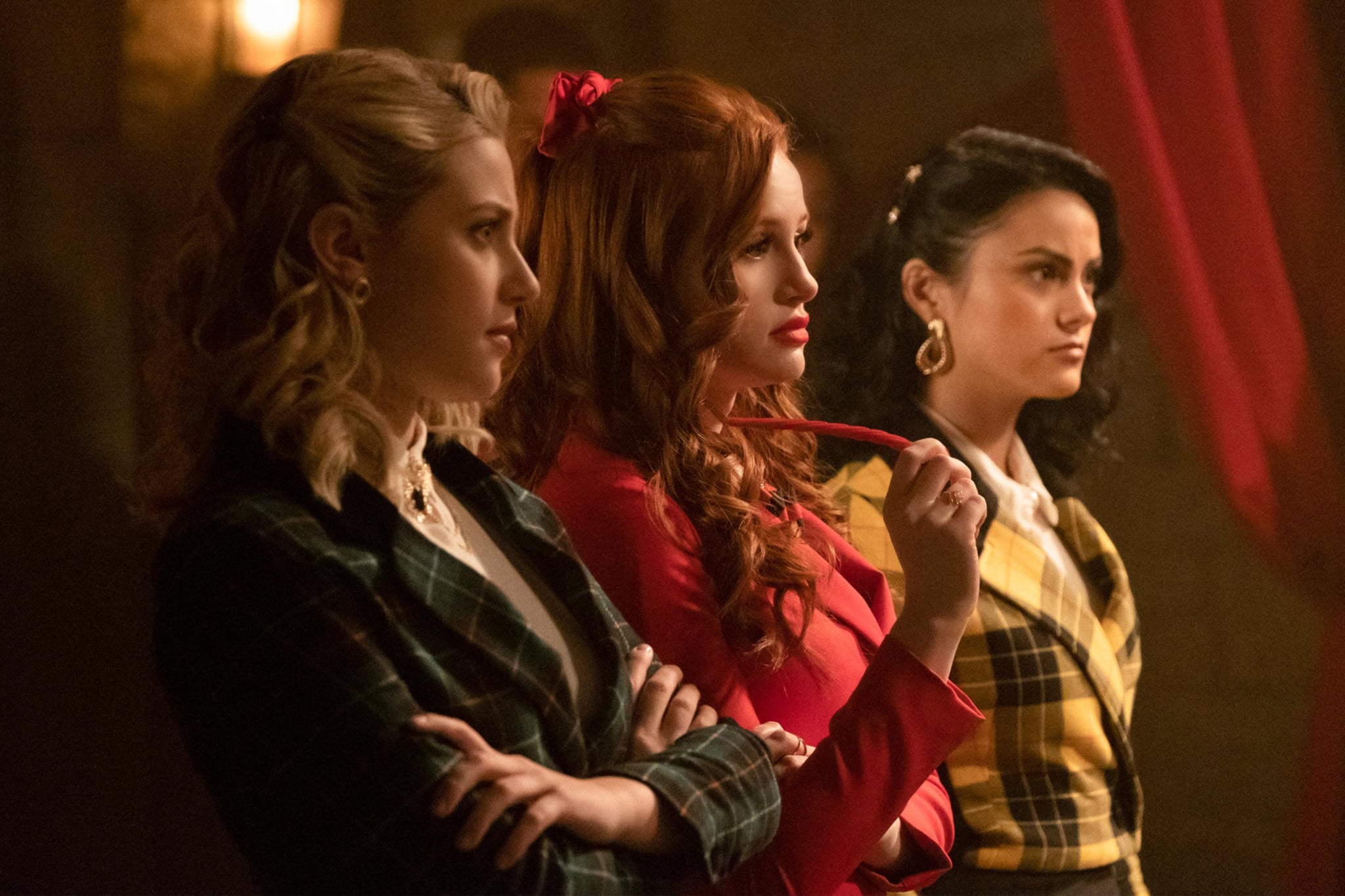 After Riverdale left us with that major cliffhanger (and even more unanswered questions) in the season three finale, we're more anxious than ever for the fourth season to premiere. The final episode of the season acted as a culmination of the show's first three seasons, bringing the stories of Jason Blossom, the Black Hood, and the Gargoyle King together at last. Though we imagine the story of The Farm will continue, we can only guess what the next mystery will be (and what in the heck will lead to that crazy flash-forward we saw in the last episode). There have been plenty of guesses about what lies ahead, but here's everything we know for certain so far.
Who Is Returning For Season 4 of Riverdale?
In the fourth season, you can expect to see all of your series faves returning for another season of craziness, including KJ Apa (Archie), Cole Sprouse (Jughead), Lili Reinhart (Betty), Camila Mendes (Veronica), Casey Cott (Kevin), and Madelaine Petsch (Cheryl). According to the Instagram Mädchen Amick posted from the first season four table read, we can also expect Charles Melton (Reggie), Marisol Nichols (Hermione), Mark Consuelos (Hiram), Vanessa Morgan (Toni), Skeet Ulrich (FP), and, of course, Amick herself (Alice).
But one person we know for sure not to expect is Ashleigh Murray, whose character, Josie, is off to New York for the Riverdale spinoff series, Katy Keene. And as much as we'd love to see a crossover between the two shows, it's unfortunately probably as unlikely as a Chilling Adventures of Sabrina crossover, as Katy Keene jumps forward a few years ahead of the Riverdale timeline. "I'll be in my 20s," Murray explained to Seventeen when asked about reprising her role in Riverdale. "It doesn't look like there would be any sort of crossovers between Katy Keene and Riverdale because of the time jump, so if the show goes to series, I won't be in season four."
Another character we know not to expect: Luke Perry, who played Archie's dad, Fred, and who unexpectedly passed away in March 2019. Riverdale creator Roberto Aguirre-Sacasa has already revealed that the premiere episode of season four will serve as a tribute to the late actor. "When Luke had passed, we had already pretty much plotted out the end of this season and written the end of this season," Aguirre-Sacasa explained to Entertainment Tonight. "Rather than try to squeeze something in and potentially not get it right, we thought, let's take a beat and let's figure out really what would be the best way to honor Luke and to honor the character of Fred and let's do it at the top of season four." The creator also took to Instagram to post the episode's script cover page, captioning the photo, "Probably the most important episode of #Riverdale we'll do this year, if not ever. A tribute to our fallen friend. Thankful for this opportunity to honor Luke & Fred."
Who Will Guest Star on Season 4 of Riverdale?
According to Deadline, we haven't seen the last of actor Wyatt Nash, who made his Riverdale debut in the season three finale as FBI Agent Charles, Alice and FP's long-lost son. Though we imagine that his plot will revolve around investigating The Farm and Edgar Evernever, we're sure that he will also be making things pretty awkward for the Cooper and Jones families — he is a half-sibling of both Jughead and Betty, after all.
Aguirre-Sacasa teased that Penelope will be making a return in the fourth season as well. "Here's the thing: I love Penelope Blossom and I love the actress Nathalie Boltt," the creator told Entertainment Weekly, "and originally, she was going to be in jail or die, and we just couldn't bring ourselves to do either because we love the character and the actress so much. So our plan is to bring back Penelope, and we have a couple of ways of doing that. I don't think we've seen the last of Penelope Blossom."
When Does Season 4 of Riverdale Take Place?
If you recall, season three ended with that flash-forward to Archie, Betty, and Veronica during their senior year Spring break, covered in blood and burning their clothes, including Jughead's hat — and, hey, where is Jughead anyway? Rather than jumping forward to that point, it seems as though the events of the fourth season will lead us to that conclusion and explain what exactly happened. "Next season is the kids' senior year. It's their last year in high school, and we really want to locate their stories in the high school world," Aguirre-Sacasa told Entertainment Weekly. The creator also mentioned that he loved the idea of reuniting the core four in the finale so that viewers would know — when the central mystery of what happened is finally unraveled — we can expect that the four characters will be together (even if Jughead isn't actually in that flash-forward scene).
What Will the Story Be For Season 4 of Riverdale?
The season three finale left us with so many questions that we can't even imagine where the story will go next. In addition to the development of the story of Charles, it has also been revealed that the return of Betty's long-lost brother will force her to realize something about herself. As Aguirre-Sacasa teased to Entertainment Weekly, " . . . one thread we're going to pick up with is the idea that Betty finds out in the penultimate episode that she has the serial killer gene, and that's a story line that we're going to continue into season four, and Charles will have a part of that."
We also imagine that we'll be presented with a new mystery like the Jason Blossom, Black Hood, or Gargoyle King storylines. Seeing as those storylines have all but wrapped up, it seems as though we'll be presented with something new (though the mystery of The Farm will likely continue to play out this season).
When Will Season 4 of Riverdale Premiere?
The show's fourth season will officially be back on Wednesday, Oct. 9, during its normal 8 p.m. time slot, which will be followed this Fall by The CW's new adaption of Nancy Drew.