Will Smith's Quotes About Aladdin
Everything Will Smith Has Said So Far About Playing Aladdin's Iconic Genie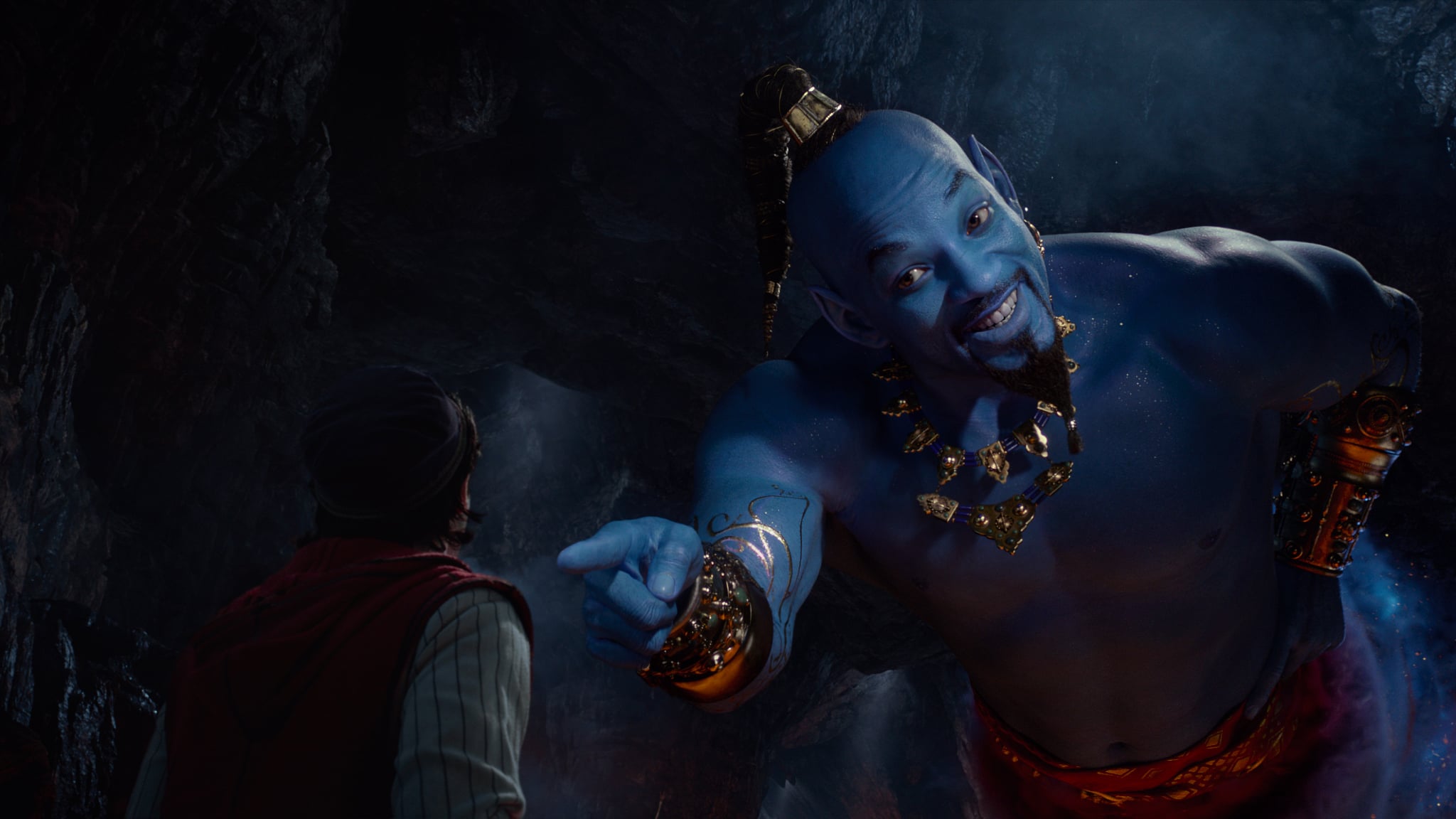 When the full teaser trailer for the live-action reboot of Aladdin made its surprise debut, the one thing that had everyone talking was Will Smith's first appearance as the Genie. (OK, we were talking about hot Jafar, too.) Fans have been curious how the big, blue cartoon character would be translated to a live-action format, and while Smith's appearance met with some mixed reactions, Smith himself has talked at length about his feelings on taking on the responsibility of this legendary character.
The original Genie, as voiced by the inimitable Robin Williams, became an instant pop culture icon that has endured over the past two decades. It's an "often replicated, never duplicated" performance that could easily overshadow Smith's take on the character. But he wasn't fazed; instead, he told Entertainment Weekly that he took inspiration from Williams's methods, but not his literal performance.
"After I watched the movie a few times, I saw where Robin Williams infused the character with a timeless version of himself, so I said to myself, 'What if I just infuse the character with a timeless version of myself?' And then that opened up for me . . . hip-hop, it opened up fashion. Because the Genie is timeless, you get to really say and do anything so I started to feel confident that I could deliver something that was an homage to Robin Williams but was musically different and just the flavor of the character would be different enough and unique enough that it would be in a different lane versus trying to compete."
The timeless nature of the Genie, both as a character and as a pop culture icon, helped Smith find his own niche. In his Entertainment Weekly interview, he cited his memorable roles in The Fresh Prince of Bel-Air and Hitch as inspirations for his smooth-talking, hip-hop-influenced variation on the Genie.
"What made the Genie special is that even though he was in a period piece, the Genie had been forward and backwards in time, so because the Genie knew all things from all time, the references and the way that he spoke and the energy that he brought to the character was of a specific era of Robin Williams. I wanted to do that and I really picked that period, the 1990 to 1996 period of what people most remember of the arc that I had created and tried to build a character that lived in that time and space, so it felt nostalgic but also new."
The "new" part also includes a new look for the Genie, which was first revealed, in part, in a photo shoot in late 2018. Fans were worried at first about the Genie's look, as Smith appeared in the photos without blue makeup as a "human" Genie. Smith took to Instagram to reassure everyone by sharing one of the images and his own commentary: "BAM!! First look at the Genie, Princess Jasmine, and #Aladdin! Check Me Rockin' the Top Knot Ponytail Vibes in @entertainmentweekly (and yes, I'm gonna be BLUE! :-) This is how the Genie is in Human / Disguise Form. My character will be CGI most of the movie.)"
In the latest trailer for Aladdin, released during the Grammys broadcast, audiences got their first look at Smith as the Genie, thanks to a clip of the famous Cave of Wonders scene where Aladdin unwittingly releases the Genie from his lamp prison. The scene is also home to the Genie's showstopping song "Friend Like Me," written by Disney maestros Howard Ashman and Alan Menken. With rapid-fire banter and serious production value, that first scene is one of the most significant moments in the story, and Smith understood the importance of getting it right.
"I think for that scene, the important thing for me was to make my signature early, so I wanted to make sure that scene captured the comedy, a little bit of the dramatic flavor that was coming, the fun, the music, so we focused really hard on making the introduction to the Genie as iconic as the original introduction, paying an homage to the original but also quickly getting the new signature on to our reimagining of it."
In the same Entertainment Weekly interview, Smith reflected on how playing the Genie really allowed him to put together all his skills from his career into one single character.
"I got to do everything I know how to do in this movie. I got to act and it was comedy and beautiful dramatic scenes, I got to sing, I got to rap, I got to dance, I got to do action sequences — it was everything that I've trained and learned how to do over the last 30 years of entertainment and I got to it use all in playing the Genie." We can't wait to see Smith put his talents to good use when Aladdin opens in theaters on May 24!