What Is Black Mirror's "San Junipero" Episode About?
Emmys: Why Black Mirror's "San Junipero" Is Such a Big F*cking Deal
A single episode of television took home a couple big awards at Sunday's Primetime Emmy Awards when the "San Junipero" episode of the Twilight Zone-esque Netflix series Black Mirror won for outstanding TV movie and outstanding writing for limited series, movie, or dramatic special.
"San Junipero" is the fourth episode of Black Mirror's third season, and it tells the story of two women falling in love in 1987. Shy Yorkie (Mackenzie Davis) is visiting the titular town when she meets Kelly (Gugu Mbatha-Raw), a San Junipero visitor and total party girl. The two flirt and eventually fall in love and begin an intimate relationship.
In typical Black Mirror style, the love story is turned on its head when it is revealed that "San Junipero" is actually a simulated reality where elderly people can visit and the deceased can live permanently. In San Junipero, they inhabit a younger version of themselves, one that is not sick or in pain and cannot die.
Back in the real world, an elderly Kelly meets an elderly Yorkie, who is on life support 40 years after running her car off the road after her parents rejected her for coming out as gay. Yorkie wishes to die so she can go to San Junipero, but her family won't agree to self-termination or euthanasia because of their religious beliefs. Kelly offers to marry Yorkie and therefore make it her choice to decide Yorkie's end-of-life plans, which they do, and Yorkie goes to live in San Junipero forever.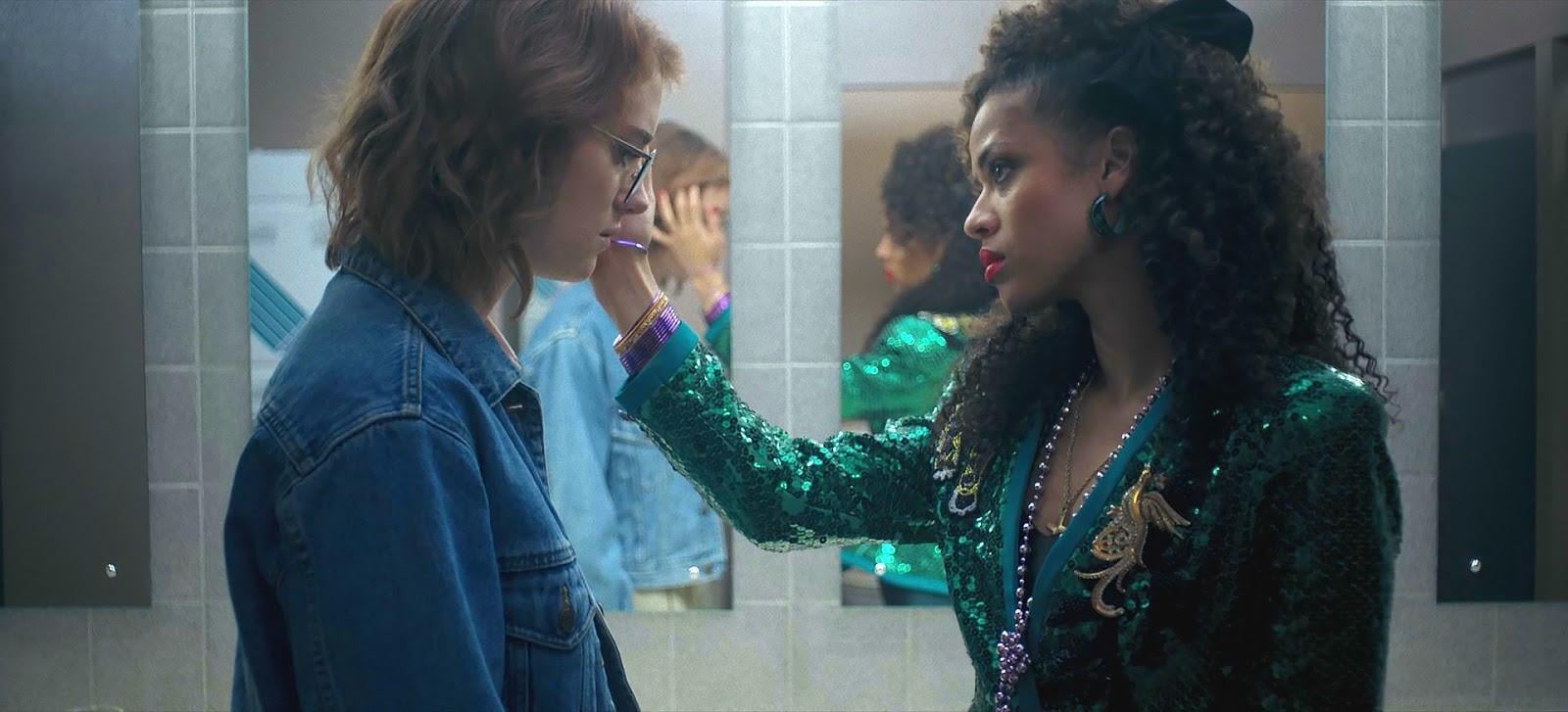 Unfortunately, things are a bit more complicated for Kelly. She's bisexual and has planned to die without her consciousness being uploaded to San Junipero, because neither her husband, Richard, nor her daughter, Alison (who died young, before San Junipero existed), are in San Junipero. Eventually, Kelly's real-life health deteriorates and she too chooses to be euthanized, having her physical body buried with her husband and daughter and having her consciousness uploaded to San Juniper so she can be with Yorkie.
It's a beautiful tale of queer love that ultimately has a more uplifting ending than pretty much any other episode of Black Mirror. In addition to showing an interracial gay couple, the episode touches on big themes like having more than one great love, end-of-life decisions, and the different ideas of an afterlife. Plus, it wholeheartedly and unabashedly checks the '80s nostalgia box. If you haven't seen it, it is definitely worth a watch.
Fans were elated that the episode won two (much-deserved) Emmys . . .
SAN JUNIPERO IS THE BEST EPISODE OF ANY SERIES EVER AND DESERVES ALL THE AWARDS #EmmyAwards2017 pic.twitter.com/awUTsF5E0f

— Josef Thee Ziegler (@JosefZiegler) September 18, 2017
. . . though that didn't stop them from wishing the stars could have gotten a little love too.
Also Mackenzie Davis, though her role was way more understated.

— Their Majesty King Ralph II (Sam) (@retconning) September 18, 2017
But if you're wondering why this is such a big deal, it's because LGBTQ+ women are a highly underrepresented group on television. According to GLAAD's "Where We Are on TV" Report for the 2016-17 television season, only 4.8 percent of characters on scripted prime time broadcast TV were LGBTQ+ and only 17 percent of those were lesbians. The report also says that 25 LGBTQ+ female characters are killed off, and most of them serve no purpose other than to advance the storylines of a usually cisgender, straight main character.
But along came "San Junipero," which not only depicts a beautiful queer female love story, but also features a bisexual character — one who is not a part of the harmful trope of being portrayed as untrustworthy or duplicitous, as is typically the case, according to GLAAD's report. Of course, both women do die at the end of "San Junipero," but their deaths are not used to further the plotlines of other, straight characters. They die on their own terms, and it is actually these deaths that let them live out their happily-ever-after ending in San Junipero.
This TV episode even being made is a great feat, but winning two Emmys is something to celebrate indeed. Couple that with Lena Waithe becoming the first African-American woman to win an Emmy for comedy writing (she won for Master of None, and she is also gay), and Donald Glover becoming the first African-American to win for comedy series directing (he won for Atlanta) and perhaps Hollywood is slowly moving toward being more inclusive, both on screen and at award shows.
Now, there is still a long way to go. As host Stephen Colbert said in his Emmys monologue, for a third year in a row, this was the most diverse group of nominees in Emmys history. But when the audience clapped enthusiastically, he quipped, "That's impressive. I did not know you could applaud while patting yourself on the back at the same time."
But at least these are some steps in the right direction!