What Is Stranger Things Season 3 About?
Stranger Things: Here's What's Ahead for Hawkins, IN, in Season 3
It's official: after a long wait, season three of Stranger Things is finally coming this Independence Day. The creepy, crawly Duffer Brothers sci-fi drama will soon make its highly anticipated return with a healthy dose of monsters, romance, and '80s nostalgia. The details aren't scant, but they are spread out, so we've picked up all of the crumbs from interviews, promos, and fan theories to present to you this rundown of season three's plot.
The first real clue that fans received about season three came in the form of a colorful commercial for Starcourt Mall, the latest development in Hawkins, IN, that's complete with such '80s mall staples as Hot Dog on a Stick and Claire's. In the promo, we see Steve working at an ice cream shop alongside a blond teen named Robin, a new character who's said to be an "alternative girl." Starcourt Mall isn't all fun and games, though. On Dec. 9, Netflix teased season three titles, including an ominous "The Battle of Starcourt" as the finale episode.
The date announcement teaser for season three also references this Hawkins establishment. It tells viewers that they're watching Dick Clark's Rockin' New Year's Eve special, which is sponsored by none other than Starcourt Mall. The clip is yet another dense can of worms, even if it's just a minute long. As it progresses, the broadcast appears to be hacked by an organization called Lynx Corp (a potential link to Russia), which runs a program called SilverCatFeeds and briefly shows the message "when blue meets yellow in the west."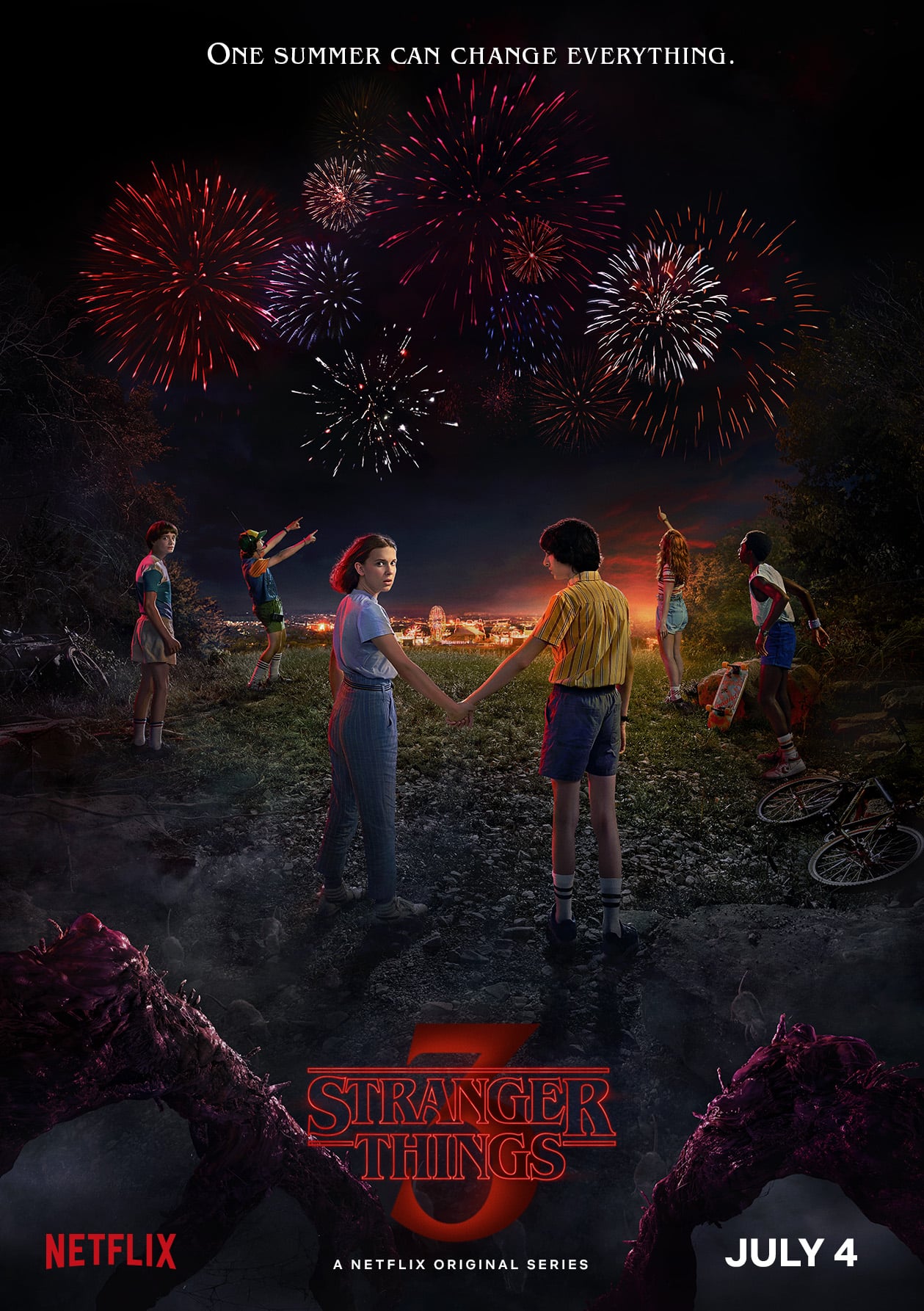 This brings us to the season three poster. The first thing that you might notice is Eleven and Mike holding hands. Cute right? Well, notice that she's wearing blue and he's wearing yellow. Coincidence? We think not. There's also some suspicious dynamics going on since Eleven and Will look peeved while the other kids are enjoying fireworks. There's a good reason to get antsy, seeing as there's an ominous gooey purple mass in the foreground of the picture. Executive producer Shawn Levy told Variety that "the shadow monster is still lurking up there out there in the Upside Down." We wouldn't be surprised if that mysterious lump had something to do with the creature.
Season three will take a leap forward in time, perhaps seven to nine months after the Snow Ball in season two. In an interview with The Hollywood Reporter, cocreator Matt Duffer said, "We wanted to be able to start season three on a very clean slate." Levy has stated that the story won't be about school but instead, "the swimming pool and campfires and parades and Fourth of July and fireworks, so there's kind of a poppy fun to season three that's really enjoyable before things inevitably turn super dark."
The last major nugget of information that we have with regard to the plot of the third season is that it'll be influenced by the year 1985. David Harbor, who plays Jim Hopper, mentioned to Variety that season three will take inspiration from "epic" movies of 1985. We know for sure that the comedy Fletch will serve some guidance, since we'll meet a morally questionable Hawkins journalist named Bruce. Other potential sources of inspiration include Back to the Future and The Goonies, which has led to fan speculation about plots involving time travel and treasure hunts.
If there is indeed time travel, we'd like to get in on that to make it July 4 right now!