Who Does Zendaya Play in Spider-Man?
So Is Zendaya Playing Mary Jane in Spider-Man: Homecoming or What?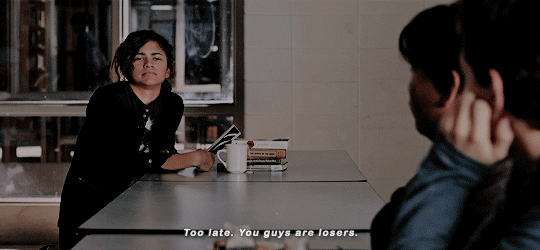 In Sam Raimi's early 2000s Spider-Man franchise, Kirsten Dunst appears as the bubbly, popular, redheaded Mary Jane Watson, one of Peter Parker's most iconic love interests. With a new version of the teenage web-slinger's story on the way in the form of Sony and Marvel's Spider-Man: Homecoming, fans have been trying to determine if Zendaya, whose casting as "Michelle" was announced to much fanfare, is the next person to step into MJ's shoes. Shortly after The Wrap confirmed that Zendaya's role was indeed Mary Jane last Summer, we went on a visit to Spider-Man: Homecoming's Atlanta set, where we assumed we'd get a straight answer about the true nature of her role. The short version? We're still not totally sure who she's playing. The long version? Well, keep reading.
While speaking with Eric Carroll, coproducer and director of development for Marvel, he insisted that "Zendaya is playing a character named Michelle. And I promise you, when the movie comes out, that her name is Michelle." As you can see in the film's first trailer, Michelle could not look more different than Dunst's take on the character. She's in head-to-toe black, wearing little to no makeup, has a messy ponytail, is reading Of Human Bondage in their gym class, and seems to be a lone wolf. Oh, and she also isn't afraid to dish out insults to Peter and Ned (Jacob Batalon) while they ogle Peter's crush, Liz Allan (Laura Harrier). It would certainly be a new direction for the character (if she's truly MJ, of course), but a welcome one.
"I always thought of her as being a version of Ally Sheedy in The Breakfast Club, what Linda Cardellini is like in Freaks and Geeks," director Jon Watts told us about Michelle. "It's just a cool character, and it's cool for her to be that character I thought. She has a really cool wardrobe, really funny, lots of literary nods." Tom Holland, who plays Peter Parker, also had some interesting things to say about his costar. "Michelle is a very interesting character. She's very quiet. She's always reading these crazy books, like 'How to Murder Someone Without Anyone Knowing,'" he joked. "We'll be doing a scene with all the other cast members, and she'll suddenly just pitch in and all of us stop, like, 'That was a strange thing to say.' And then we continue on with our dialogue. . . . Z has really brought a lot of herself to the character."
If we take the cast and production team at their word and the K.C. Undercover star's character really is named Michelle, it still doesn't necessarily put her out of the running of being MJ. One of the biggest things that Carroll emphasized during our conversation was that Spider-Man: Homecoming is attempting to do something completely fresh and new, specifically that the goal "was not to see what's already been seen." With two Spider-Man franchises already in the can, the new film will require a bit of reinvention to be original. Maybe MJ's new name (Michelle J. Watson? Michelle-Jane Watson, only the "Jane" is silent?) and new personality are a part of that. Further adding to our suspicion that Michelle is MJ is the extremely cagey way everyone on set spoke about her character. A simple "Zendaya isn't playing Mary Jane" would have nipped the whole question in the bud. Instead, there was a lot of dancing around the subject.
After being asked about the racism Zendaya has experienced after internet trolls and fan boys decided Mary Jane could only ever be played by a white woman, Holland said that she's taking it all in stride. The comment would not typically be surprising (Zendaya is Twitter's reigning queen of clapbacks, after all), except for the way he describes her character. "She has such a large following on Instagram, and the majority of those people are all for her and all love her," he said. "I feel like our generation of people are all moving on past this whole 'you can't cast someone who's not the set right race for a character.' I think we're breaking through and changing that, and Z is perfect for it. Z is so powerful and strong-willed, it's not going to shake her at all."
As Bustle notes in its own dissection of the quote, why would Holland even bother discussing the Mary Jane haters going after her if she's not actually playing the character? Sony producer Amy Pascal was similarly evasive when questions came up about Michelle, noting that "Peter has lots of girls around him in this movie" and that "the story is about him and Liz." Watts would only acknowledge the existence of multiple Michelles in the comics but didn't want to further address any of the "weird rumors flying around."
Before Spidey swings into theaters on July 6, all we'll know for sure is that Zendaya's Michelle is going to play a huge part in Peter's life. She might not be Mary Jane, but that doesn't rule out an eventual nickname of "MJ," right? If we don't get a definitive answer to the mystery in Homecoming, here's hoping a juicy postcredits scene makes things a little clearer, at the very least.