Why Didn't Kesha Get Nominated For Album of the Year?
Why Kesha Really F*cking Deserved to Be Nominated For Album of the Year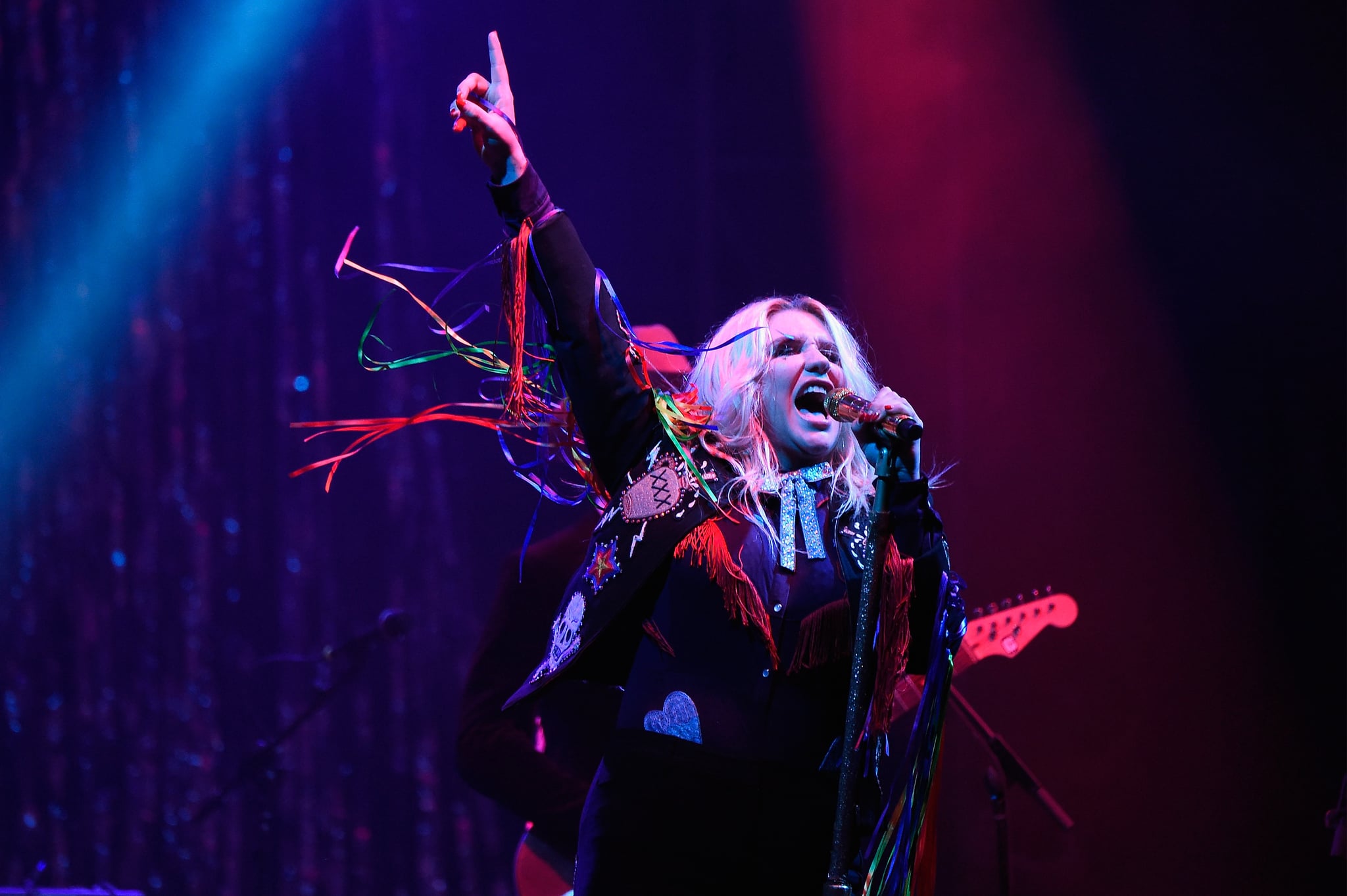 Image Source: Getty / Kevin Mazur
This week, the Recording Academy announced the nominees for the 2018 Grammy Awards. With so much good music in the past year, it came as no surprise that the competition was as fierce as the categories were packed. And while those who did receive nods absolutely earned their keep, many artists were left out of crucial categories, and others were left off the list altogether. Suffice it to say, many fans are not pleased. And sure, there are many artists who deserved more, but nothing left me more disappointed than the Academy's failure to recognize Kesha's 2017 album, Rainbow, in the album of the year category.
Granted, Kesha wasn't completely snubbed by the Grammys this year. The singer received a best pop performance nomination for "Praying," and Rainbow was nominated for best pop vocal album, but it's not enough. I wanted more! From concept to execution to cultural relevance, Rainbow is, unequivocally, one of the most powerful art pieces to come out in 2017.
Before we talk about the specifics of the album itself, I think it's important to examine Kesha's journey. In just the past three years, the artist battled an eating disorder in rehab, and came out the other side. She then became embroiled in a harrowing legal battle after accusing Dr. Luke of sexual abuse. She's since dropped the lawsuit, but has continued to speak out about depression and to surround herself with support.
In July, Kesha dropped "Praying," her first single in four years. The song and accompanying music video were clearly a sign of rebirth for the pop star. First a weak, motionless body in a world of black and white, we watched as Kesha picked herself back up and found a way to channel her pain, trauma, and sadness into a new world of color, celebration, and triumph. Kesha wasn't destroyed by everything she had gone through. She was galvanized, newly invigorated, and sharing her art.
In August, Kesha released Rainbow. She has a song-writing credit on all but two songs. She has a sole writing credit on two of the album's most important and visceral tracks: "Bastards" and "Rainbow." Thank god the album at least received a nomination for vocals, because none of Kesha's other music has quite demonstrated the power of her singing voice the way this album does.
"Don't let the bastards get you down."
Let me f*cking tell you about Rainbow. Kesha is stark-naked on the cover, a truly incredible show of strength coming from someone who struggles with eating disorders, body shame, and body dysmorphia. "Don't let the bastards get you down," she sings in the first song, presenting the "f*ck you, I'm going to do me" thesis of Rainbow. She continues, ticking up the energy to "Let 'Em Talk" and "Woman," two more empowering tracks that will inspire anyone to throw the haters to the ground and walk right over them. There are songs that clearly speak directly to Kesha's experience as a survivor — most obviously "Rainbow," "Learn to Let Go," "Hymn," and "Praying" — and her struggle to forgive her greatest enemies and fight her biggest demons. There are even some surefire bops, like the genius trio of "Hunt You Down," "Boogie Feet," and "Boots."
Kesha could have written a revenge album. She could have twisted her pain into anger and spite. She could have spit fire and gone all Kill Bill on every person who had ever wronged her. But she didn't. She turned her pain, heartbreak, and sadness into beautiful art.
Rainbow swells most magnificently with the title track, which is the obvious heart of the album. There's something inexplicably powerful about "Rainbow." Sure, it's the lyrics, and the emotion, and the strings. But there's something straight-up magical that happens when Kesha cobbles all of these ordinary aspects together. There's no other way to explain it as you watch this person — someone who has every reason to be filled with hate and despair — truly come to life and come into herself as a songwriter, an artist, and an empowered, badass woman.
As we near the end of 2017, we're steeped in a strange new world where men are being called out for the horrifying sexual behavior they've exhibited toward women, specifically in the entertainment industry. Before dozens of victims broke their silence about personal experiences with Hollywood figures like Harvey Weinstein or the "me too" hashtag flooded your social media feeds, Kesha spoke out and stood her ground when no one believed her. It's not just that Rainbow is an incredible piece of art that Kesha brought to life with stunning panache and poise. It's that this album is, in a sense, emblematic of a woman's journey in 2017. Of holding others accountable. Of turning bad into good. Of releasing pain and honoring trauma.
I wish the Grammy Awards had seized the opportunity to recognize that.