Reactions to The Knight Before Christmas's Aldovia Mention
A Sly Aldovian Mention in The Knight Before Christmas Has Fans (and Us) Shook
Yes, Netflix's latest holiday rom-com starring Vanessa Hudgens is the usual cheese-fest full of historical inaccuracies and highly unrealistic circumstances, but you can bet it's going to be playing on repeat. And while there's enough going on between Sir Cole's (Josh Whitehouse) magical journey to the future and his whirlwind romance with the charming school teacher Brooke (Vanessa Hudgens) to keep us riveted, there's one huge moment in the film that has viewers freaking out: the mention of a small foreign country known as Aldovia.
For those who aren't catching on, Aldovia is the setting for Netflix's original holiday classic, A Christmas Prince. The film, which is about to release its third installment, follows Amber as she goes from fumbling journalist to Queen of Aldovia and a soon-to-be mother. In Knight Before Christmas, Brooke's older sister (played by Emmanuelle Chriqui) shows an acorn ornament to her daughter, telling her that her parents "picked this up on their trip to Aldovia."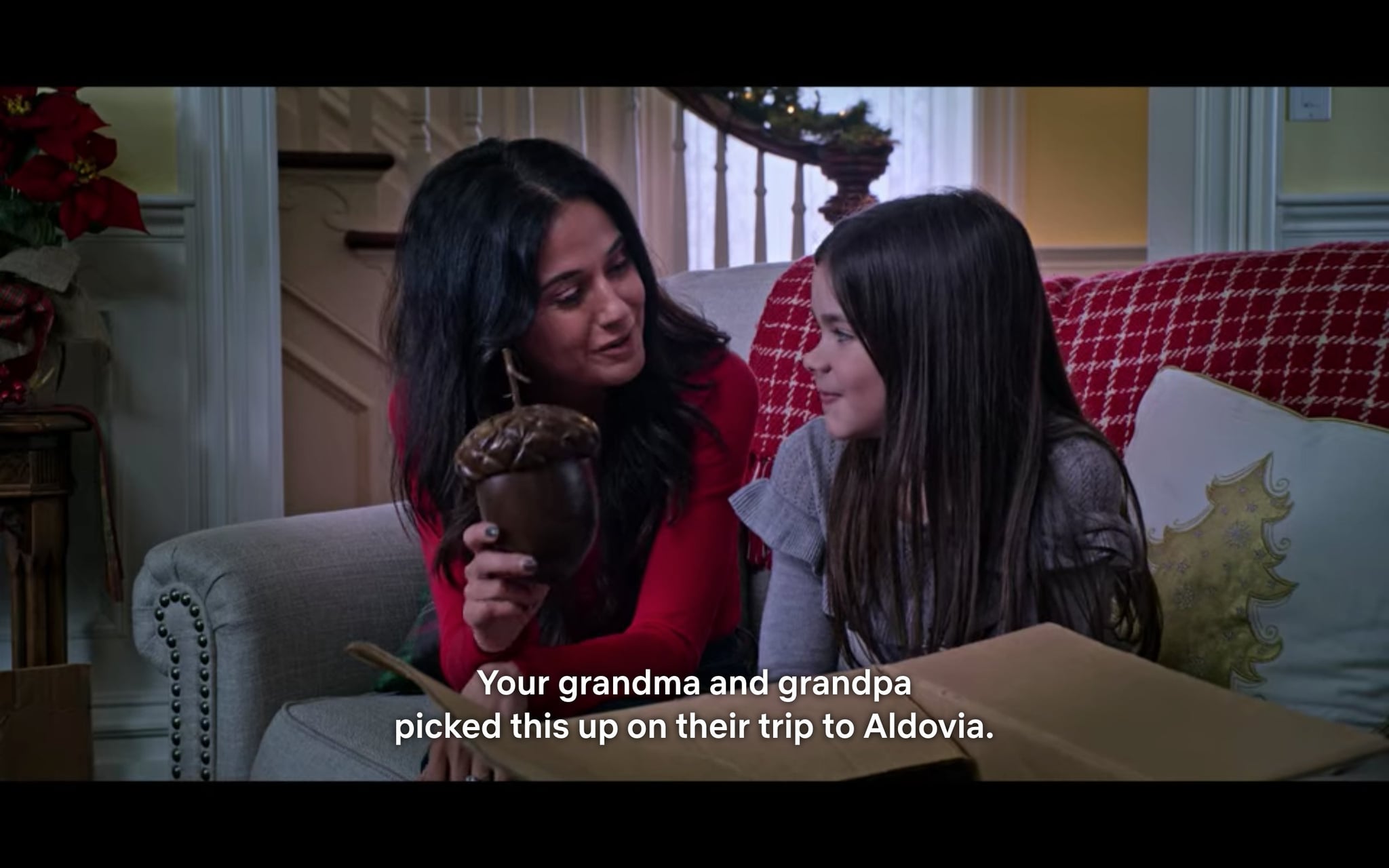 Not only is the acorn ornament a huge deal in A Christmas Prince, but the mention is also evidence that The Knight Before Christmas belongs in the same universe as the first film. This means that Brooke and her time-traveling knight exist in the same universe as Queen Amber and King Richard's (Ben Lamb) potentially cursed baby! Could the two couples ever cross paths? Maybe Brooke and Cole go on a trip to Aldovia where the knight and King Richard learn they're somehow related. Did I just come up with the premise for the most ambitious crossover since Avengers: Endgame? Possibly!
If you haven't already watched The Knight Before Christmas, cancel your plans and do so immediately, but first, see how fans reacted to the sly moment ahead!