If Hollywood Won't Create Content For the Latinx Community, Camila Mendes Will Do It Herself
Camila Mendes has gained a huge following thanks to her role on Riverdale, but it's her activism off screen that makes her so admired by fans. Over the past few years, the 25-year-old actress has been a strong advocate for body positivity, and now, she's speaking out about women's rights through her partnership with Secret Deodorant. The new "All Strength, No Sweat" campaign is all about women who "boldly challenge the status quo," which is something Mendes definitely knows a thing or two about from playing Veronica Lodge.
"Veronica is insane. She's literally a teenager who's balancing a million businesses at once."
Veronica might seem like your average high schooler, but she's also a savvy business woman. "Veronica definitely inspires me," Mendes told POPSUGAR. "Veronica is insane. She's literally a teenager who's balancing a million businesses at once, which I think is something that isn't just inspiring to me, but is inspiring to all the young women watching Riverdale. That's the world we live in now, where a teenager could start a business. If you think about Bill Gates, he started Microsoft when he was so young and that's the kind of the message Veronica gives young women, as crazy as that might sound. You're never too young to pursue your dreams and apply yourself to your greatest ability. Veronica is a very intelligent young woman who is fearless and determined and doesn't let obstacles deter her from her goals. That's something that I can definitely take with me in my career is the perseverance through adversity."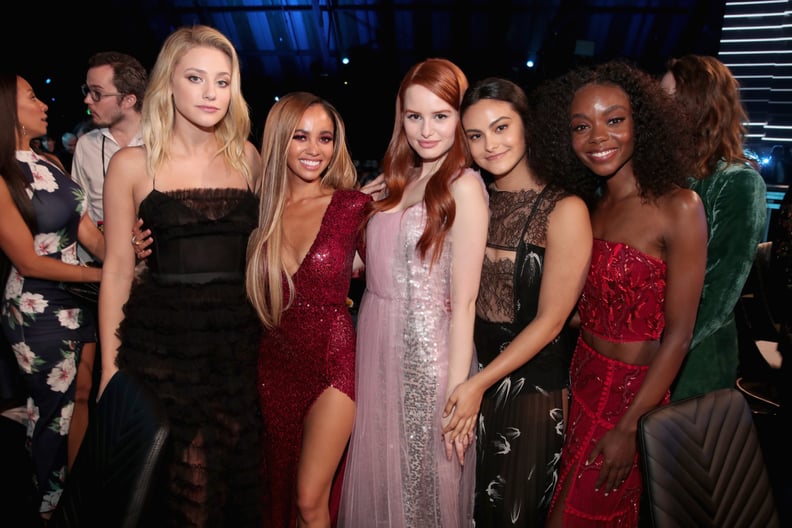 Not only does playing Veronica inspire Mendes in her everyday life, but she also has incredible support from her female costars, Lili Reinhart, Vanessa Morgan, Madelaine Petsch, and Ashleigh Murray (pictured above). "They empower me in so many ways," Mendes said. "We all definitely lean on each other when it comes to our personal lives and our personal obstacles. When it comes to our careers, we really help each other out. Sometimes we share information about how much we're getting paid on certain projects so that we can observe, 'Oh, is that much how much you should be for something like this? Okay. So that means I can ask for more because these are things we're all learning right now.' We're all very new to this industry and to have each other and to compare our situations to each other in a very honest and raw way, that's how we help each other grow. That's true female empowerment, that's the most positive form of a female friendship."
"If these opportunities aren't being created, I'm just going to have to create them myself."
While Hollywood still has a long ways to go when it comes to inclusivity (i.e., snubbing female directors and people of colour at big award shows), Mendes is eager to help move the needle forward. In fact, she's more inspired now to produce her own work. "I want to produce projects that I'm going to be a part [and produce] projects that I'm not a part of. Anything that is going to help create content that is female-focused and female-driven and give more representation to specifically the Latinx community, because I don't think there is enough. If I have the ability and the platform to create that kind of content, why shouldn't I? Because I don't see those opportunities presenting themselves to me and I do often feel like I have a smaller door sometimes into opportunities because there isn't that much Latinx representation in the scripts that I'm receiving. It feels sometimes like, 'OK, if these opportunities aren't being created, I'm just going to have to create them myself.'"