This Is Us: The Season 3 Finale Is So Shocking, Chrissy Metz Says It Left Her "Devastated"
This Is Us only has a few more episodes left this season, and the writers definitely don't plan on taking it easy on us. While we're already concerned about the fate of Rebecca in the flash-forward, it seems like there is more heartbreak in store for the rest of the Pearson family once season three finally wraps up. I recently spoke with Chrissy Metz in promotion of her partnership with Turbo's #RealMoneyTalk, and she teased that her character, Kate, has plenty of hardships and challenges ahead.
After she suffers a miscarriage last season, fans are worried that Kate will face even more bad news in coming episodes. In the teaser for episode "The Graduates," Kate is rushed to the emergency room on a stretcher. While Metz couldn't reveal too much about the fate of Kate's unborn son, she did tease that the story will be shocking for fans.
"It's not what anybody suspects," she said. "But it's of course beautifully written and there's a lot of hardships and a lot of challenges ahead. It's again a story and a thread throughout the series that it's really important, and that nobody talks about. And it's really, really going to be a challenge for her and for Toby."
Metz also added that Kate having a baby might actually make her closer with her own mother. "She's realizing from a different perspective that we're all just doing the best we can and that's what she's always been doing," she said about her character's rocky relationship with Rebecca. "But of course as a child, you just feel neglected, and you feel misunderstood. The whole problem is she's always aspired to be her mom. And while she's of course not perfect, I think she's taking a lot from the way that her mom raised her. Our parents always want us to do better than they did, no matter what it is. So I think that that's Kate's goal."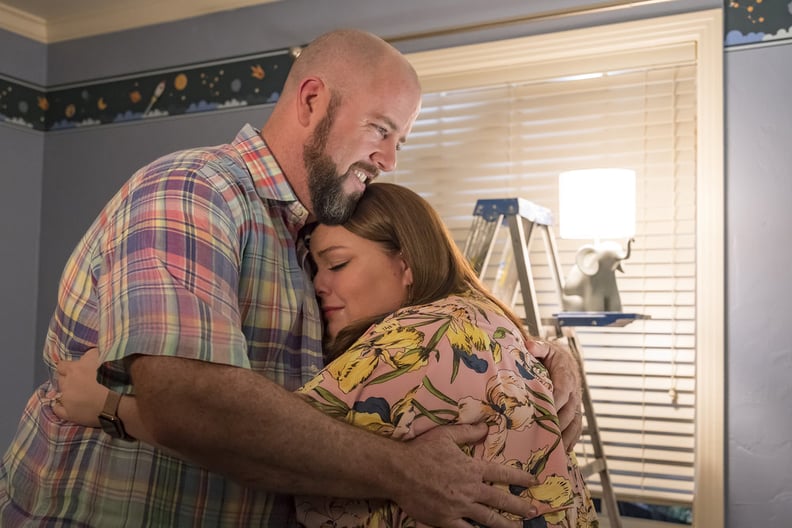 As Kate's relationship with her mother continues to grow, so will her relationship with Toby. After being dependent on Toby for the majority of their relationship, Kate is really supporting Toby this season as he battles his depression.
"Kate is continuing to embrace that and really honor the relationship and Toby and her love for him, saying, 'I'm here for you. I'm going to sacrifice. I'm going to compromise. I'm going to understand. I'm going to try to do everything in my power and be strong when you're weak,'" she added. "Just as when she's weak, he's strong. And that's where the beautiful relationship is."
"It will absolutely be shocking and heartbreaking."
While there are bound to be a few twists and turns during these remaining episodes, it seems like nothing will compare to the season three finale. In fact, the script actually left Metz completely stunned. "When I read the finale, there are a couple of things that happened that I was devastated reading," she admitted. "I'm like, 'What does this mean? Why? Who wrote this? For what?' I was sort of up in arms." Cue big *GULP* here! Even though Metz isn't exactly sure what the season three finale will mean for the rest of the series, she confirms "it will absolutely be shocking and heartbreaking."
"It will sort of give you a checkpoint as to where the Pearsons are headed as individuals and as a family," she said. "And I don't know if I'm ready. I do not know."