The Haunting of Bly Manor: Viola and Perdita's Story
The Haunting of Bly Manor: A Rundown of the Important Events in the Eighth Episode
Watch out! This post contains spoilers.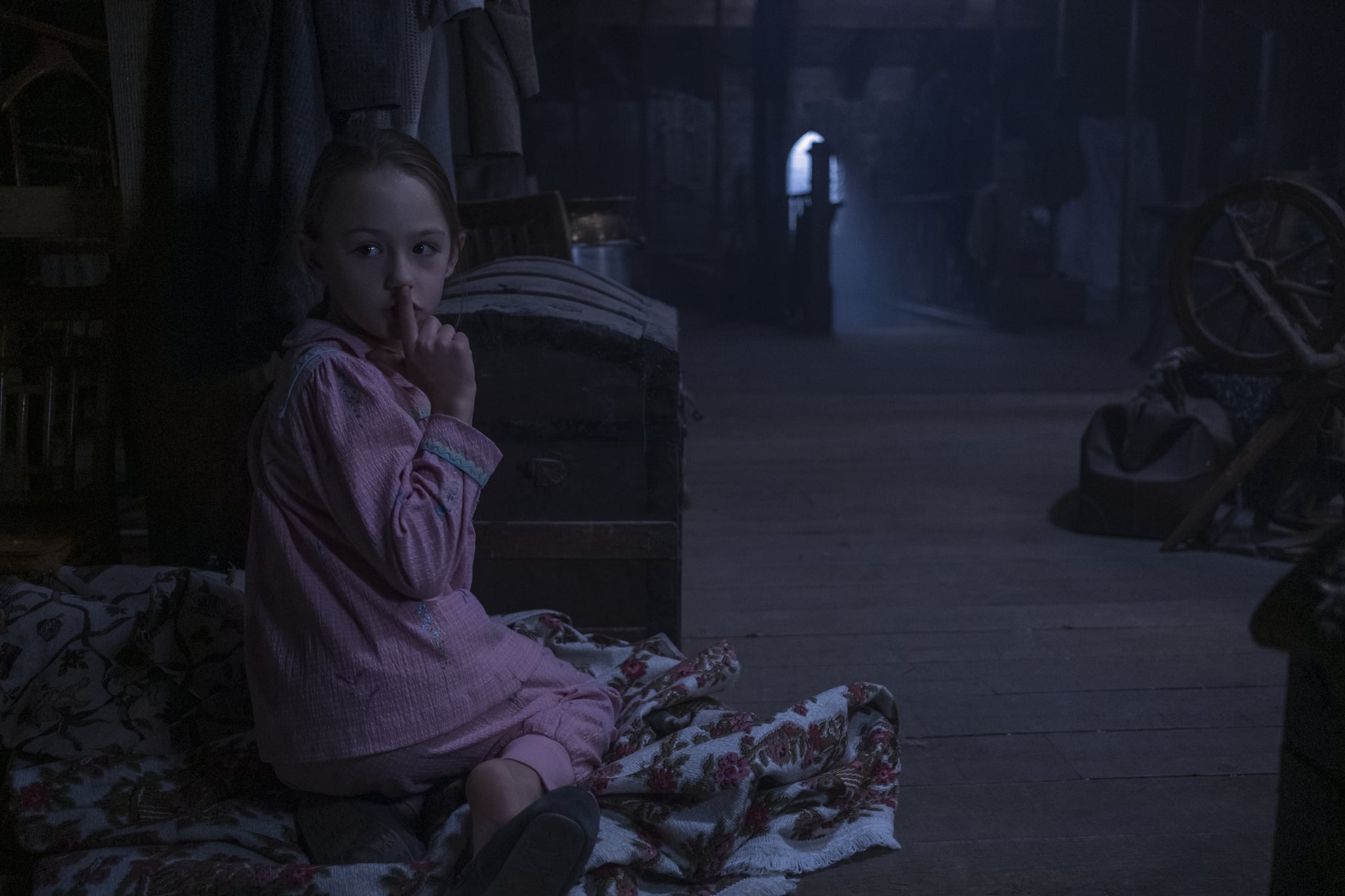 Episode eight of The Haunting of Bly Manor devotes its black-and-white entirety to Viola and Perdita, the two sisters who haunt Bly Manor's grounds. Throughout the show, we see little hints of their existence, from their paintings to their grave plaques. While broadly based on Henry James' The Turn of the Screw, the show primarily derives the sisters' tale from James' short story "The Romance of Certain Old Clothes." Viola and Perdita's history unravels one of the biggest mysteries on the show: the identity of the creepy Lady in the Lake. The Haunting of Bly Manor peels back layers of terror to reveal a tale full of jealousy, resentment, and tragedy.
We begin in the mid-17th century as the two women watch their widower father, Mr. Willoughby, die. Viola is the eldest, born five years before Perdita. They need to get married so that someone can look over Bly and their father's economic affairs. Remaining close, the sisters know that Bly has to stay within their family, so they invite their distant cousin Arthur Lloyd. While Arthur has his eyes on Perdita at first, he and Viola end up marrying, eventually growing to love each other. To keep him in his place, Viola commissions a portrait of herself to signal who would really be in charge.
After protecting her home, Viola becomes restless and enters a routine: waking, walking, and sleeping. Unfortunately, she grows sick and hostile shortly after giving birth to her daughter Isabel (to whom she says, "It is you, it is me, it is us"). While coughing and throwing up for years, she remains alive, unable to touch her daughter or sleep with her husband. At night, she paces around, singing the very creepy music box song, "O Willow Waly." She takes her anger out on Perdita, who she suspects has something going on with her husband. Eventually. Perdita gets fed up and suffocates her sister to death. Soon after, she quietly marries Arthur, her portrait then hanging right beside her sister's.
Before dying, Viola packs a trunk with her finest clothes and jewelry for Isabel. In death, she finds herself trapped inside that trunk awaiting her daughter. Upon financially hard times, Perdita opens the trunk to sell its contents, only for Viola to choke her to death. Arthur moves far away from Bly, dumping the cursed chest into the lake. Viola (now the Lady in the Lake) repeats her wake, walk, and sleep routine, hoping to see her family once more. Over time, she forgets who she is and why she meanders the grounds. She continues taking victims in her path, including the faceless little boy and Peter Quint. Over time, the other ghosts forget who they are and become faceless as well — indeed, it's Perdita, faceless, gasping while Flora hides in the attic. Much like The Haunting of Hill House, The Haunting of Bly Manor deftly navigates scares with family drama.
Even if Viola doesn't kill them, people who die on the manor grounds become trapped in her gravity and unable to leave Bly — think Peter, Hannah Grose, Rebecca Jessel, and everyone who pass before them. Miles and Flora sense Viola early on, warning Bly workers not to wander outside of their rooms in the middle of the night. Ultimately, it turns out that the creepy kids aren't so creepy after all, just helpless children making the best of a centuries-long curse.