9 Ideas For Killer "House of the Dragon" Halloween Costumes
As POPSUGAR editors, we independently select and write about stuff we love and think you'll like too. If you buy a product we have recommended, we may receive affiliate commission, which in turn supports our work.
If you're like us, you're obsessed with "House of the Dragon" and you're brainstorming ways to channel your favorite characters for Halloween. Maybe you want to be a Targaryen or Velaryon, in which case you're probably going to need a silver-blonde wig. Maybe you want to portray one of the kings who's sat on the Iron Throne, complete with your own crown. Or maybe you're a Queen Alicent stan, and you want to capture her unique spirit. We have some ideas for how to make your spooky season dreams come true.
"House of the Dragon" is maybe one of the best inspirations for group and couple Halloween costumes, too. You and your friends could be the whole Targaryen-Velaryon-Strong mixed family, including Rhaenyra, Daemon, and their seven kids. You and your partner could be Rhaenyra and Daemon, or Rhaenyra and Ser Harwin Strong, or Rhaenyra and Ser Criston Cole, or Rhaenyra and Laenor Velaryon. Or two best friends or siblings could dress up as the dynamic sibling duo of Baela and Rhaena Targaryen, or two siblings with a more tense relationship, Ser Harwin and Larys Strong.
Ahead, see some of our ideas for "House of the Dragon" Halloween costumes.
Sign up for HBO Max now to watch "House of the Dragon."
Queen Alicent Costume
Queen Alicent's signature color is green, so you're going to need a long green dress, preferably with sleeves. A seven-pointed star necklace would also show off her devout side. Your hair — or a wig — should be long and wavy. Finish the look with a Valyrian steel dagger, ready to attack any enemies who cross your path.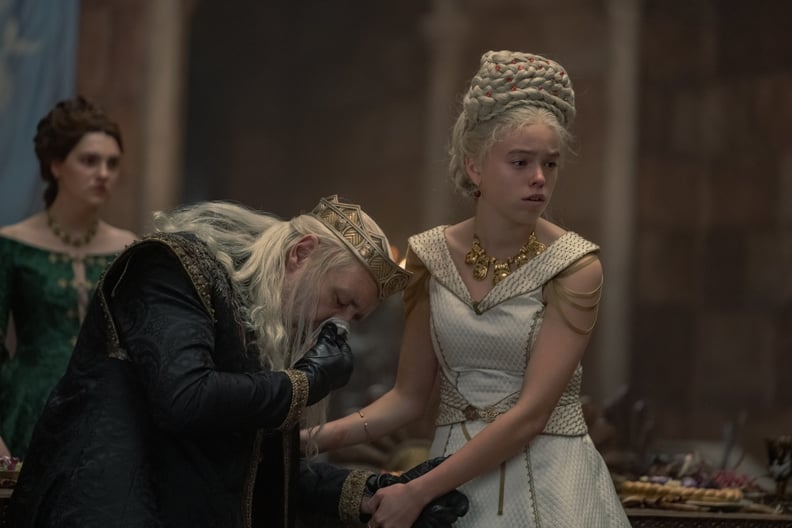 Princess Rhaenyra Wedding Costume
At her wedding to Laenor Velaryon, Princess Rhaenyra rocks some absolutely incredible braids. If you have long blonde hair of your own, get creative with pinning and braiding. If you don't, you can buy and style a blonde wig, or buy pre-braided extensions and get creative when it comes to layering and twisting them.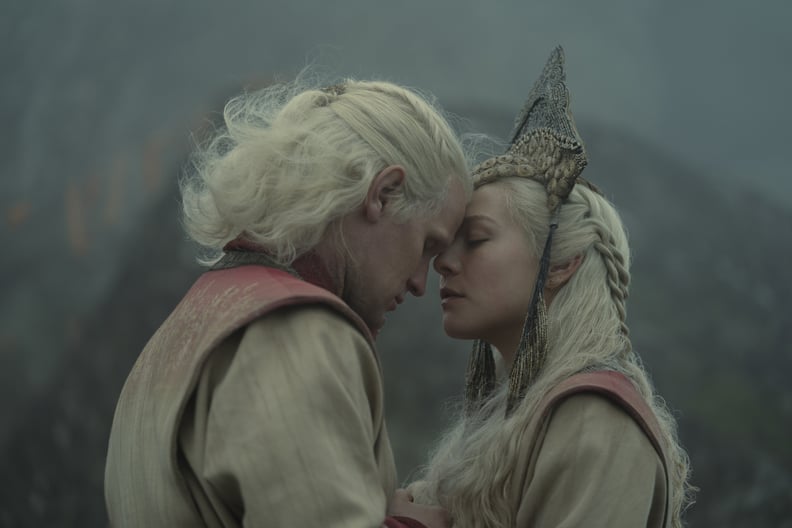 Princess Rhaenyra and Prince Daemon Wedding Costume
Rhaenyra and Daemon's wedding outfits are instantly iconic — and pretty weird! Add some red paint to black robes. Rhaenyra's crown would be a fun DIY project. The couple also took a blood oath, so use some fake blood or red lipstick to mark your hands, foreheads, and lips.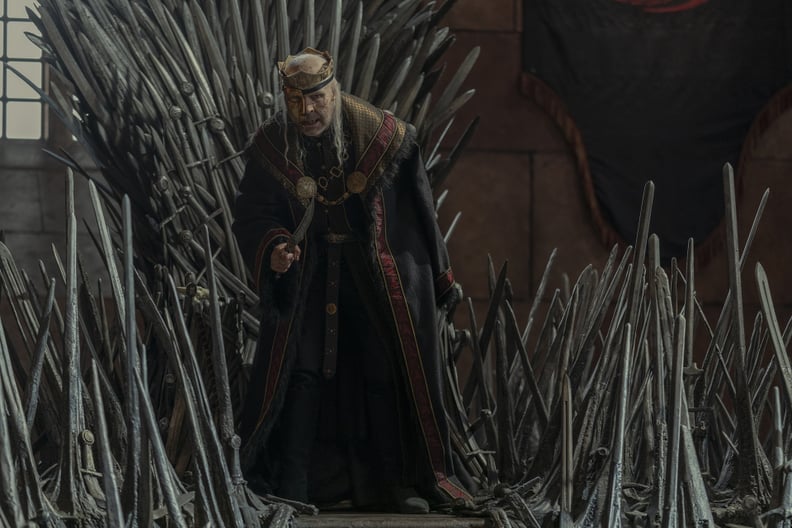 King Viserys Costume
A gold crown and billowing robes would make a compelling King Viserys costume, but if you want to go the extra, dramatic mile, you're going to want a golden half face mask to play the king at the end of his life. You could buy a "Phantom of the Opera" style mask and spray paint it gold for a quick and easy DIY.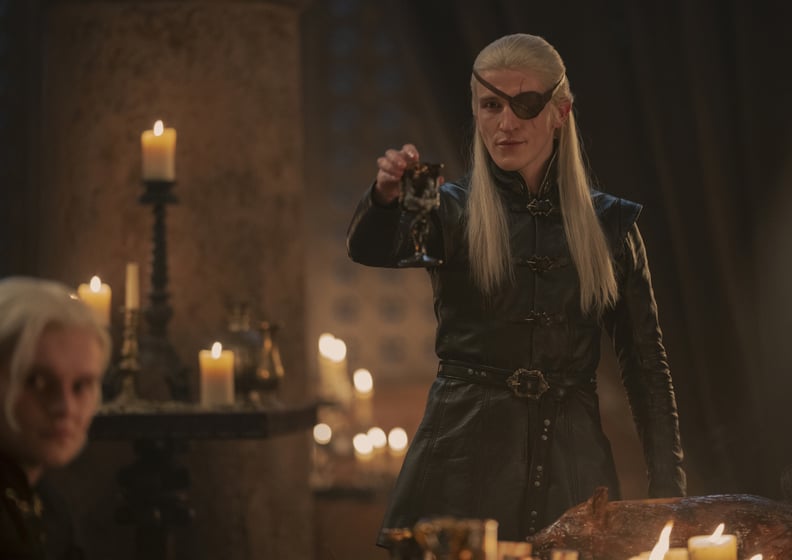 Prince Aemond Targaryen Costume
To capture Prince Aemond's unique spirit, you'll need a long blonde wig and an eye patch. Extra points if you use eyeliner to draw on the scar he got while claiming Vhagar. For your outfit, you can pair a black or green vest with a belt, tight-fitting pants, and a pair of boots. Add a sword to show off Aemond's combative side.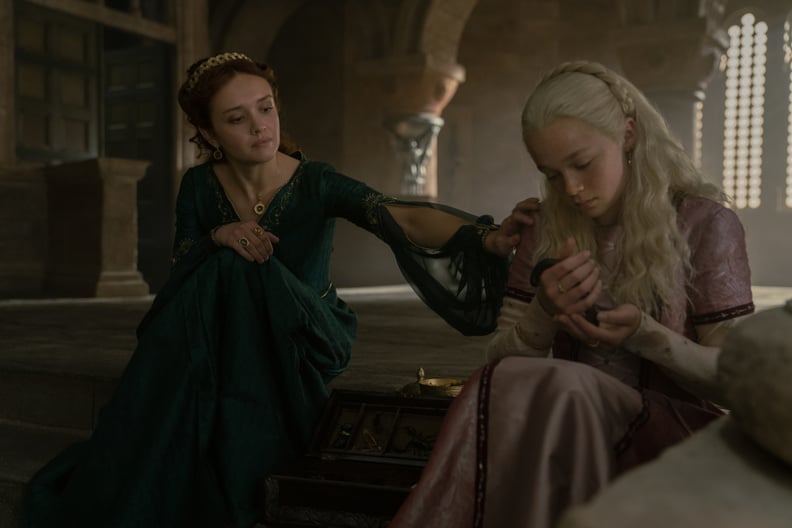 Princess Helaena Targaryen Costume
Princess Helaena has the same white-blonde hair of the rest of her family. She favors long, flowing dresses in light colors, like tan and pink. But the accessory that will really make this outfit sing is a collection of toy bugs. Long live our weird bug queen!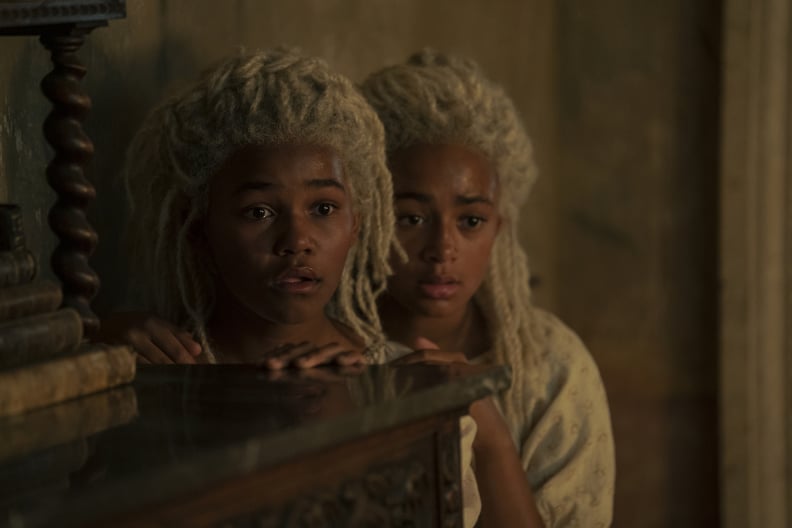 Baela and Rhaena Targaryen Costume
Baela and Rhaena, the daughters of Daemon and Laena, would make the perfect costume for friends. Of course, it all starts with platinum blonde hair. You can dress in blue to rep House Velaryon, or red and black for House Targaryen.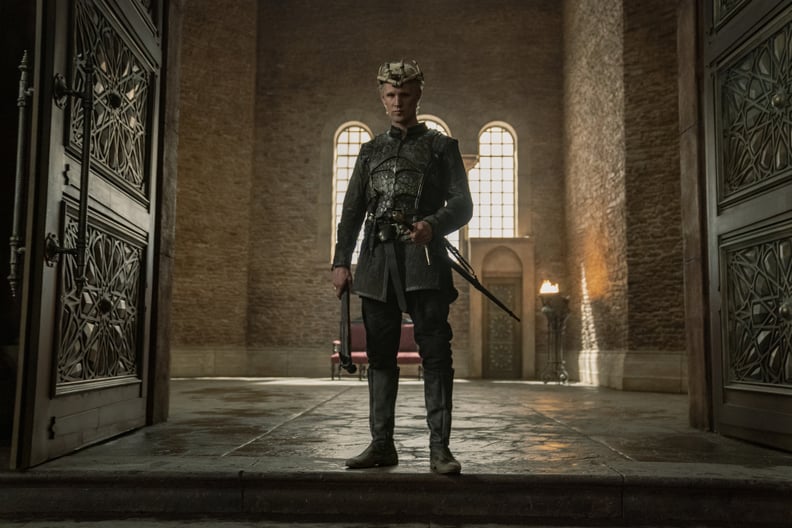 Prince Daemon King of the Stepstones Costume
Prince Daemon's brief reign as king of the Stepstones could make a fun moment. Dress in a leather vest with boots and carry a sword. Make a crown out of sticks or cardboard to complete the look. For extra points, dress Daemon mid-battle, covered in blood.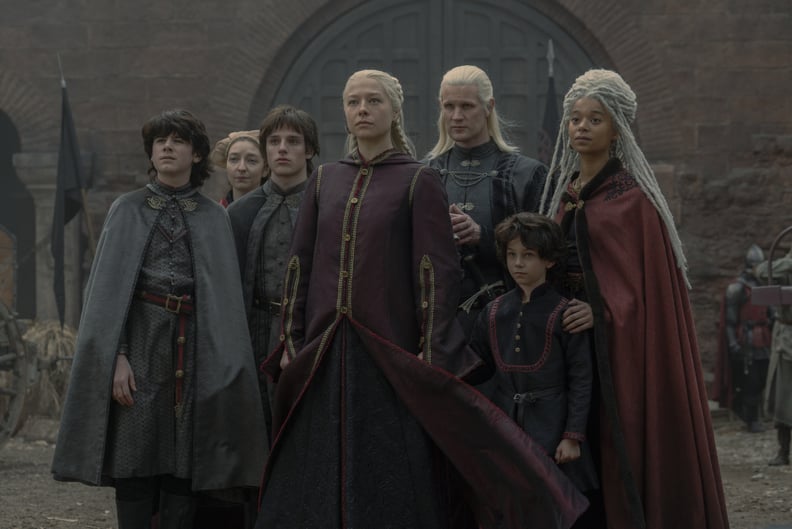 Princess Rhaenyra and Prince Daemon Family Group Costume
If not everyone in your group want to get aboard the blonde train, then Rhaenyra and Daemon's blended squad might be the perfect solution. There are Rhaenyra's three sons with Ser Harwin Strong — Jacaerys, Lucaerys, and Joffrey — and Daemon's two daughters with Laena Velaryon — Baela and Rhaena. To be the whole family, you need black and red capes and maybe some swords.