How Fiona's Downward Spiral on Shameless Is Preparing Her Exit From the Show
Warning: the following post contains spoilers for the Fall finale of Shameless.
Old habits die hard, but when you're a Gallagher, old habits die really hard, then they die again even harder, and then, after a sliver of hope that everything's going to be OK, the old habits creep up and die the hardest. The title of the season nine Fall finale of Shameless can attest to that: "Down Like the Titanic," which Fiona used to describe her financial situation after her big real estate plans came crashing down along with her living situation, her relationship, and her well-being, all plummeting simultaneously.
Since Emmy Rossum announced that this season of the beloved Showtime series would be her last, fans freaked out, but after seeing how we said goodbye to Cameron Monaghan's character last week, we're starting to think about Fiona's impending departure and how it's all going to go down. This year, the show is being split into two parts and will pick back up right where it left off on Jan. 20, 2019. As for the way the Fall finale ended, well, we have a lot of questions, but one thing we're sure of is that Fiona is headed back down a dark path, and it's setting up how she will ultimately leave the show.
After learning that her scruffy Irish boyfriend Ford has a wife and a secret family (sadly, not the first time this has happened to Fiona), she drunkenly crashes her car (like, seriously totals it), and recklessly retreats back to her apartment to hide from the mess. Ford learns the hard way not to mess with the Gallaghers, but revenge cannot undo the damage that is done and Fiona must face reality. She loses her building, is pushed out of her deal with Max Whitford, misses taking Ian to jail, and once again, finds herself at rock bottom — or back at the Gallagher house, sitting on a lawn chair wearing a lei, a hat that reads "F*ck You Very Much," and a bottle of vodka by her side.
Showrunner John Wells spoke with The Hollywood Reporter following Sunday night's finale to discuss what the rest of the season could look like for Fiona. "[Her] downfall was inspired by something many members of the working-class experience as they try to improve their own circumstances," he explained. "It also sets the stage for the back half of season nine (coming in January) to watch Fiona pick herself back up again and figure out what kind of person she wants to be now that her family, for the most part, no longer needs her to be their parental figure."
Ahead, find some possible theories about how we think Fiona's story is going to come to an end throughout the rest of season nine.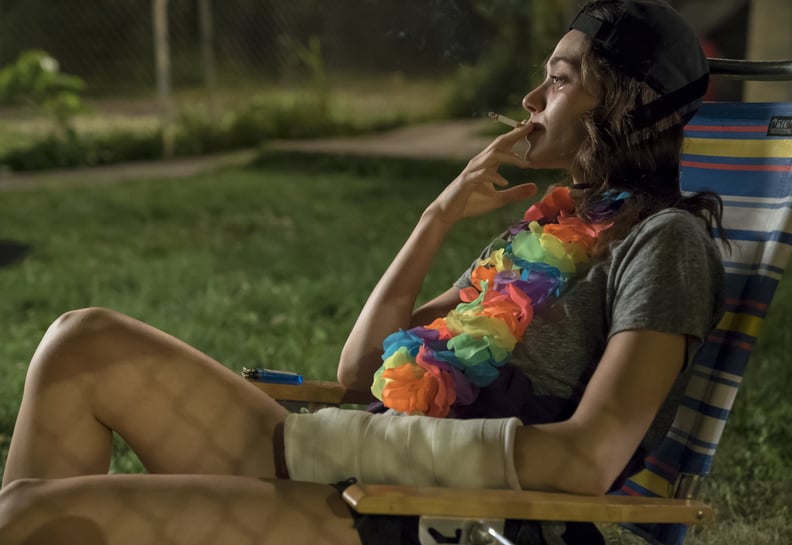 Rehab
You don't need a therapist like Ingrid to tell you that there are some serious substance abuse issues that run in the Gallagher family. During season four, Fiona served time after being arrested on two felony charges after that heartbreaking cocaine incident with Liam (who knew he'd be a boy genius by season nine?!), and she certainly didn't have the best example set for her growing up, so it's a possibility that in an effort to take control of her life, Fiona could want to take control of her drinking.
When asked about how Fiona will "respond to losing everything" when the show picks back up in January, Wells reminded us that as always, it's about family. "It's really about who we depend on when we hit our low spots: who do you turn to and who picks you up and who helps you get back up on your feet," he shared. "This show has always been about the family and how they, in their own complicated ways, step up for each other. So that's really where it goes in the second half."
Could Lip help Fiona get into the program that Professor Younes helped him get into when his drinking was out of hand? Will Debbie help pool her welding paychecks to help support her sister? Only time will tell, but we have a feeling the Shameless crew will send Rossum's character off on a positive note, and rehab or a desire to change her ways could very well be a possible ending for Fiona.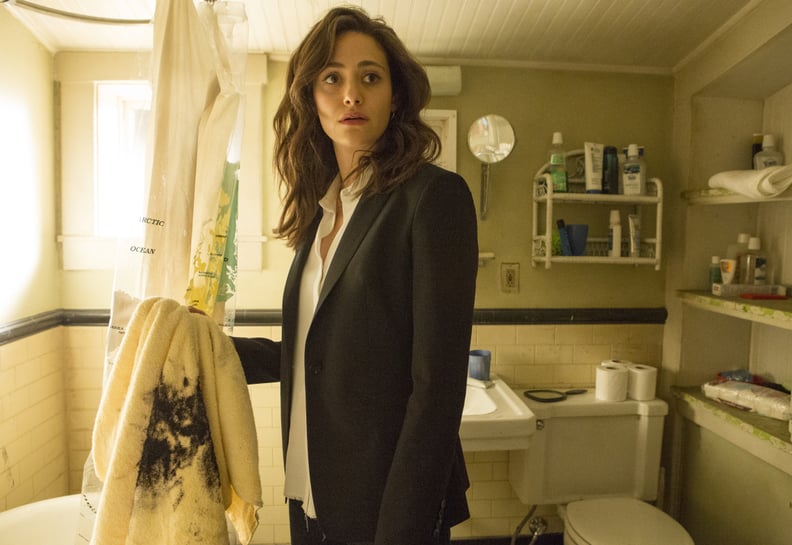 New Job Opportunity
With Max Whitford saving Fiona and taking her building off her hands, he's doing her a favor, but ultimately, he's leaving her with nothing. No savings, no property, not even Rusty the dog. If given the right opportunity, it's possible that Fiona could be leaving the south side of Chicago for an awesome job offer.
"The character is moving away from us," Wells said. "It was sad. But I hope for the audience that it will be as rewarding and appealing as what happened with the end of Ian's story in episode six. That's what we're striving for: a show that's entertaining and emotional."
It would definitely be rewarding to know that the messy matriarch of the Gallagher household is off to bigger and better things in another city. After realizing how grown up and independent her siblings are, this is exactly what viewers want for Fiona: for her to be OK on her own the way that her siblings are.
"It's a little surprising and yet makes perfect sense," Wells said of her ending. "People leave, particularly someone like Fiona who has cared for and basically raised her siblings and been their primary parent for so long. There's a moment where you realize that they don't need you in a way that they did before and if you continue to try and make them need you, you're actually impeding their ability to become adults. You have to decide, 'Who do I want to be when my identity isn't primarily formed by the responsibilities I have for raising my own brothers and sisters?' That's the direction that we're headed in as Fiona realizes that she needs to make a decision for herself about what she wants."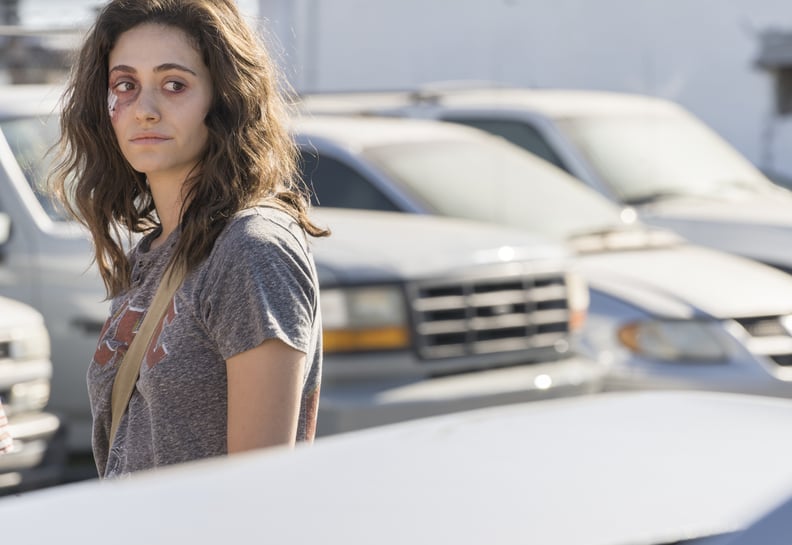 Jail
It's difficult to think about Fiona having to endure prison again, but given her recent car accident, her drinking habits, and her volatile behavior, it is possible that Fiona finds herself in trouble. We'd like to think this won't be the case, because Wells explained he wants fans to be pleased with her ending the way they were pleased with Ian's, but we're just putting it out there. I mean, she isn't the most law-abiding citizen we know, but we'd prefer to not see her go down that path.
When asked about the theme of Fiona's hopes and dreams blowing up in the midseason finale, Wells opened up about how it was slightly inevitable. "We like to talk about ourselves as a meritocracy as a country and I think it actually is really tough to get out of the world that you're born into," he explained. "We wanted to tell the story of Fiona's bit of hubris that went along with inexperience about financial matters, which is a very real way that a lot of people get into trouble — whether that be taking out additional mortgages because you thought that you could handle a rental property because the market was picking up and then it doesn't, or any number of things that happen to people when they're trying to get another step up the ladder . . . So a little bit of hubris, a little bit of flying too close to the sun, and so we think it's good storytelling and it carries us through a lot of the second half of the season."
With Jimmy/Steve (You Knew This Was Coming!)
Did you think we'd be able to get through a list of possible endings for Fiona without bringing up the one person she was always willing to risk it all for?! Nope. Justin Chatwin's character is probably the love of Fiona's life — whether he went by Jimmy or Steve is another story, but she really loved him and ended plenty of relationships to be with him. Considering Ian got his happy ending with Mickey in jail, it's not so far off to think that Fiona could possibly get hers as well.
"I can say absolutely nothing about it," Wells said with a laugh to the interviewer. "Although you don't want to perform the same magic trick twice in one season."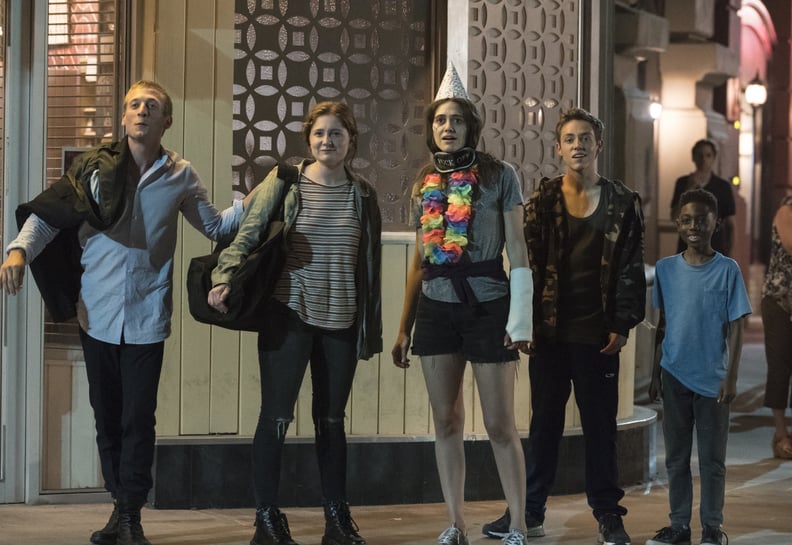 What About the Rest of the Family?!
Throughout the highs and lows of the last nine seasons, it's obvious that nothing means more to the Gallaghers than family, which is why Wells is reassuring us that Shameless will be OK without Ian and Fiona. Here's what he has planned for the rest of the cast.
"The show was always about Frank (William H. Macy) as our central character and we've really enjoyed being able to write more for Debbie (Emma Kenney) and for Carl (Ethan Cutkosky) as they've grown up from being child actors to being young adults. I love the Lip (Jeremy Allen White) character and what Jeremy has done with that character. His world is expanding and we'll expand with it. I think we're going to try and mirror what happens in your own family when people start leaving and how you expand out into other worlds."
He added, "We love Kevin (Steve Howey) and Vee (Shanola Hampton) and we'll probably play with that some more. And Liam has gone from being literally a kid in diapers to someone who can actually play scenes now. Christian Isaiah is terrific. As people move away and leave, and other people come to fill their places without trying to replace Fiona in some fashion within the family or trying to replace Ian. Our lives fill out in different ways with different people and I think that's what we'll be trying to do."