Hulu's Dollface TV Series Review
Much Like Your College Ex, Dollface Has a Lot of Potential It Just Doesn't Live Up To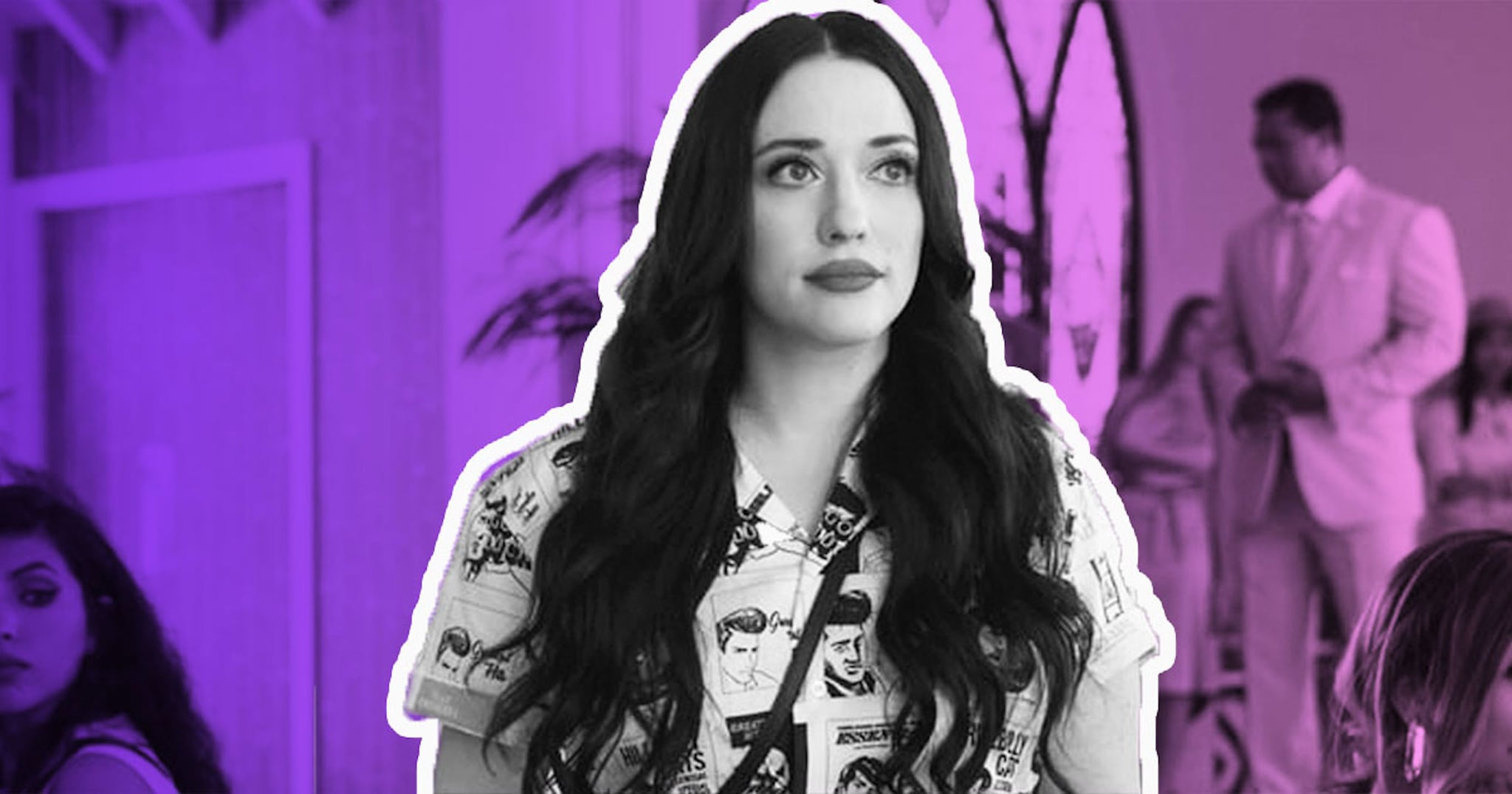 Everything about Hulu's Dollface promises to be an onscreen mecca for millennial women: it has a young, ubertalented cast, a premise full of potential, and it also boasts Margot Robbie as an executive producer. For the most part, the 10-episode first season just squeaks by thanks to its relatable sense of humor and hit-or-miss asides that can either take you out of the story completely or serve its purpose in being an entertaining attempt at bringing the chaos of imagination to life. But mostly, the show fails to do the one thing it's meant to — be an entertaining look at how difficult it can be navigating modern relationships, primarily among women.
There's only so much that fantasy sequences can accomplish when the real-life scenes feel like Instagram influencer ads for the Rosé Mansion come to life. This isn't to say that I didn't enjoy watching the series at all; in fact, I relished seeing Kat Dennings showcase her comedic chops after dragging herself through the same boob jokes for years on the CBS sitcom 2 Broke Girls. Making things even more exciting, Dennings is joined by the criminally underrated Brenda Song, Shay Mitchell playing a much more zen Peach Salinger, and Esther Povitsky, who steals the show in almost every scene. The female-led cast is so phenomenal in their roles, in fact, that they made me genuinely care that their characters treat each other terribly.
The series begins by introducing Dennings's character Jules after she's dumped by her longtime boyfriend and subsequently attempts to reconnect with her former best friends Madison (Song) and Stella (Mitchell). Jules has been ignoring her girlfriends for nearly five years, and apparently, it also means she's lost all understanding of how women interact with each other despite working at Woom, which comes off as a comically exaggerated imitation of The Wing.
Her coworker Izzy — who generally serves as the most extreme character of the entire series, having gone as far as pretend her name is Alison to fit in with her coworkers — befriends the trio, but never seems to figure out if she's part of the gang or their weird pet. Throughout it all, the women navigate their new friendships by doling out terrible advice, worshipping at the church of brunch, and generally being weirdly hysterical caricatures of real people.
The main problem with the series is that it never really takes the time to tackle any subject seriously.
As someone who has had close women friends for most of her life, there are a lot of things that Dollface gets right. Yes, brunch is a near-religious experience — why would any of us deny the salvation of a good stack of pancakes and several mimosas? Yes, companies like Woom can be overwhelmingly white and achingly oblivious to how their brands are far from the "woke" vibe they strive to emulate. And yes, being friends with other women can be a trial, especially when your personalities differ so dramatically from one another. The main problem with the series is that it never really takes the time to tackle any subject seriously.
In the very first episode, Madison reveals that her mother got sick the year before and when she reached out to Jules, she never responded. Somehow this plot point is never brought up again, even though it's obviously a significant part of why Madison is so guarded against reconnecting. Who cares about Madison's older boyfriend not getting that divorce when he said he did? Jules wasn't there when Madison needed her and that's the drama that I want to hash out! That would've been a way to make me believe these women truly care about one another.
The show's best moments are usually during scenes with some bite. One of my favorite fantasy sequences occurs after Jules gets a f*ckbuddy and receives the worst news a single young woman can hear from her doctor: she's caught feelings. Her doctor recommends that she stay away from her rebound and attempt to hook up with "at least two other people." But when Jules asks if she should let her partner know so he doesn't catch the affliction, her doctor bursts into laughter. "No," she responds. "Men cannot get this."
Yes, it's a low blow against men and their role in hook-up culture, but damn if that edge of truth doesn't make it 10 times funnier? Coupled with basically every time Mitchell opens her mouth — seriously, she's gold in nearly every scene and possibly the most emotionally developed character — and some unexpected celebrity cameos, Dollface has brief, shining moments when it gloriously lives up to its promise of being clever, original, and fun.
It's when the show falls into formulaic situations that things take a turn for a shallow. This is particularly disastrous when the series is attempting to be "deep" or "woke," like the penultimate episode titled "Feminist." I won't delve too deeply into the many missteps of the episode — though I did appreciate the Wizard of Oz homage — but the result is essentially a crash course in White Feminism 101. It's 2019 and we're still wondering if it's OK to care about our looks? We can do better than that, people!
By Dollface's season one finale, I felt the same way I do after eating a salad for lunch: vaguely unsatisfied, but certain I would have enjoyed the experience a lot more with heartier filling. Hopefully Hulu gives the series a second chance to find its footing and figure out exactly what it's trying to say.