A Security Guard Helped Iman Vellani Meet Tom Holland and Tom Hiddleston During "Ms. Marvel"
As Disney+ releases the six episodes of "Ms. Marvel" this summer, POPSUGAR has exclusive interviews with the cast and creators about making the show come to life. This week, star Iman Vellani chats with POPSUGAR about episode six, "No Normal."
The finale of "Ms. Marvel" ended with a scene that has some massive implications for the MCU. Iman Vellani, who plays Kamala Khan, tells POPSUGAR it was actually the most difficult scene to film for her in the whole series. "The take that we saw was the only legit take that we got because every single time Matt [Lintz] said that line, I just started giggling out of nervous excitement," she says. "I just couldn't believe that we were saying this word."
Even now, Vellani is hesitant to use the word: mutation. In Marvel, mutations mean mutants and mutants mean X-Men, and there have been no mutants in the MCU so far. Did Bruno (Lintz) really mean that kind of mutant when he said mutation? Or was it just a fake out, another moment in a long line of MCU false hints about X-Men? "I think officially I can say . . . yeah?" Vellani says. "It's just so fricking insane that we even allowed this to happen."
"I'm a huge X-Men fan, and what an incredible honor to be the first official mutant in the MCU."
"I honestly am very, very happy we went with this route," she says about the change in Kamala's origin. "I'm a huge X-Men fan, and what an incredible honor to be the first official mutant in the MCU. The original intent for the comic book character, anyway, was wanting to make her a mutant, but because of comic politics at the time, that never ended up happening." Vellani says that she and producer Sana Amanat, who also cocreated Kamala, were "over the moon" that they got to change Kamala's origin here.
While the show was filming in Atlanta, Vellani met her MCU costars Tom Holland and Tom Hiddleston, but it almost didn't happen. "Ms. Marvel" filmed at the same time season one of "Loki" and "Spider-Man: No Way Home" were filming on adjacent sets, but because of COVID-19 restrictions, Vellani wasn't able to pop over and say hi. "It's weird filming, knowing that these incredible actors are just one stage away from you, but we weren't really allowed to mingle," she says.
"However, Marvel security guy Barry Curtis, one of the most wonderful humans ever, really loves the younger actors meeting each other," she says. "And so he found a way to set up me meeting Tom Hiddleston and Tom Holland, and they're both incredibly wonderful people." Vellani previously revealed to Elite Daily that when she met Holland, he spoiled Tobey Maguire's appearance in "No Way Home" for her.
When Vellani was cast, she says the first person who reached out was Brie Larson, who plays Captain Marvel. "We just had a very lovely chat over FaceTime. And now I'm working with her, which is crazy," she says. "Every single person that I've come across at Marvel has just been so incredibly welcoming." Being an actor in the MCU is its own unique experience, she explains, and she's gone "from 0 to 100," since "Ms. Marvel" is her first major acting job. The other actors have been a big resource for her.
If you know anything about Vellani, you know she's a Marvel super-fan, and her love of the franchise is all-over the six episodes of "Ms. Marvel." Her favorite day on set was when they filmed AvengerCon for episode one. Kamala and Bruno attend a fake Avengers fan fest, and Vellani, who had never been to a real or fake fan convention before, had a blast. It was one of the last scenes they filmed in Atlanta and Vellani stole a bunch of the merch from the set. "On the last day I was saying bye to everyone, and my assistant was shoving things in bags and then we shipped everything home," she says.
Vellani relished being on the "Ms. Marvel" sets. "It's like I'm in a comic book," she says. She loves the art that decorated Kamala's bedroom and the bright way the Circle Q came to life. There are also little details she thinks viewers maybe even couldn't see, like a little Iron Man perfume on Kamala's dresser.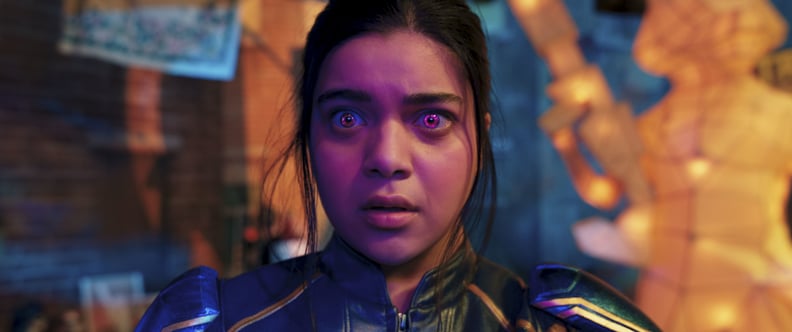 But the show, for all its comic book gloss, also wasn't afraid to explore real issues. One of the most meaningful parts of the experience for Vellani was learning more about the Partition of Pakistan and India, which the show's creative team wrote right into the plot. Episodes four and five saw Kamala travel back in time to the moment of mass migration. Vellani calls those scenes "emotionally very traumatizing." "We honestly really just wanted to be as truthful as possible," she says. She credits episode four and five director Sharmeen Obaid-Chinoy with helping them bring nuance to their performance.
Vellani says that she had heard about Partition growing up, but it wasn't something her family ever talked about openly — until the show happened. "There's so much intergenerational trauma that just comes with talking about Partition, and I'm really, really glad that we can open up these conversations," she says.
"It was so crazy to see that so many people didn't even know what Partition was," she says. They ran sessions on set to educate the cast and crew. There was also the physical toll of those scenes, too. "We had 200 extras during COVID in Thailand, in the middle of the night, and just insane heat," she says. But ultimately, it was worth it to Vellani to bring this story to the MCU.
Vellani also notes how much the show's emotional core centers around the relationships between mothers and their children — not just Kamala and her mom Muneeba (Zenobia Shroff), but also Muneeba and her mom Sana (Samina Ahmad) and Kamran (Rish Shah) and his mom Najma (Nimra Bucha). "I'm really glad that we could even have that scene in the bathroom where Muneeba tells Kamala how tough it was for her to just pack up her life and move to a different country, with different people, and just adapt and find space for them," she says. For Kamala's parents, things in America clicked into place when they found their community at their Jersey City mosque, and Vellani says her parents had a very similar experience when they moved to Canada. "It's a story that's very, very common in South Asian families, so it's awesome that we showed it," she says.
It's not just the conversation between Kamala and Muneeba that reminded Vellani of her own mom, but also the venue. "I have had most of my heart-to-hearts with my mom in my bathroom or sitting on the floor in my bedroom, just connecting," she says. Vellani has a very close relationship with her own mom; she even sent the actor a meme about Kamala picking up boys like Infinity Stones. "It made me giggle that she even knows what memes are," she says.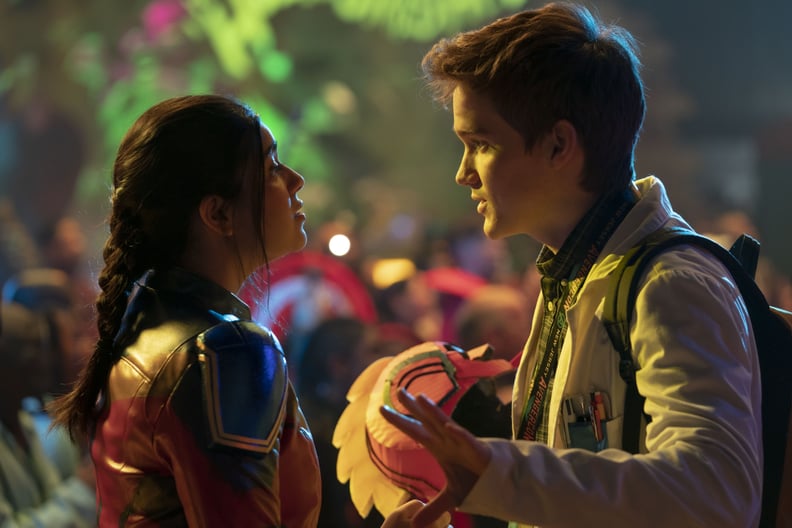 So, is Vellani Team Bruno, Team Kamran, or Team Kareem (Aramis Knight)? "I see merit in everyone," she says, though she admits that the comics version of Bruno is her "favorite human ever." "But then, I love Kamran because he shares a very similar background to Kamala. And then how rare is it you get to see two brown people dating each other in Hollywood?" she says. "Kamala has time. She needs to figure herself out before these boys come into her life."
As a longtime fan, one of the most surprising parts of joining the MCU for Vellani was learning how not planned so many Marvel moments are. "I came in thinking, 'Oh, Marvel has things played 10 years in advance,'" she says. "And then we'll come across small issues on set and be like, 'Oh, this is a very human production run by humans, made for other humans.'" And, of course, now she's the one with all the secrets she can't spill, but she says it isn't hard to keep her lips sealed. "Honestly, I'm very honored to keep these secrets. It's all you could ever want," she says. "I just imagine Robert Downey Jr. being the only person to ever read the entire 'Endgame' script. What a flex."
Next, Kamala will return in 2022's "The Marvels" alongside Larson's Carol Danvers and Teyonah Parris's Monica Rambeau. "Ms. Marvel"'s end credit scene seems to set up the beginning of that movie, but Vellani is, of course, light on details. "I can say that it's going to star Captain Marvel and Ms. Marvel and Monica Rambeau. And they are going to be a really fun, interesting team-up that we haven't seen in the MCU yet," she says. "Also Nia DaCosta, our director, is one of the most incredible humans ever. Period. She really goes searching for nuance in all of our scenes, and it's just so helpful as an actor. I'm excited for people to see what she brings to the table because I think that she has a really unique voice."
There's one more secret Vellani is keeping close to her chest. Yasmeen Fletcher told POPSUGAR in June that a bunch of the "Ms. Marvel" cast got matching lightning bolt tattoos to commemorate their work on the series. Did Vellani join in? "Possibly," is all she says. Yeah, she's good at keeping secrets.
All six episodes of "Ms. Marvel" are streaming now on Disney+.