2020 May Have Sucked, but Josh Gad Tried to Make It Better
No one seems to be more excited about the opportunities 2021 may bring than Josh Gad. To celebrate the end of a hellish year, Gad partnered with Captain Morgan for an updated retelling of a holiday favorite, lovingly called "'Twas the End of 2020." The retelling hits the highs and lows of 2020, including the shortage of toilet paper, getting to wear sweatpants everywhere, and reuniting with friends over Zoom. "It really does speak to billions of us who, I think, have all had this Twilight Zone experience together," Gad said to POPSUGAR. "What it calls upon are things that each of us understand to a T, like the crisis of being able to get toilet paper or the idea of putting on the COVID 15."
He continued, "It does such a good job of saying a fond farewell to a year that I don't think many of us are going to look back fondly upon. It also gives us hope about what's in store for 2021 while being able to send up — in the spirit of Christmas way — a lot of the shared strange experiences all of us lived through during the past nine months." Not only does the retelling kiss 2020 goodbye, but it also puts you in a festive mood because of its ties to the Christmas classic. "Anyone who knows me knows that I'm not afraid of singing a song at any opportunity," he shared. "I do love 'Here Comes Santa Claus,' and I love doing karaoke renditions to any Mariah Carey Christmas song, which my kids are not very fond of. They prefer Mariah Carey singing her own songs, for whatever reason."
When looking back on 2020, it's hard not to think about what got us through such a horrendous year. For many, Gad's Reunited Apart series was the gift that kept on giving. For Gad, it was all about his family, giving to those in need, and maybe a little TV. "The silver lining for me has been getting a chance to have that almost 'nuclear family' experience with my kids based on my line of work," he revealed. "I've also had such an incredible time and am so grateful for the opportunity to host my series, Reunited Apart, which on top of bringing joy to many, many people has also raised a lot of money for charities in need right now." Reunited Apart has raised over $1.4 million in total, and some of those charities include Children of First Responders, CORE, the Equal Justice Initiative, and No Kid Hungry.
We, of course, had to hit Gad with the tough question: which Reunited Apart episode was his favorite? "Each of them is special to me in its own way," he said. "Goonies because that was my favorite movie as a kid; Lord of the Rings because it's such a perfect franchise and getting to see all of those people back together again; then there's obviously Ghostbusters and Back to the Future." So, essentially, all of them are his favorites, and we can't blame him, because they are all so good.
"My goal is to just keep doing my part to try to get people who are really hurting right now some relief."
Gad also gave us some insight into the future of Reunited Apart. "This next episode, which is the cast of Karate Kid, that was a tape that was played probably more than any other in my house around 1984, 1985 when VHS was really popping. So getting that group back together was special because I'm obsessed with Cobra Kai. It was really fun." And yes, he's just as excited for season three of Netflix's Cobra Kai as we are. As for whether or not Reunited Apart is returning in 2021, he had this to say: "As long as there's a need to help others, I will try my darnedest to do just that. I feel like with Wayne's World and Karate Kid, we've ended the year very strongly and don't frankly know what's in store. My goal is to just keep doing my part to try to get people who are really hurting right now some relief."
With projects like "'Twas the End of 2020" and Reunited Apart, Gad has been able to work from home as opposed to going into a studio. It's also where he came up with the idea for his Frozen-themed short, At Home With Olaf. "What's so funny is that it's always been a running joke that voice-overs are the greatest gig because you don't even have to change out of your pajamas, which is really not true. You go to a booth, and you would look insane if you came in in your pajamas," he shared with a laugh. "Now, it actually applies, and I don't have to change out of my pajamas. There's a great thrill in just rolling out of bed, going to my microphone, and recording things literally in my pajamas that I've never experienced before, so that's been nice."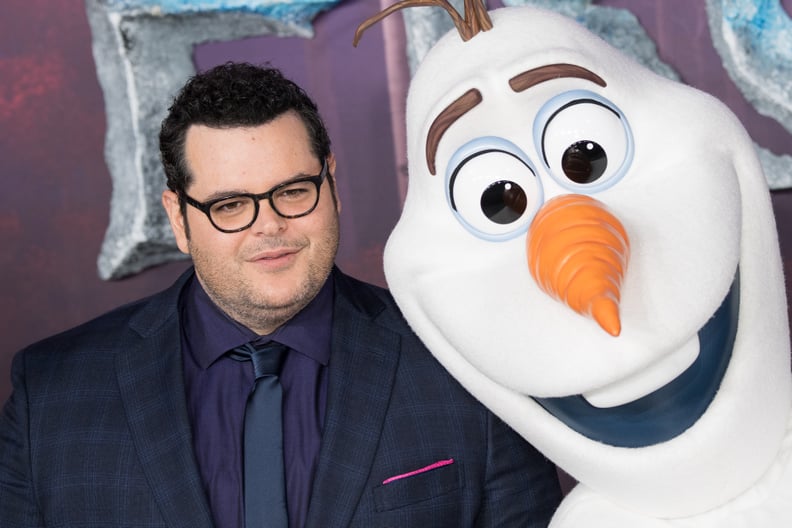 While the shift from doing voice-over work in a studio to his home has been a somewhat easy transition, at least in the grand scheme of things, the film industry is still working out a way to make things safe amid the COVD-19 pandemic. Gad recently tweeted in support of Tom Cruise's COVID-19 tirade, although he was more so supporting the message rather than the method Cruise used. Gad said he understands where Cruise is coming from, as he himself is supposed to return to set for season two of HBO's Avenue 5 soon. "Unfortunately, the only way that this thing works — this thing being 100-plus people working off of an honor system trusting each other with their lives — is if everybody is following the rules," he explained. "The rules suck. The whole thing sucks. It's not great, but knowing people very close to me who have caught this virus on sets, it is frustrating."
"Unfortunately, the only way that this thing works — this thing being 100-plus people working off of an honor system trusting each other with their lives — is if everybody is following the rules."
Film sets are extremely busy places and often cramped quarters, which lead to close contact and groups of people having to trust one another. "We all make a pact, and when we make a pact, we have to abide by it, because if we don't, we're putting each other in danger," he shared. "Forget about ourselves, right? We're putting each other in danger, and it simply cannot work that way. It's already a really scary proposition to step onto a set, look around, see a bunch of people, and be like, 'OK, we're in a tight space. Hope this works.' So I do think that there's a level of pressure that's really difficult to navigate."
Gad knows just how difficult it all is, as he readily admits he's made mistakes during the pandemic, like driving a friend after their car broke down. "I was like, 'Oh, well, I'll just drive you,' and I rolled down the windows, and after, my wife reamed into me. I was like, 'You know what? You're right. I'm an idiot. I should not be doing that.' It's really easy to mess up, but my hope is that we can continue to do this together," he disclosed. "There is a way forward. We can do this."
Now that 2020 is almost firmly behind us, Gad has high hopes for us all. "My hope is that everyone continues to stay safe, knowing fully how easy that sounds and how difficult it is in practice," he stated. So with a hot toddy in hand and a Mariah Carey Christmas song on, we'll do what we can to have an amazing and safe 2021.