Yes, That's Justin Timberlake in Jessica Biel's True-Crime Series "Candy"
In episode four of Hulu's "Candy," which debuted May 12, police finally reach the crime scene where Candy Montgomery (Jessica Biel) has killed Betty Gore (Melanie Lynskey). However, the police have no clue what's in store for them when they enter the house, but audiences will immediately recognize one of the men: Jessica Biel's husband, Justin Timberlake.
Timberlake plays Deputy Steve Diffenbaugh, who wakes up in the middle of the night to head to the crime scene. He takes photos outside the house, including shots of the Gores' mail box and blood on the porch, before heading inside where Betty's neighbors, who found the body, are speaking to other cops. He then collects evidence from the house, taking photos of blood, including a bloody footprint and handprint.
Timberlake is not the only famous husband who shows up in the series. Another police officer on his team, Deputy Denny Reese, is played by Lynskey's husband, Jason Ritter. The police department is portrayed as in over their heads and aren't exactly experts in preserving crime scene evidence, which comes back to haunt them.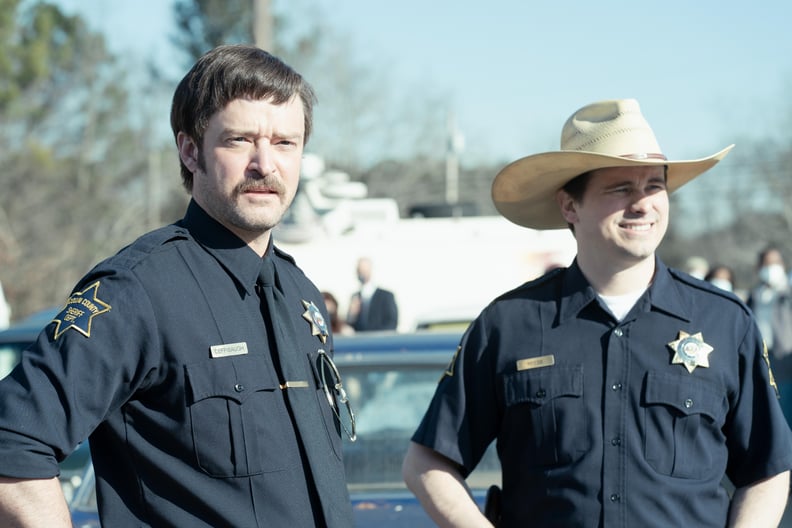 Timberlake appears later in the episode as well, questioning Alan Gore (Pablo Schreiber) about his marriage and possible suspects. Candy also comes into the police station, where she's interrogated by Timberlake and Ritter's characters. And the police end up attending Gore's funeral later in the episode, too.
Biel and Timberlake attended the "Candy" premiere on May 9 together, a rare red carpet appearance for the couple. Their last appearance was at the season three premiere of "The Sinner" in 2020. They have two kids together, sons Silas and Phineas.
Earlier during her press tour, Biel joked about how her character's curls look very much like Timberlake's signature hair from the '90s during his time in *NSYNC. "We laughed about it because it looked like the early days of those beautiful curls," Biel told Entertainment Tonight. "Let's get serious: he had beautiful curls. And his mom, now actually has like, current, really cool hipster short curly hair. It's weird; it kind of resembles both of them. At the same time."
Timberlake is also set to play a police officer later this year in "Reptile" for Netflix alongside Benicio Del Toro.