Bible! These Are the Biggest Revelations From the Keeping Up With the Kardashians Reunion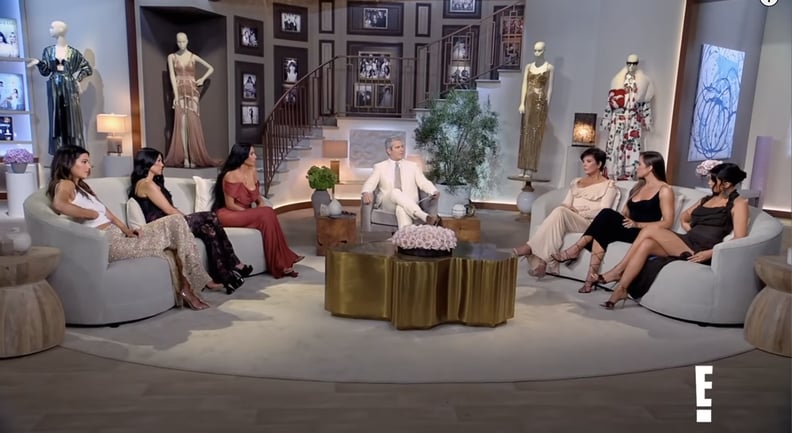 YouTube | Keeping Up With the Kardashians
The family weren't allowed to discuss Kourtney's love life on the show. Khloé revealed that Kourtney pulled back from discussing her romantic relationships on KUWTK following her highly publicized romance with Scott Disick. "I think Kourt learned from how much the public was in her relationship with Scott. It made her not want to share future dating relationships," Khloé explained in a clip. "We weren't even allowed to talk about it. We're not saying to put him on, but Kourtney wouldn't even let us mention, even though there's paparazzi photos." As a result, Khloé said, the family felt "frustrated" because they had to carry the show.
Kylie harbors no ill will towards ex Tyga. The beauty mogul first began dating the rapper in 2014, but they split in 2017. "We're not friends, but we are OK," Kylie said of her current relationship with Tyga. "If I see him out or if I run into him anywhere, I always wish him well. I have no bad feelings towards him."
The reason why Travis Scott wasn't featured on the show was simply because Kylie never pressured him to be on it. "Sometimes he didn't want to be filmed, and I never pressured him to be on the show," Kylie said.
Kylie kept her pregnancy with Stormi a secret because she didn't want to deal with the public scrutiny. "I shared so much of my life. I was also really young when I got pregnant, and it was just a lot for me personally," she explained. "I didn't know how I would bring that to the public too, and have everyone's opinions. I think it was just something that I needed to go through by myself."
Scott's substance abuse was the reason he and Kourtney split. The couple dated on and off for nine years before eventually calling it quits in 2015, but Kourtney finally revealed the reason for their breakup. "The substance abuse was the deal-breaker," she told Andy in the trailer. "I was pretty irresponsible," Scott added.
The night before Kim's wedding to Kris Humphries, Kim's mom told her that if she really didn't want to go through with it, she could arrange for a car to come get her. "What you said to me is, 'Go, I'm gonna put you in a car, no one will find you. Just leave,'" Kim recalled. "And I'll take care of it," Kris added. Kim chose not to leave because she didn't want to be known as the runaway bride and shrugged it off as cold feet. Kim also noted that she spent all of her production money on the wedding. "If that was fake, I would have saved my money," Kim said before admitting that she partially went through with the wedding because of the show. "I felt pressured. I felt like I was going to let everyone down," she said. It wasn't until their honeymoon in Italy that Kim realized her marriage to Kris was a mistake.
Kim ultimately came to the conclusion that she needed to end her marriage to Kris after his shoes made her feel claustrophobic. "He had like a size 17 shoe lined up around my whole room and I just freaked the f*ck out. I literally got claustrophobic," Kim recalled. "We were living in a hotel. But I was so nervous to break up with someone, I handled it totally the wrong way. I fully broke up with him in the worst way, and I just didn't know how to deal. I learned so much from it." Kim also admitted that she owes Kris an apology and that she tried calling him for months. "He's very faith-based, so I'm sure he would have loved to not have a marriage on his record," Kim said. "He wanted an annulment. The only legal way to get an annulment is if fraud is involved, so he marked fraud to get an annulment . . . If I was mature, I would have wanted the annulment too. I wish I was only married once."
Kim knew she was in love with Kanye West six months after her 2011 divorce from Kris. "I called Kanye and I was like, 'You're not even going to call me to say I told you so?'" Kim said. "We met up six months later, and from that first night, I knew it was over."
While Kim didn't reveal the exact reason for her split from Kanye, she did say that it basically came down to a "general difference of opinions." "My marriage with Kanye and my kids is so real, and lots of love, and that to me was my first real marriage," she said. "It was not one specific thing that happened on either part . . . In no way would I want someone to think that I didn't give it my all or not really try. You know, we have four kids. There's nothing that I think kids would want more than to see their parents together." Currently, Kim and Kanye have an "amazing coparenting relationship." "I respect him so much," Kim added. "That was my friend, first and foremost, for a long time, so I can't see that going away. I will forever be Kanye's biggest fan. He's the father of my kids. Kanye will always be family."
Despite rumors, Kim is not dating Van Jones or Maluma. "I'm not dating either one, not Van Jones not Maluma," Kim stated. "I've seen [Maluma] a few times, always in Miami, such a nice guy."
If Kim could erase any of the "stupid things" she's done in life, it would be her sex tape with Ray J. While Kim hasn't had to explain it to her kids yet, it's one of her biggest regrets. "That is something that I have to live with for the rest of my life. That is something that is being held over my head," Kim told Andy. "I try not to have any regrets, but it's probably the one thing that I wish didn't exist . . . and it's more so from being a mom than anything."
Caitlyn Jenner's transition, while hard for the family, was hardest on Kendall and Kylie. "I want nothing more than for my dad to live out her true self," Kendall explained. "I still have such a good relationship with my dad, but growing up I was super close with my dad. To mourn that person was hard." Kris divulged that at the time, she hadn't really considered Caitlyn's feelings. "I was so naive and uneducated, and I realized that I was not considering what Caitlyn was really feeling at the time. She wanted to be who she was now since she was 4 years old, and that was not communicated to me," she stated. As for the current relationship between Kris and Caitlyn, things are OK. "When I see Caitlyn or talk to Caitlyn, it's nice," she told Andy. "We actually talk to Caitlyn's friend Sophia all the time. So I think things are really good, and I try to keep it that way for my kids."
Khloé and Tristan didn't get back together until after filming for season 20 had finished. She recognizes that getting back together doesn't work for everyone, but it did for her and Tristan. "We weren't together for season 20. I don't know, we just became genuine friends together. It was just this natural progression, it's just what happened between him and I," she said. Tristan worked "really hard" to prove he was worthy of a second chance. "He came to each and every one of us and apologized. He really worked on that relationship for a year and a half," Kris shared.
While Khloé isn't in touch with Jordyn Woods, she doesn't hold a grudge against her. "I don't have any grudge against Jordyn. I think people make mistakes, people live and they learn, and I forgive both parties. How could I forgive Tristan and not Jordyn? That sounds asinine in my opinion," Khloé said of where she and Jordyn currently stand. She also said it's up to Kylie if Jordyn and Kylie can become friends again, although it doesn't seem like that'll happen anytime soon. "Jordyn and I did have a talk after that," Kylie revealed of her status with Jordyn. "When we were friends, we never thought we wouldn't be friends. When she did something to my family, it felt like she did something to me." Unlike Kylie and Khloé, Kim doesn't seem as forgiving since Jordyn hasn't personally apologized or sent a letter to Khloé. "If there's no babies and sh*t goes down, like, sorry," Kim added.