Lil Nas X's "Montero" Video Comes With a Beautiful Message For His 14-Year-Old Self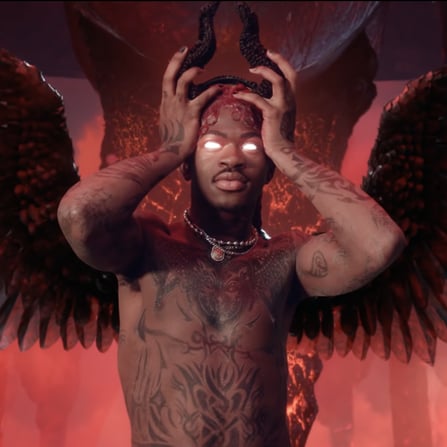 Lil Nas X has finally released his highly-anticipated new single, and it came with a music video to remind us all that "Old Town Road" was just the tip of the iceberg. Not only is "Montero (Call Me by Your Name)" an instant earworm, but the music video is a visual masterpiece that we've really only see from visionary artists like FKA twigs, Chloe x Halle, Cardi B, and The Weeknd. The video has the rapper in a reimagined Garden of Eden — dubbed Montero — in which Lil Nas X is seduced by himself dressed as a snake and tried by a fashionably catty jury. He subsequently pole slides down to Hell where he seduces the Devil to claim his throne for himself. If you didn't have Lil Nas X giving Satan a lap dance in boxer briefs, thigh-high boots, and knee-length bright red braids on your 2021 bingo card, you are not the only one! But damn, I'm here for it.
Lil Nas X, whose real name is Montero Lamar Hill, posted a letter along with the video that revealed why it's more than a beautifully produced, salaciously sacrilegious piece of art. In it, the rapper wrote to his younger self acknowledging his past fear of making his sexuality public and how the narrative of the LGBTQA+ community attempting to "push an agenda" made him want to hide his authentic self. "People will be angry, they will say I'm pushing an agenda. But the truth is, I am," he wrote. "The agenda to make people stay the f*ck out of other people's lives and stop dictating who they should be. Sending you love from the future."
What else is there to say to that but hell f*cking yes! Watch the music video above and then read Lil Nas X's message to 14-year-old Montero ahead. We bet he's pretty damn proud.
Read Lil Nas X's Letter to His 14-Year-Old Self
Watch Lil Nas X's Music Video For "Montero (Call Me By Your Name)"