Lori Harvey is busy typing away at her phone. In the hair and makeup chair, under the whirring roar of the blow dryer, you hear the clack, clack, clack as she oscillates between texting a friend and reading updates about the COVID-19 omicron variant aloud, to no one in particular. Bright-green KNC Beauty Leaf Eye Masks have been positioned carefully under each of her eyes, presumably to refresh from the burgeoning model turned entreprenuer's jam-packed schedule.
"You would never know she was in Israel three days ago," her hairstylist Lorenzo Calderon says, laughing. "She has so much energy."
A lot of energy, it seems, would be the minimum requirement given everything Harvey's got going on these days: the creation of her new beauty line, Skn by LH; public appearances at Art Basel; a campaign shoot for Burberry; judging the Miss Universe competition; and 4.1 million Instagram followers awaiting her every post.
There's a lot people know about Harvey: that she's successful, globetrotting, gorgeous. That she's the daughter of TV icon Steve Harvey and dating movie star Michael B. Jordan. Still, there's a lot you might be surprised to find out, like that she didn't learn to ride a bike until the age of 12, or that she loves playing chess in her free time (and is pretty good, too — the only person she can't seem to beat, she says, is Jordan. For now).
While she's used to the preoccupation with what she's wearing and who she's dating, at 25, Harvey is speaking up — and ready to reveal more about who she is off the grid.
"Before, I have been more so quiet and let the media run with whatever story they've felt like running with and didn't give it any attention; no confirmation, no denial, no anything," Harvey says. "Now that I'm getting older and coming into my own and starting my businesses, I want to take control of my narrative. I want to let people get to know me — who I really am, not necessarily who people think I am."
Beyond the rap verses — namely, Meek Mill's "Going Bad," featuring Drake — the tabloid fodder, and yes, the hypercurated Instagram grid, allow us to reintroduce you to the real Lori Harvey.
Growing up, Harvey wasn't like the other kids. Not simply because her stepfather is Steve Harvey and she experienced life on the periphery of fame. She's just always played by her own rules.
A self-proclaimed daredevil, she inherited an adventurous spirit from her mom, even tricking friends into swimming with sharks for her 15th birthday. She also played sports — gymnastics, soccer, golf — from a young age, but nothing stuck until she found horseback riding.
Growing up in Atlanta, her childhood teetered between "your average kid" and "Hollywood royalty." (Her parents, for the record, kept her and her six siblings out of the spotlight as much as they could, save for a modeling gig here and there.) She would play outside for hours with her three brothers but relished the moment her mother left the house, so she could sneak into her beauty products.
As early as 4, Harvey would sit in her mother's bathroom, watching her intently in the mirror as she smeared on moisturizer, applied lipstick, and set her hair. When her mom left the house, she would get to work on her own glam. "I would just make a mess of everything," she says. "She'd come home and be like, 'What's this?' I would have a full face of makeup on like, 'What are you talking about, lipstick? I'm not wearing lipstick.'"
As she got older, she found her footing as a competitive equestrian. Training for the pros was her normal for more than four years until Harvey suffered a debilitating back injury at 18. She recalls doctors telling her there was a high chance that continuing the sport could leave her paralyzed. "That was a life-shattering moment for me," she says. "I had this plan in my mind for so long that this is going to be my life, this is going to be my career. I felt a little lost trying to figure out, 'OK, what am I going to do now?'"
As Harvey recovered, she searched for the answer. For a year or so, she went to Florida International University. That didn't help. "I just felt a little out of place," she says. "None of the classes really interested me. I didn't have a good friend group around, so I was just super sad and missed home."
When she dropped out in 2016 and moved back in with her parents, she brainstormed. She knew she loved beauty and fashion, so she decided to give modeling a real go. She landed her first big break with Dolce & Gabbana, walking in the Italian brand's fall/winter 2017 runway show, and signed with CAA management to pursue the career full-time.
The ensuing few years became her first real taste of celebrity — her own celebrity. Suddenly, people were as interested in the rise and fall of her relationships as her ensuing fashion partnerships. Insecurity seeped in.
"When I was younger, I really paid attention to what people thought about me and how people thought my body looked," Harvey says. "When I started modeling, I felt like I had to get super skinny because I wasn't tall. I'm naturally more curvy, so I put a lot of pressure on myself to be a certain size and look a certain way. It took such a toll on me mentally."
Meanwhile, after ruminating on how to expand her empire, three years ago, she decided to lean into her other passion: skin care. While the project was new, her interest was a longstanding byproduct of her own insecurities growing up with rosacea and sensitive skin. "Sometimes, the big kids, they're almost too honest and can be harsh," Harvey says. "It was definitely a focal point my peers would point out, like, 'Why is your skin so red? What's wrong with you?'"
Now came her chance to flip the script.
Today, the LA morning fog has given way to cloudless cyan skies as she shares snippets of her day-to-day — she's traveling back home to Atlanta tomorrow for the holidays and dreading packing. Still, it's Friday, so she's organized a small get-together with her girlfriends. Despite her hectic schedule, she's the planner in the friend group; she makes the reservations, curates the vibe.
In her free time, she unwinds by playing chess on her iPhone or catching up on a TV show (right now it's Selling Sunset, for the interior-design inspiration), but we'll be frank: there's not a lot of that these days.
Last October, Harvey launched Skn by LH with five introductory products. While she can understand why people might think she didn't work her ass off to build this skin-care brand, that's a big misconception. "It would be easy for her to coast," Calderon, her hairstylist, says, "but she's such a workhorse. She's pushing every day."
For years, she worked like a mad scientist with formulators, manufacturers, and mentors to concoct a regimen that wouldn't lead to flare-ups, noting that she changed things "a billion times" because she's a perfectionist. "Before I launched, my anxiety was through the roof," she says. "I questioned every little thing, like, 'Is my packaging OK? Should I have redone this, should I redo this? Is this the right time, should we push the launch date back?'"
She also outsourced opinions, far and wide, from friends, family, and even Jordan. "Mike doesn't know a ton about skin care — everything he's learned, he learned when we got together. He used to just wash his face with a warm rag and walk out the door, and it would make me cringe," she says, laughing.
Still, he did have a few "good notes" during the formulation process, she shares, like how the cleanser could use a "fresh scent" or a "bit more of a bubbly foam to it" — tweaks Harvey eventually made. (There's still no synthetic fragrance in her line; everything is naturally scented.)
Within 48 hours after Skn by LH launched, it sold out.
"When the next generation is coming up and there's that little brown girl who wants to get into skin care or start her own company, she can see me and be like, 'I can do it, too.'"
Yet, the intention and impact of Harvey's skin-care line runs deeper than its sensorial experience. Yes, she hopes it shines a light on sensitive skin, but as a Black woman, she also wants to bring much-needed representation to the industry. "There aren't a lot of big skin-care brands that are headed up by or have been founded by Black people or, specifically, Black women, so I wanted to add to that list," she says. "When the next generation is coming up and there's that little brown girl who wants to get into skin care or start her own company, she can see me and be like, 'I can do it, too.'"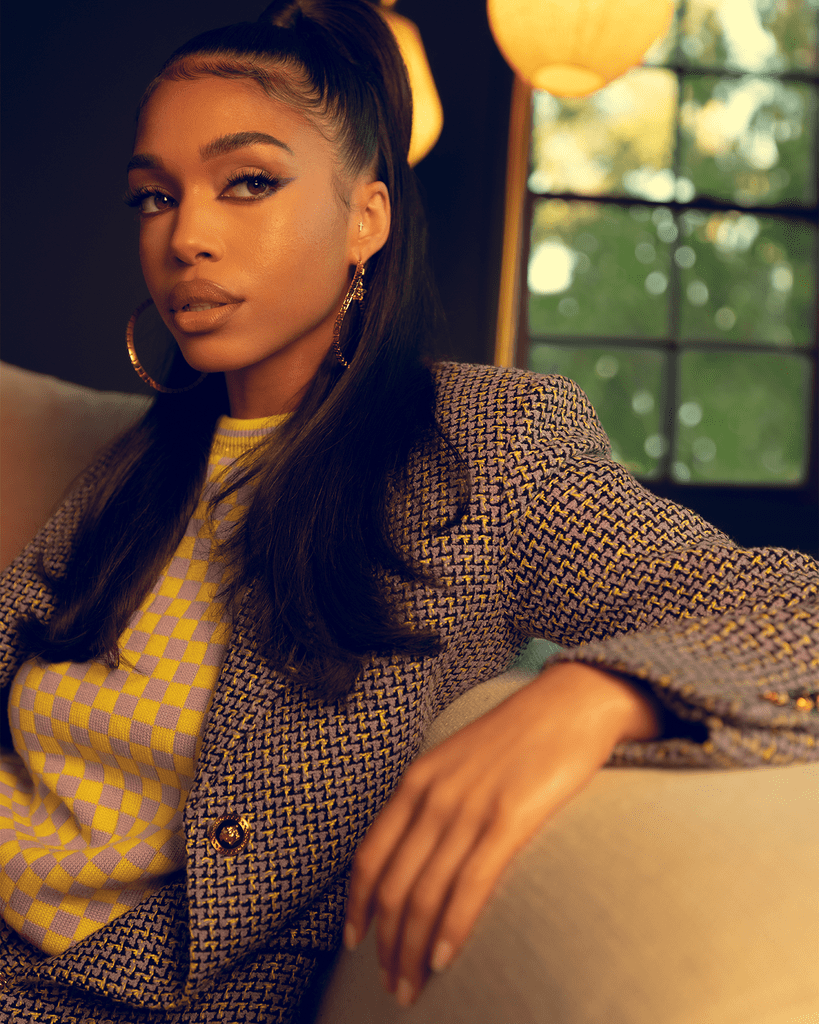 The everyday pressure of being a quote-unquote public figure (and, therefore, a role model by default) has permeated Harvey's whole life.
"There's the feeling like, 'I have to be successful because my dad is this successful giant,' and of course wanting to impress your parents and make them proud," Harvey says. "Then there's the societal pressures of social media: everything has to be perfect. There are times I've gotten insecure or you start comparing yourself to other people. You see what they're doing on social media, and you're like, 'Oh my god, I'm not doing enough.'"
Of course, that is not the reality. Harvey knows this. It is, however, an inexorable conundrum; a constant game of tug of war between what to share with the world and what to keep for yourself. Give enough, but not too much. Repeat.
Beyond her life as an entrepreneur, Harvey has had to dodge intrusive curiosities about every aspect of her life, including the most personal. People wonder what it's like to be in a relationship with someone who was once People's Sexiest Man Alive, and that's fair, but there is a level of scrutiny by way of the comments section that would make anyone wary to share.
"It can be a breeding ground for negativity — it can get really toxic and just take a toll on people's mental health. I had to start prioritizing my mental health as I got older with things that were affecting me negatively," she says.
For his part, in an interview with The Hollywood Reporter last month, Jordan describes Harvey as a "special person" for being able to deal with the "onslaught of opinions" about their relationship. It's not easy, but she has some built-in tips from her parents on how to navigate the outside noise.
"Always communicate. Overcommunicate, even, so you are always on the same page," Harvey says. "Also, be friends first. You know how sometimes you fight with your siblings and, of course, you love them, but you're like, 'I don't even like you right now'? It's important to always be friends whether you like the person."
Harvey's photo shoot is wrapping up. The sun has fallen behind the palm trees, filling the sky with swirls of red-orange pink almost on cue to match her Burberry outfit. It's been a long day, but in front of the camera, her body floats from left to right with ease, like it's navigating the California coast on cruise control. With every click, it's apparent: She is confident. She is in control.
There is still much to learn, of course. There are many more stages of life — "eras," as she likes to call them — that she has to look forward to. "I've made a ton of mistakes in my early 20s, and I'm sure I'm going to make a bunch more," she says. "But the key is learning from your mistakes and applying what you learned in the future, so that you don't make the same mistakes over and over."
In true form, and speaking of the future, she does have somewhat of a plan.
"In five years, hopefully, I will have many more businesses that have successfully launched," Harvey says. "Hopefully, Skn by LH is a household name and people are loving it, and I'm a real force in the business space, the beauty space, the fashion space. Hopefully, I have a baby; hopefully, I'm married."
Will she share that journey with the rest of the world? You'll have to follow along and see.
"But the key is learning from your mistakes and applying what you learned in the future, so that you don't make the same mistakes over and over."
Creative
Photographer: Kanya Iwana Stylist: Maeve Reilly Styling Assistant: Rachel Bode Hair: Lorenzo Calderon Makeup: Diana Shin Creative Direction: Jae Payne Prop Stylist: Sam Margarita Design: Patricia O'Connor, Becky Jiras Photo Producer: Cassie Doyle, Aisha Rae
Editorial
Editors: Iyana Robertson, Jada Gomez, Lindsay Miller, Sade Strehlke Copy Editors: Mary White, Cynthia Puleo Talent Booker: Lindsay Miller Consumer Marketing: Victoria Pedlar Editorial Production: Whitney Moore
Video
Executive Producer: Alison Noël Production Manager: Drew Warren Creative Producer: Jon Randhawa Director of Photography: Kyle Hartman Sound Mixer: Meghan Underwood Post Production Supervisor: Asya Mutazammil Editor: Kyle Cowgill Colorist: Tawan Bazemore
Styling
Look 1: Dress: Valentino, Shoes: Valentino, Earrings and Ring: Cartier; Look 2: Outfit: Burberry, Shoes: Burberry, Earrings: Luv Aj; Look 3: Outfit: Versace, Shoes and Socks: Versace, Jewelry: Versace; Look 4: Top and Pants: Et Ochs, Earrings and Ring: Anita Ko